Non tutte le serie tv riescono a fornire una degna rappresentanza della comunità LGBT (queste però sì). Il rischio di cadere nella superficialità o nei luoghi comuni è spesso altissimo, ma la piattaforma Netflix, di recente, è riuscita a garantire una rappresentanza del mondo queer incredibile.
Nelle le serie tv presenti in catalogo incontriamo personaggi diversi tra loro, personalità eccentriche e altre più contenute. Queste rappresentano la comunità LGBT sotto diversi aspetti, portando alla luce le difficoltà che tutt'oggi la coinvolgono. Ma non solo. Infatti Netflix vuole anche evidenziare le qualità e le note positive dell'essere queer. Come la determinazione, grazie alla quale si è in grado di superare qualsiasi problema.
Con realismo e delicatezza Netflix racconta le storie complesse di personaggi forti e dotati di una peculiare caratterizzazione.
Il colosso dello streaming si è fatto portavoce di realtà sino ad ora escluse dal piccolo schermo (o poco considerate). Ha, ad esempio, introdotto il concetto di identità di genere nei propri show e personaggi non binary. Ha inserito protagonisti forti e indipendenti, capaci di reggere il peso delle critiche e dei cambiamenti, delle discriminazioni. E in questo articolo abbiamo raccolto i migliori personaggi LGBT delle serie Netflix.
1) Klaus Hargreeves – The Umbrella Academy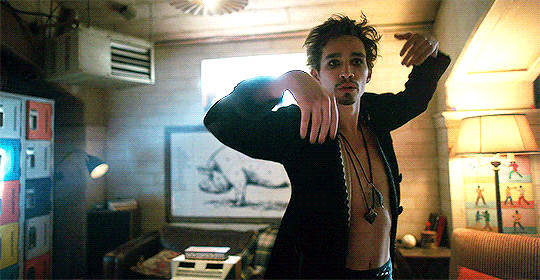 L'abbiamo conosciuto nella serie tv The Umbrella Academy, come uno degli scapestrati fratelli Hargreeves. Klaus entra immediatamente nelle grazie di tutti, divenendo uno dei protagonisti più amati dello show. Sarà stata l'interpretazione magistrale di Robert Sheehan, il suo temperamento vivace o il suo strano rapporto con gli stupefacenti. Qualunque sia la ragione, Numero Quattro rappresenta uno dei personaggi che è riuscito con nonchalance a scardinare al meglio il concetto di toxic masculinity.
Klaus Hargreeves è uno spirito libero. E nonostante il suo orientamento sessuale non venga mai specificato, egli rappresenta comunque la comunità LGBT del piccolo schermo.
Facciamo la sua conoscenza nel pilot, quando – dopo un mese di sobrietà – torna alla carica con droghe e alcol. Il suo abbigliamento, proveniente prevalentemente da un armadio femminile, è eccentrico e allegro. E nel corso della serie tv Netflix seguiamo la sua maturazione, nonché la breve storia d'amore che lo lega a Dave. Nonostante l'epilogo della lovestory sia tragico, esso rappresenta un momento cruciale nella vita del personaggio.
E nel corso dello show scopriamo quanto Klaus, da giovane, si sia sempre distinto dalla calca. Rifugiandosi nelle dipendenze e in strategie di coping disfunzionali, egli ha tentato – invano – di fuggire dai suoi fantasmi. E malgrado i problemi ai quali deve far fronte siano parecchi, egli non vive mai la sua il suo orientamento sessuale come uno di essi.
Non c'è un attimo in cui Klaus non segua il proprio istinto, il proprio cuore. Riesce a vincere le proprie paure e diviene un eroe contemporaneo, perché fiero di se stesso malgrado le sofferenze subite.
Egli si dimostra, in più di un'occasione, orgoglioso e fiero delle proprie esperienze che, con naturalezza, racconta ai propri fratelli senza temere alcun giudizio. Lui rappresenta così la comunità arcobaleno, portando sullo schermo la gioia e la spavalderia dell'essere se stessi.