Amazon Prime Video ci ha invitati a vedere l'anteprima di Hunters, attesissima serie che debutterà il 21 febbraio sulla piattaforma. Questa è la nostra recensione senza spoiler.
Presentata a Roma e successivamente a Milano, Hunters ha ricevuto molti feedback positivi, è riuscita a catturare la nostra attenzione e le aspettative sono molto alte. Partendo dalla trama, la serie si ispira a fatti realmente accaduti ed è ambientata alla fine degli anni '70 negli Stati Uniti. Qui si nasconde un gruppo di nazisti di alto rango con l'obiettivo di instaurare il quarto Reich. I cacciatori (The Hunters) sono un team formatosi allo scopo di ostacolare il loro piano, mettendo in atto una vera e propria lotta segreta. Il giovane ebreo Jonah Heidelbaum, una sera assiste casualmente all'omicidio di sua nonna per mano di un presunto ladro. In seguito all'indifferenza della polizia, decide di farsi giustizia da solo in cerca di risposte e si troverà coinvolto nell'organizzazione.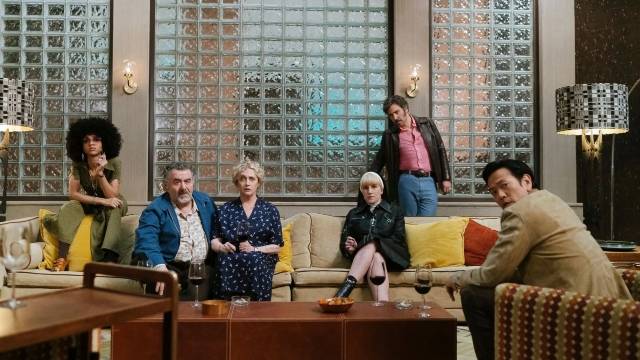 La serie è stata creata da David Weil ma basti sapere che è stata prodotta dal vincitore premio Oscar Jordan Peele (regista di Get Out e Us, film horror uscito quest'anno) affiancato da Nikki Toscano, supervising producer di Bates Motel per dieci episodi. In Hunters è showrunner e produttrice esecutiva. Tra i produttori che hanno preso parte alla realizzazione della serie troviamo diversi nomi noti come Alfonso Gomez-Rejon (American Horror Story) che ha diretto l'episodio pilota e Nelson McCormick (Prison Break).
Alla guida del cast e degli Hunters c'è Al Pacino, candidato come migliore attore non protagonista per The Irishman ai premi Oscar di quest'anno. Nel cast inoltre troviamo Josh Radnor (Ted Mosby in How I Met Your Mother), Jerrika Hinton (Grey's Anatomy) e Dylan Baker (Homeland), uno dei villain nazisti. In poche parole, sono tutte delle vere e proprie garanzie della buona riuscita della serie.
Dalla visione dei trailer, gli spettatori potrebbero pensare erroneamente che la trama sia molto simile a quella di The Boys, una serie rivelazione del 2019 anch'essa realizzata da Amazon Prime Video. Per certi aspetti la potrebbe ricordare, soprattutto per l'incipit della storia del protagonista, ma i contenuti e la serie stessa sono molto diversi.
Dopo un'attenta analisi dei primi due episodi, vi presentiamo nel dettaglio i motivi per i quali pensiamo che Hunters potrebbe essere uno show dal carattere rivoluzionario.
La regia e le inquadrature sono state realizzate magnificamente: i colpi di scena tengono viva l'attenzione dello spettatore e non mancano i momenti di tensione. La fotografia è limpida, caratterizzata da colori intensi e vibranti. C'è una minuziosa cura dei dettagli che non passa inosservata: insomma, la qualità è davvero altissima.
Le colonne sonore sono molto avvincenti, studiate per essere sfondi perfetti a ogni scena, suggestionando ancora di più la visione degli spettatori. In una scena specifica sembra ci siano chiari riferimenti al film Joker, che ha vinto l'Oscar di quest'anno come migliore colonna sonora.
Il cast è stato ben selezionato e le performance degli attori sono ben riuscite, risultando molto convincenti. La caratterizzazione dei personaggi è delineata fin dai primi episodi e si comprende già dall'inizio la loro interiorità. L'attore protagonista Logan Lerman si rivela davvero talentuoso: dopo il successo in Percy Jackson e gli dei dell'Olimpo e Noi siamo infinito, si mostra all'altezza del ruolo assegnatogli e riesce a creare una distanza significativa dallo stereotipo fin troppo abusato del timido protagonista nerd, per far spazio a un personaggio dalla personalità più ricca e complessa.
Hunters potrebbe essere la nuova serie noir e cruda di cui abbiamo bisogno, ricca di temi rilevanti quali il nazismo e razzismo, argomenti che sanno e sapranno toccare sempre la nostra sensibilità. Anche la vendetta e la giustizia sono oggetti di riflessione e diventano presto centrali. Ci sono davvero altissime potenzialità e non abbiamo dubbi sul fatto che il pubblico potrebbe apprezzare la nuova creatura di Amazon Prime, esattamente come abbiamo fatto noi. Hunters ha davvero delle ottime premesse per essere una delle migliori serie tv dell'anno.