Sono acclamati, premiati, desiderati e spesso invidiati. I supereroi sono la cristallina immagine di positività nel mondo. La giustizia e il bene che combattono il male, guerrieri instancabili senza macchia. Ma se così non fosse? The Boys instaura questa domanda nella mente degli spettatori e ne costruisce il suo gioiellino seriale.
The Boys è una serie tv prodotta da Amazon e tratta dall'omonimo fumetto creato da Garth Ennis e Darick Robertson. Una storia che vuole cambiare il punto di vista e sottolineare le contraddizioni, l'arroganza, e il menefreghismo di figure solo apparentemente positive.
Un mondo dove ormai i supereroi sono un fenomeno ordinario e intorno ai quali si costruisce tutta la società.
Marketing, comunicazione, opinione pubblica e politica, nel dipinto di un capitalismo senza freni. Una società che dice di voler proteggere il popolo ma usa queste figure solo per i propri scopi, che sfociano nella criminalità.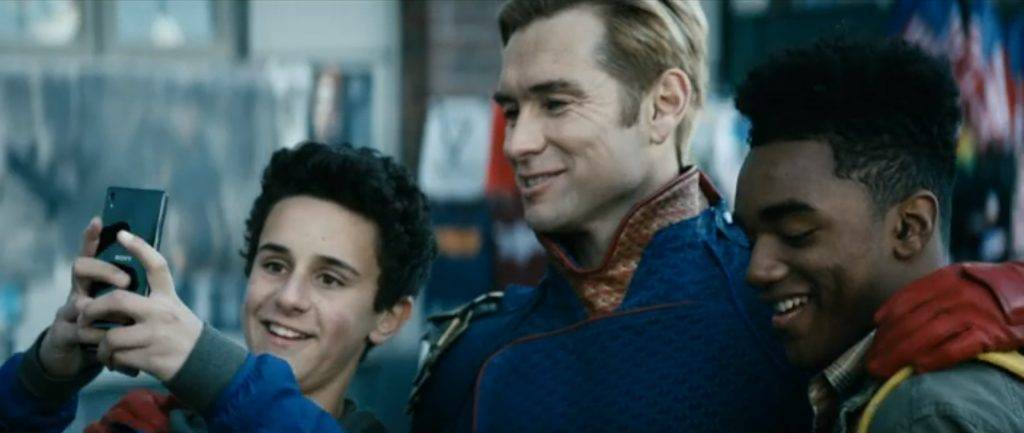 Tra violenza e crudeltà esplicita, i supereroi ci vengono descritti con il loro lato più umano, e quindi anche oscuro. In questo contesto i "The Boys" altro non sono che vigilanti che tentano di far luce sugli eroi corrotti, non senza problemi.
I beniamini del popolo, ognuno con un potere unico, sembrano apparentemente intoccabili: sono difficilissimi da uccidere e da condannare per qualsiasi crimine possano commettere. Rappresentano l'immagine lampante di come la giustizia abbia due pesi e due misure e non sia uguale per tutti.
La punta della piramide è rappresentata dai cosiddetti sette, i più forti tra questi eroi.
Ogni loro azione è costruita e pensata ad hoc per l'opinione pubblica. I loro interventi in televisione, i crimini sventati, le persone salvate. Fa tutto parte di un copione scritto e recitato. Un'ipocrita recita in cui vittima e carnefice si mischiano, e la linea che divide il bene e il male sfuma, fin quasi a scomparire (proprio come accade in Dark).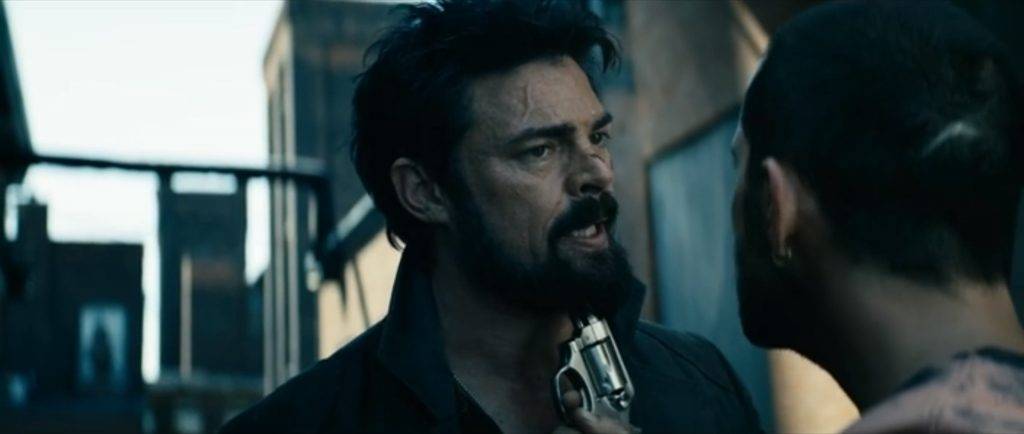 L'elemento centrale in The Boys è la decostruzione dell'eroe che non passa solo attraverso i vizi e le debolezze dei sette ma anche e soprattutto grazie alla new entry nel team: Starlight. La supereroina, interpretata da una bravissima Erin Moriarty, è pura d'animo. Altruista, sincera, e corretta. Il suo sogno, fin dall'infanzia, era diventare la paladina della giustizia. Si scontrerà presto con la dura realtà, fronteggiando un mondo che annienta e disumanizza qualsiasi buona intenzione.
L'altro lato della medaglia è rappresentato dai vigilanti, chiamati proprio i ragazzi
I The Boys combattono con tutte le loro forze i supereroi, ognuno per motivi personali diversi. È infatti la vendetta il pretesto per smascherare ma soprattutto uccidere coloro che vengono visti come il vero male del mondo. La tenacia e la determinazione del team viene evidenziata a più riprese e soprattutto l'evoluzione e il percorso psicologico di ognuno dei personaggi.
In particolare il carisma di Billy Butcher (interpretato da un magistrale Karl Urban) è un gradino sopra gli altri. La sua missione di prendere a schiaffi i sette è tinteggiata di violenza, sarcasmo e spietatezza. Il suo obiettivo di ostacolare il potere e la corruzione di eroi intoccabili si trasforma ben presto in un'ossessione dalla quale non riesce a uscire. Talmente accecante e personale da rendere vana nei suoi gesti l'apparente motivazione politica della sua caccia.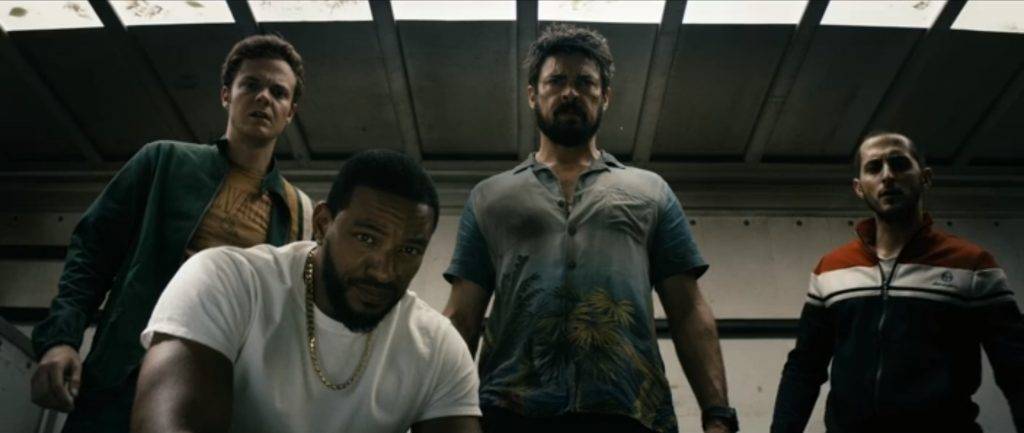 Anche nel caso dei "boys" non abbiamo un dipinto netto della loro inclinazione, come invece avviene per Starlight. Anche loro conservano e soprattutto manifestano le mille sfumature di un essere umano, che vanno al di là del relativismo tra bene e male.
Ciò che traspare nella serie tv The Boys è una critica alla società contemporanea in tutte le sue forme.
È apprezzabile che tale critica venga trasmessa solo tra le righe, in uno show tendente alla dramedy. Non sono i supereroi né i The Boys i paladini o i carnefici della storia, bensì la società e il popolo stesso che crea a suo piacimento i mostri da temere e gli eroi da apprezzare. È la perpetua illusione nella quale il popolo vive ogni giorno, schiavo di un giudizio e di un like sui social.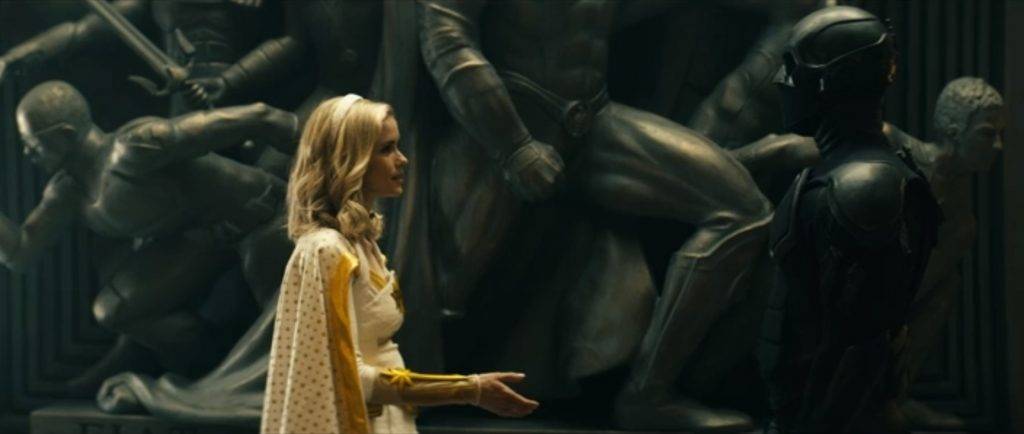 C'è infatti della retorica in The Boys, e un ampio sguardo al mondo dei social, elemento preponderante, che con estrema inquietudine ci ricorda il nostro presente. La critica spesso è più negativa che costruttiva e rischia talvolta di cadere nel cliché. Anche il ritmo narrativo della serie è spesso altalenante e non si capisce ancora bene la presunta importanza di alcuni personaggi, dal ruolo quasi nullo in questa prima stagione.
La scrittura passa dalla serietà all'ironia in un mix apprezzabile per un prodotto d'intrattenimento sui supereroi.
Anche l'inverosimile strizza l'occhio allo spettatore dal primo all'ultimo episodio. Il racconto narrativo e visivo in The Boys riprende quelli della grapic novel e degli antieroi: scurrile, brutale, perverso, politicamente scorretto, diretto e crudo. In questo panorama (che ci ricorda tremendamente Happy!) si cerca di aprire gli occhi allo spettatore, divertendo, sulle implicazioni che hanno nella nostra vita i più comuni mezzi di comunicazione.
The Boys è in conclusione la serie sui supereroi vista dall'altra faccia della medaglia. Una storia in cui buoni e cattivi non esistono, ma se esistono è più probabile che siano persone semplici e lontane dai riflettori. Una serie tv "realistica" nel suo suo irrealismo.
Divertente e ben scritto, The Boys è lo show che dovete assolutamente iniziare su Amazon Prime Video.