Attraverso l'universo delle serie tv abbiamo potuto scoprire mondi incredibili come quello di Game of Thrones e conoscere personaggi semplicemente indimenticabili come quelli di Breaking Bad.
Alcune volte sono intervenute prestigiose premiazioni a segnalarci la grandiosità di certe interpretazioni, mentre in altre è stata la reazione osannata del pubblico a consacrare un attore alla gloria.
Fatto sta che scegliere le 10 interpretazioni migliori del panorama seriale non è una cosa facile, soprattutto dal momento che ogni fan ha la sua personale lista di attori che gli hanno fatto breccia nel cuore.
10) Phoebe Waller-Bridge – Fleabag
Grazie al gioiellino Fleabag abbiamo potuto conoscere quella forza della natura di Phoebe Waller-Bridge, già nota come produttrice e autrice di grande valore per i fan di Killing Eve ma sconosciuta a buona parte del pubblico televisivo. Pubblico che dopo il meritatissimo successo di Fleabag ha iniziato a riconoscerla e venerarla.
Talentuosa e poliedrica, amata da pubblico e critica che l'ha giustamente celebrata alle ultime prestigiose premiazioni come gli Emmy e i Sag Awards, la nostra Fleabag ha dimostrato un talento innato e una personalità trascinante. Capace di rendere la sua interpretazione intima, sfrontata ed efficace sotto molteplici fronti.
Dopo un "esordio" talmente esplosivo, sicuramente il percorso fenomenale di questa ragazza ci regalerà ancora moltissime emozioni.
9) Anthony Hopkins – Westworld
Quando si parla di un mostro sacro come Anthony Hopkins, un uomo capace di prendersi un Oscar grazie a un'interpretazione di soli 16 minuti, non serve usare troppe spiegazioni.
Con l'ennesima suggestiva performance offerta nei panni del Dottor Robert Ford alla prese con il ruolo di Dio, Hopkins ha chiarito ancora una volta al pubblico di che tipo di caratura sia la sua qualità interpretativa.
8) Peter Dinklage – Game of Thrones
Eccone un altro che grazie ai 3 Emmy vinti, un Golden Globe e altri premi minori ha composto negli ultimi dieci anni una grande collezione personale.
Grazie al ruolo di Tyrion Lannister in Game of Thrones, Peter Dinklage ha conquistato un posto d'onore nella storia televisiva.
L'interpretazione dell'attore è sempre stata notevolmente superiore a quella del resto del cast dello show, sicuramente anche grazie alla carriera varia sviluppata tra teatri e set prestigiosi.
Capace di dare al personaggio di Tyrion quella fragilità necessaria per rappresentare il suo difficile passato e allo stesso tempo di trasmettergli tutta la forza che la sua acuta intelligenza doveva dimostrare, Peter Dinklage si è dimostrato un attore in grado di essere tutto ciò che vuole.
E anche che il mondo di Westeros non sarebbe stato lo stesso senza la sua partecipazione.
7) Cillian Murphy – Peaky Blinders
Un interprete con il carisma di Cillian Murphy non è semplice da trovare e davvero non sappiamo immaginare un altro attore, per quanto bravo, in grado di interpretare Tommy Shelby meglio di lui.
Già al cinema abbiamo potuto saggiare il suo talento "usato" da alcuni dei registi più straordinari in circolazione. Da Christopher Nolan a Ken Loach, passando per Danny Boyle, Murphy è semplicemente uno degli attori migliori della sua generazione.
Con la performance nei panni del tormentato e volitivo Thomas Shelby però ci ha convinti definitivamente che non possiamo più fare a meno di lui.
6) Rami Malek – Mr. Robot
Insieme a Sir. Anthony Hopkins ecco l'altro premio Oscar presente in questa classifica (ma non l'ultimo).
Elliot Alderson non sarebbe diventato il personaggio cult che si è rivelato senza l'interpretazione ansiogena e paranoica del suo interprete che gli ha prestato tutto il suo magnetismo rendendolo iconico.
Solo un attore come Malek, capace di calarsi così profondamente in un ruolo (per quanto leggendario o borderline esso sia), poteva rendere Elliot così chiaro e assimilabile per il pubblico nonostante la complessità della sua personalità controversa.
5) Tatiana Maslany – Orphan Black
Come non inserire in classifica Tatiana Maslany, un'attrice in grado di interpretare più di dieci ruoli all'interno dello stesso show?
Vincitrice di un Emmy Awards è di un Critics Choice Awards per l'interpretazione pazzesca dei cloni di Orphan Black, la Maslany si è sottoposta a una prova attoriale davvero incredibile.
Definirla poliedrica ci pare decisamente riduttivo, semplicemente una fuoriclasse.
4) Elisabeth Moss – The Handmaid's Tale
Grazie al ruolo di June Osborne, Elisabeth Moss si è davvero conquistata un posto nell'Olimpo delle serie tv.
Già con Mad Men e Top of the Lake l'attrice statunitense ha fatto vedere di essere una vera eccellenza in termini di recitazione. Ma con la sovversiva ancella Offred ha realmente dimostrato di non essere solo una delle tante brave e validi attrici in circolazione ma di avere anche quel carisma e quella immediatezza espressiva in grado di distinguerla dalla massa.
Attitudine confermata dai numerosi Emmy Awards che si è portata a casa.
3) Viola Davis – How to Get Away with Murder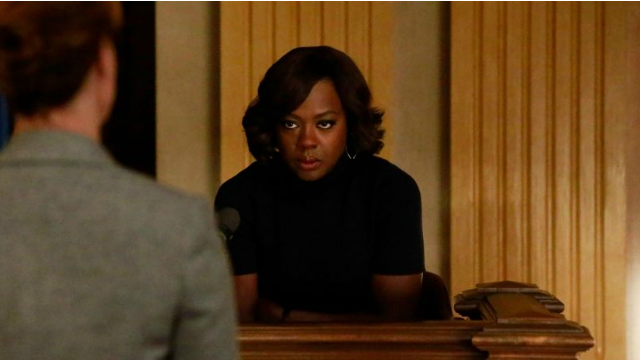 Da quando Annalise Keating è comparsa nelle nostre vite, l'inarrestabile Viola Davis non ha fatto altro che macinare consensi e vincere premi a rotta di collo.
Eccolo l'altro Oscar in classifica e la statuetta dorata è solo la più prestigiosa tra quelle che questa strepitosa attrice si è portata a casa negli anni. Una lista da far impallidire un critico cinematografico.
Per un ruolo così controverso e indigesto ci voleva un'artista in grado di portare il pubblico dalla sua parte, convincerlo a empatizzare con lei nonostante le sue ruvidezze e le sue scorrettezze, seducendolo senza la palese intenzione di farlo.
Interpreterà prossimamente Michelle Obama nella serie di Showtime First Ladies.
Ci aspettavamo qualcosa di meno da lei?
2) James Gandolfini – I Soprano
Il compianto James Gandolfini grazie al ruolo del boss italoamericano Tony Soprano ha saputo divertire ma anche convincere il pubblico che lui può rendere trascinante qualsiasi personaggio.
Vincitore di un Golden Globe e di 3 Emmy Award ottenuti grazie al permaloso criminale che ha reso iconica la serie I Soprano ha avuto però anche a un'efficace carriera parallela nel cinema.
L'attore scomparso a soli 51 anni ha saputo ritagliarsi un ruolo importante nella Hollywood che conta degli anni 2000 grazie alle sue doti istrioniche che nella serie cult di cui era protagonista sono messe in pieno risalto. Doti che gli hanno valso collaborazioni con registi del calibro dei fratelli Coen, Gore Verbinski, Tony Scott e Nick Cassavetes.
È con il ruolo del boss alle prese con gli inconvenienti di una vita criminale e di una famiglia impegnativa che passa alla storia dopo aver conferito al suo personaggio una profondità talmente straordinaria da renderlo un simbolo iconico per le generazioni a venire.
1) Bryan Cranston – Breaking Bad
L'uomo che lo stesso Anthony Hopkins ha definito l'attore più bravo del mondo in una lunga lettera che si è sentito ispirato a scrivere dopo aver visto il finale di Breaking Bad.
Bryan Cranston ha saputo rendere il percorso verso l'autodistruzione di Walter White un viaggio appassionante da cui non siamo riusciti a riprenderci più.
Consegnando alla storia un'interpretazione che ancora rappresenta un metro di giudizio per molti validi attori e fantastici personaggi venuti dopo il 2013, anno di conclusione di Breaking Bad.
Walter White è Walter White e Bryan Cranston ha vinto una scommessa incredibile con lo showbusiness dal momento che la produzione della serie non era convinta di affidare un ruolo talmente controverso a un attore che si era sempre distinto per dei personaggi comici. La riprova che uno del suo calibro può fare quello che vuole.
Se Breaking Bad è una delle serie più premiate e idolatrate degli ultimi anni il merito è in buona parte suo.
Cranston ha raggiunto un livello di perfezione talmente alto che il suo nome viene pronunciato sempre con una certa riverenza da chi si è fatto assorbire dal lato oscuro di Albuqerque fin da quel lontano 2008.
Fuori classifica – menzione d'onore
Bob Odenkirk – Breaking Bad/Better Call Saul
Non lo inseriamo in classifica solo perché al momento non ha ancora ottenuto quei riconoscimenti che gli altri citati hanno incassato ma Bob Odenkirk non può non essere menzionato se si parla di grandiose interpretazioni.
Risultato talmente brillante in una serie che di attori brillanti e incisivi ne ha una valanga da meritare una serie tutta sua, guadagnandosi anche quella fama e quella fetta di pubblico affezionato che meritano lui e il suo scorrettissimo Saul Goodman.
Numerose partecipazioni all'attivo in altre serie di successo dove anche con piccoli ruoli (come nel caso di How I Met Your Mother) è riuscito a farsi ricordare senza sforzo.
L'unico in grado di rendere meno dolorosa la separazione da Walter White e Breaking Bad.