La stessa canzone, tre diversi modi di interpretarla nelle serie tv. Heaven is a place on Earth è un vero classico, uno di quegli inni anni Ottanta che ti entrano dentro e che ti fanno riscoprire il lato più romantico e spensierato di quella decade magica.
Che sia un vero e proprio inno all'amore, con una venatura di inquietudine, in Black Mirror, un omaggio al passato che nasconde le ipocrisie del presente in Dark e un canto di morte che diventa speranza in The Handmaid's Tale, questa canzone ti rimane dentro. Non c'è alcun dubbio.
Nella puntata San Junipero della terza stagione di Black Mirror, quando esplode questa canzone, abbiamo già capito tutto. O almeno così crediamo. Le due ragazze, in realtà, è come se fossero già morte e il loro idillio nel paradiso ideale di San Junipero è una prova tecnica di eternità. Kelly, dopo un naturale tentennamento, ha deciso di lasciarsi tutto alle spalle per vivere l'aldilà con Yorkie, una ragazza che non ha mai avuto una scelta. Paralizzata e immobile da una vita, finalmente a San Junipero può sperimentare di nuovo cosa significa essere vivi.
L'idillio d'amore finale delle due ragazze è commentato da questa canzone, incisa nel 1987, lo stesso anno in cui è ambientata la puntata. Le due si ritrovano sulla spiaggia in cui hanno trascorso i loro momenti più belli, ma anche dove si erano lasciate. Il momento è magico e le due, vestite da spose, vanno incontro senza paura al futuro. Un futuro che, in realtà, già conoscono: è quella sigaretta senza sapore, quella sensazione di vuoto alle viscere, là dove una volta c'erano le emozioni.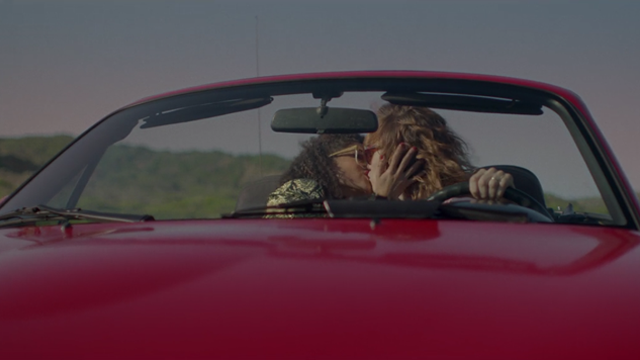 Ed è qui che la faccenda si fa interessante: proprio mentre lo spettatore si commuove di fronte alla ritrovata serenità delle due ragazze, l'agghiacciante verità viene sbattuta in faccia in pochi fotogrammi. In Black Mirror non possono esserci lieti fini, e la storia d'amore è il risultato dell'elaborazione in serie delle coscienze delle due, prodotto da un'intelligenza artificiale.
Un finale amaro, che apre una serie di interrogativi sull'eticità dell'intelligenza artificiale, tema affrontato anche successivamente da Black Mirror, ma con risultati scadenti.
Il potenziale evocativo e nostalgico di Heaven is a place on Earth è sfruttato appieno nella sesta puntata della seconda stagione di Dark, Persi e ritrovati. Ripercorriamo le vicende di quel cruciale giorno di giugno, il giorno prima che Michael si togliesse la vita. Vedere i personaggi di nuovo tutti insieme, e non ancora divisi per sempre dalle mille strade che di lì a poco il tempo avrebbe scelto per loro, ci mette tristezza. E nostalgia. Ed è proprio sulla nostalgia che si gioca questa scena, anche in questo caso sotto le note discrete di Belinda Carlisle.
Diversamente da Black Mirror, in questa scena di Dark l'elemento di disturbo, l'inquetudine, non viene da fuori, dal cloud che asettico sorveglia le intelligenze artificiali, ma è interno alla storia. Sono i personaggi che mentono, distorcono la realtà, nascondono e tradiscono.
I giovani, unico baluardo di purezza e integrità, presto saranno spazzati via dalle trame dei loro corrispettivi adulti, senza possibilità di spezzare il circolo infinito.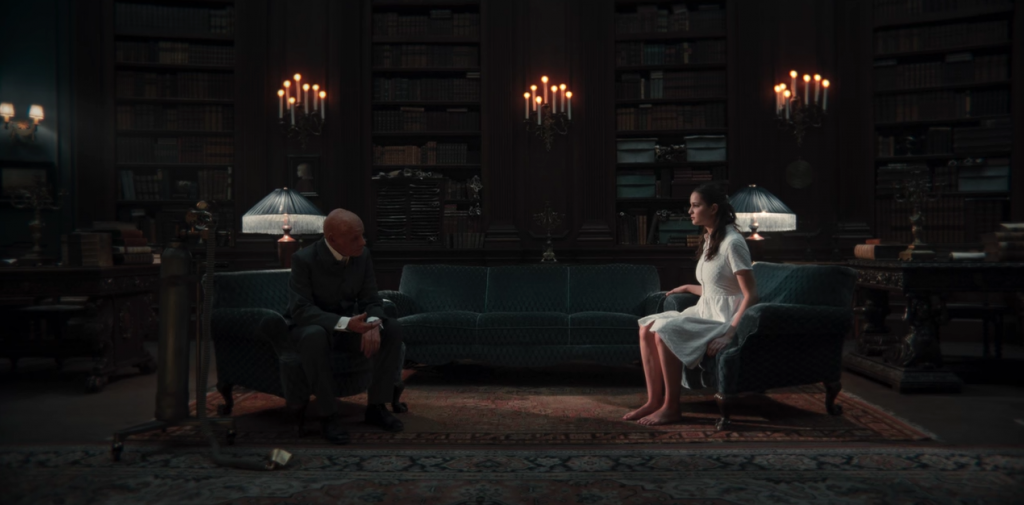 La funzione di questa canzone è riportare tutti, adulti e ragazzi, in un altro luogo, un paradiso sulla terra che tutti sanno non esistere ma che è bello immaginare alle nostre spalle, in un passato a cui non è possibile ritornare. Noi sappiamo che il 1986, come il 2019, è gonfio e spurgante ipocrisie e falsità. Ma l'illusione della giovinezza eterna, come realizzato in Black Mirror, qui viene concretizzata in un patetico ballo tra moglie e marito che non si amano più.
Un ballo che spazza via le paure, prima che il tempo torni ad allungare le sue dita verso i protagonisti, spezzando i fili che li tengono insieme.
Dark utilizza questa canzone in maniera nostalgica e beffarda insieme, puntando il dito contro la ridicolaggine degli adulti che si credono ancora ragazzi, facendo il verso all'utopia agghiacciante di Black Mirror e riportandola su un piano estremamente reale e squallido.
Ma è nella nona puntata della terza stagione di The Handmaid's Tale, Heroic, che abbiamo l'esempio migliore di utilizzo di questa canzone, almeno per quanto riguarda il suo significato. June è in ospedale, sta assistendo la sua compagna di passeggiata ferita, ormai irrimediabilmente in coma. Il suo corpo addormentato e distante è mantenuto in vita solo per il carico che porta: un bambino, prezioso per Gilead.
Le giornate sono tutte uguali, in questa puntata incredibile, in cui la tensione rimane sempre alta a dispetto della fissità dell'ambientazione e in cui tutto il peso è sulle spalle dell'eccezionale Elizabeth Moss. June, ormai sull'orlo della follia, inizia a canticchiare una canzone a mezza voce, guardandoci dritti negli occhi.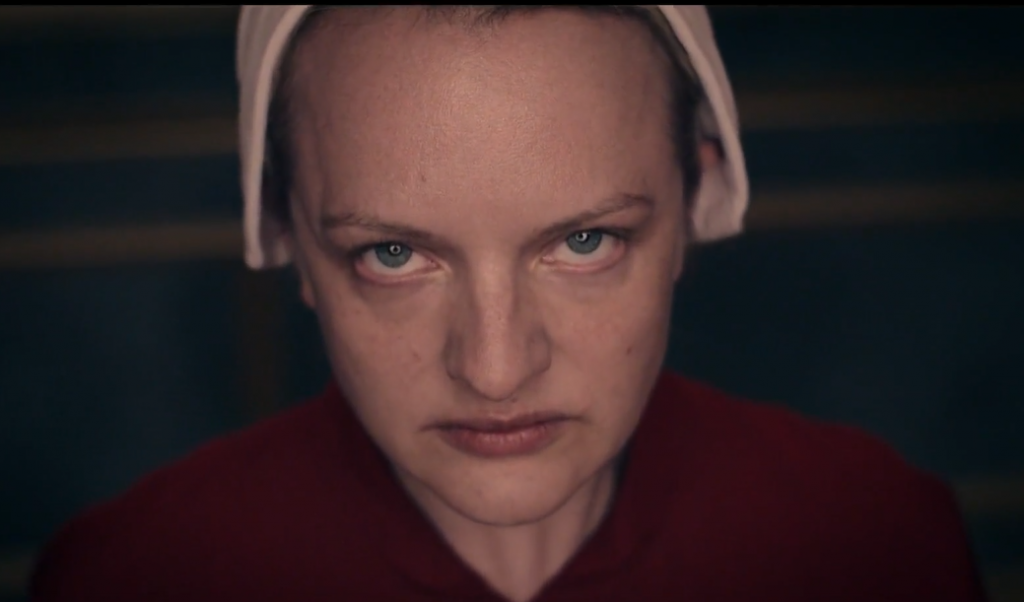 A Gilead la musica è bandita, così come molte altre cose. Anche la felicità, anche il paradiso lo sono, e lei porta il paradiso sulla terra, cantando per mantenere la sua mente lucida, sentendosela allo stesso tempo sfuggire tra le dita.
La voglia di vendetta verso la compagna diventa senso di protezione e di pietà, sentimenti che spingono June a fare dietrofront quando si tratta di lasciarsi alle spalle l'ospedale e tornare a casa. Lei vuole essere lì, per non abbandonarla, anche se non erano amiche, anche se l'ha tradita.
Il senso di pietas di June nasce insieme a una nuova consapevolezza. Non può abbandonare quel bambino appena nato, e strappato dal ventre della madre senza essere nemmeno passato per le sue braccia. Deve salvarlo. Deve salvarli tutti. E lo farà. La canzone che intona al corpo esanime di Natalie è un inno di guerra. La canzone di una guerriera che crede fermamente di poter portare il paradiso in terra. O almeno qualche decina di bambini al di là del confine.
Da distorto e inquietante che era, frutto di una mente in cui è stato piantato un seme di follia, diventa coraggioso, dolce e autentico. E ci è restituito in tutta la sua forza dai titoli di coda, che chiudono una delle puntate più audaci e riuscite di The Handmaid's Tale.