In una Serie Tv, la musica è tutto. La musica può trasmettere emozioni a un livello più profondo delle immagini, e quando vediamo una scena che ci colpisce accompagnata dalla giusta colonna sonora, quella musica ci rimbomba in testa per giorni. Nel caso di The Handmaid's Tale la musica è una componente essenziale del suo successo: la colonna sonora originale è creata con cura per intonarsi al mondo distopico di matrice cattolica di Gilead, ed è ispirata alla musica sacra rivisitata in chiave moderna. A questa si affianca una colonna sonora non originale che, invece, rispecchia il mondo interiore della protagonista, June.
È il legame con il suo passato, con un modo di vivere che non ha dimenticato; una musica che riflette la June interiore, quella vera, che vive ancora dentro di lei, nonostante tutto.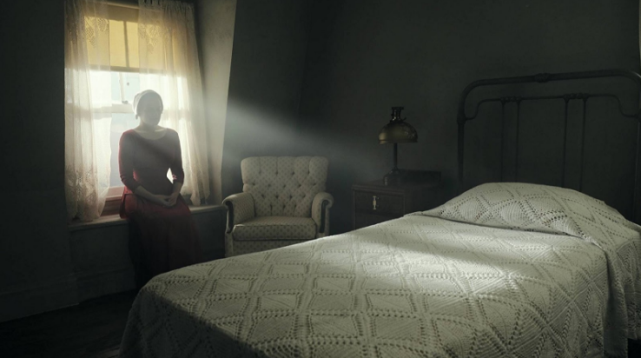 Fin dall'inizio percepiamo che la musica in The Handmaid's Tale è molto più di un semplice sottofondo: You Don't Own Me, canzone del 1964 già sentita in American Horror Story – Asylum in bocca a Suor Mary-Eunice, è l'ironica conclusione di una prima puntata che ci catapulta senza tanti complimenti in un mondo da incubo. Il messaggio femminista della canzone, scritta in un contesto storico in cui le donne iniziavano a lottare per la loro identità e per i loro diritti, allo stesso tempo stride e accompagna l'apocalisse a cui abbiamo appena assistito. È una sorta di ironia beffarda, in pieno stile June, e insieme un'amara riflessione sulla realtà.
Ci sono altri due momenti a mio avviso fondamentali per comprendere come la musica, in The Handmaid's Tale, venga usata per accompagnare le immagini ma allo stesso tempo per dare uno schiaffo allo spettatore, creare uno straniamento che aumenta l'eccitazione della visione. Ne parleremo in ordine di puntata, anche perché rappresentano due fasi consecutive del processo di indebolimento psicologico del personaggio di June. La prima scena è diventata una vera icona di The Handmaid's Tale: si tratta della seconda puntata della prima stagione, in cui ascoltiamo, con nostro grande stupore, un'esplosione di note in perfetto stile anni '80.
Don't You Forget About Me dei Simple Minds è un vero classico: mai avremmo immaginato di sentirla in una Serie Tv oscura, psicologica e drammatica come questa. Però, non appena le note esplodono di prepotenza insieme alle immagini, pensiamo che ci sta benissimo.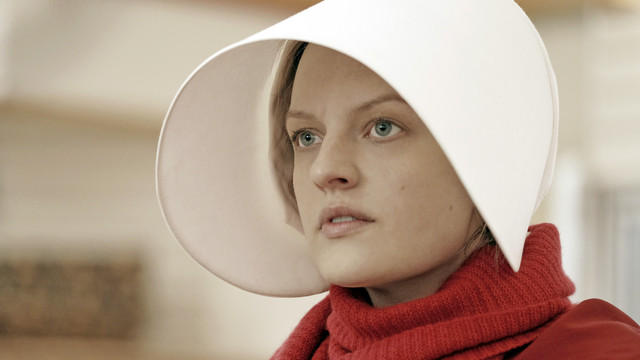 June ha appena scoperto che il suo comandante ha un punto debole, ovvero quello di tutti gli uomini: gli piacciono le donne, ed è sensibile al fascino della sua ancella, che ha appena invitato nel suo studio in gran segreto per una partita a Scarabeo. La preoccupazione di June si scioglie in una risata liberatoria, e in parte derisoria, perché in fondo niente è cambiato nel mondo di Gilead rispetto a quello di prima: gli uomini saranno sempre e comunque intimiditi dalle donne.
Le note dei Simple Minds ci trasportano nella mente di June, per un istante sollevata e libera dal giogo di terrore psicologico in cui è stretta come in una morsa quasi costantemente. Ma la serenità dura poco, perché la realtà fa ripiombare June sulla Terra bruscamente e senza preavviso. La sua compagna di camminate, Ofglen, è stata sostituita da un'altra ragazza, e June non ha la possibilità di farle sapere cosa sia successo con il comandante la notte scorsa. La spensieratezza muta in un istante in paranoia e terrore, che si congelano nello spettatore con l'imprecazione di June: un "Fuck" che vale mille monologhi.
Un esempio decisamente più straniante dell'uso della musica in The Handmaid's Tale è una scena che si trova nella puntata successiva, la 1×03.  Uno dei flashback di June la trasporta a quando, con Moira, aveva partecipato a una manifestazione di protesta sfociata ben presto nella repressione cruenta da parte della polizia.  Le note che sentiamo durante queste scene drammatiche ci suonano familiari, ma l'impatto emotivo delle immagini e lo stravolgimento a cui è stata sottoposta la canzone originale non ce la fanno riconoscere subito.
E quando capiamo di che canzone si tratta rimaniamo sbalorditi: è Heart Of Glass dei Blondie, nella versione di Daft Beatles. Il trattamento di scarnificazione e di stravolgimento a cui viene sottoposta la canzone, rispecchia l'animo straziato e dolente della protagonista, a cui la spensieratezza di una vita normale viene negata, trasformando anche ciò che un tempo era una melodia allegra in un canto di morte.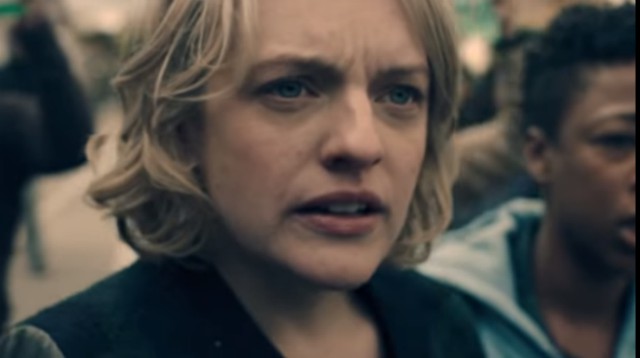 Merita assolutamente una menzione anche la scena della finta impiccagione che apre la seconda stagione di The Handmaid's Tale. Un momento di assoluta suspense e orrore, in cui il silenzio a cui le ancelle sono sottoposte viene riempito dalle note di una grande cantautrice inglese, Kate Bush, e della sua This Woman's Work.
Una grande canzone che tratta il delicato tema della gravidanza a rischio, mostrando l'angoscia, il rimpianto, il dolore di una donna che affida la sua vita e quella della sua creatura a Dio. Ma è anche una canzone di rabbia, in un certo senso, per la vita che le viene strappata. E queste parole sembrano scritte apposta per June, per Offred, per Janine, per tutte le donne che abbiamo imparato a conoscere e ad amare in questa Serie Tv:
I know you have a little life in you yet.
I know you have a lot of strength left.

I should be crying, but I just can't let it show.
I should be hoping, but I can't stop thinking

Of all the things I should've said,
That I never said.
All the things we should've done,
That we never did.
All the things I should've given,
But I didn't.

Oh, darling, make it go,
Make it go away.