Attenzione: evitate la lettura se non volete imbattervi in spoiler sulla 4×04 di Black Mirror 
Finiamola di ballare, ora. Lasciamo perdere quel dittatore, autoritario e lobotomizzante. Ci vuole tutti uguali, scandisce il ritmo e toglie l'aria alle nostre personalità. Facciamo gli stessi passi, ovunque nel mondo. Alziamo le braccia nello stesso momento, urliamo le medesime parole. È una sala da ballo, ma sembra una parata militare. Spegniamo la musica, per poi accenderla davvero. La nostra, quella che ci pare. Impicchiamo il dj, in questo momento. Non lo vogliamo, un Sistema. Qualche volta dobbiamo essere anarchici. Ribelliamoci, per amare. Riprendiamoci la confusione, cogliamo l'attimo. Incrociamo gli sguardi, magari è la volta buona. Perché è vero, i The Smiths avevano esagerato un po', ma in fondo avevano ragione. E Black Mirror ha fatto un giro immenso e meraviglioso per regalarci il solito finale inquietante, illudendoci che fosse in realtà romantico.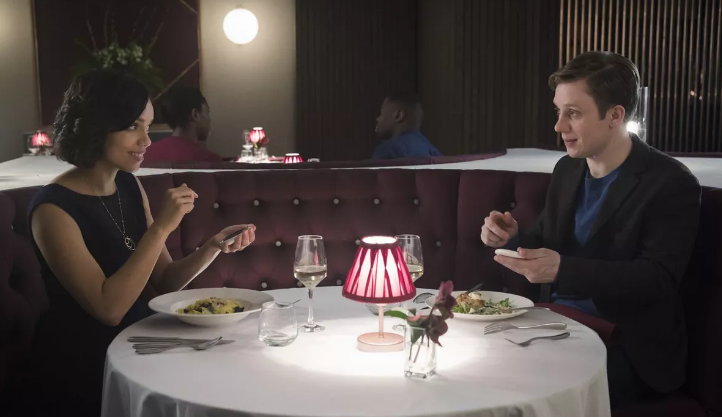 Non è la prima volta, e non è un caso che si parli di uno degli episodi più amati del capolavoro di Charlie Brooker. Ricordate San Junipero? Avete presente il finale? La risposta è ovvia, e un grido all'unisono riempì le nostre teste: Black Mirror conosce il senso dell'happy ending. La verità è un'altra (ne parlammo qualche tempo fa in un bell'approfondimento, lo trovate qui), e altrettanto si può dire di un episodio che con San Junipero ha tanto in comune, Hang the DJ. Una grande storia, intensa ed emozionante. Romantica e mia retorica, pur non rinunciando al cliché dell'omnia vincit amor. Imprevedibile, fino alla fine. Ci siamo: parliamone, della fine. Hang the DJ ha un happy ending? Sì? No? Forse? No. Perché ci ha messo nella posizione scomoda di mandare a quel paese i The Smiths, autori del brano che accompagna i titoli di coda.
Dopo aver passato un'ora a fare il tifo per Frank ed Amy, due giovani ragazzi nei quali è impossibile non immedesimarsi, abbiamo scoperto di esser stati spettatori di una love story che forse non nascerà mai. Una banalissima applicazione ha deciso per loro che la compatibilità, frutto di mille simulazioni, sia del 99,8%, e impone di fatto un incrocio di sguardi pilotato e condizionato. Frank ed Amy si sono ritrovati ad assecondare ciecamente il volere del dj, e noi non abbiamo fatto altro che partecipare ai calcoli asettici di un algoritmo. Cosa c'è di romantico? Chi ci dice che la realtà, l'unica che conta, non sovvertirà il Sistema e farà parte invece dello 0,2%? Non abbiamo certezze, siamo inquieti. È vero: siamo entrati in empatia con i figli di una simulazione, ma quel finale, degno degli episodi più brutali di Black Mirror, capovolge ogni prospettiva.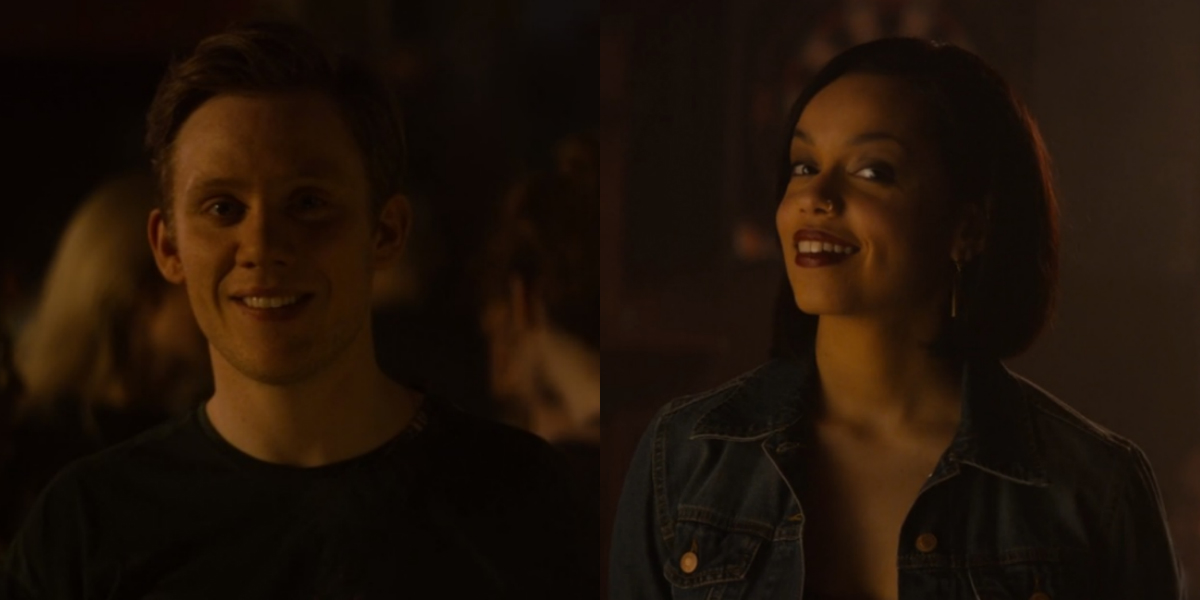 Il nostro "happy ending" è terribile. Dobbiamo sperare che l'algoritmo non sia fallace e i nostri Romeo e Giulietta, assecondati dal Sistema, non si ribellino. Davvero speriamo di trovar l'amore della vita mentre abbiamo la testa china su uno schermo acceso che annuncia la compatibilità con una perfetta sconosciuta? Dov'è finito il piacere della scoperta? Che fine hanno fatto il caos e la confusione dell'imprevedibilità? L'amore è un'altra cosa, e la compatibilità non è una prerogativa fondamentale. Le regole dell'attrazione hanno poche variabili da tenere in considerazione, sono libere e non si possono racchiudere in una percentuale. L'amore non si cerca, si trova. Sennò ci si arrende alla miglior possibilità in gioco senza sapere se sia realmente quella giusta. Molliamolo, lo smartphone. Alziamo lo sguardo e guardiamoci intorno. Trasformiamo la simulazione in una realtà altrettanto bella. In un treno, alla fermata del tram, in un pub, a lezione, in ufficio. Ovunque siamo, magari mentre stiamo ballando. Potrebbe essere lì, che ci aspetta senza saperlo. E non vede l'ora, come noi, di impiccare il dj.
Antonio Casu