Nessuna serie tv è riuscita a trasmettere così bene il rapporto ambivalente tra la nostra società e la tecnologia. Come in uno specchio che riflette realtà alternative, Black Mirror ha mostrato a tutto il mondo cosa potrebbe accadere in un universo orwelliano dove certi confini, etici e tecnologici, non ci sono più.
L'anti-utopia di Black Mirror si è espressa divinamente in 22 episodi antologici, distribuiti in 5 stagioni. Alcune puntate sono capolavori assoluti, altre – seppur molto belle – hanno disatteso le aspettative. A fare chiarezza e a decretare i migliori episodi della serie ci ha pensato IMDb, database all'interno del quale film, serie tv e altri prodotti televisivi vengono recensiti e votati con un sistema di stelline che va da zero a dieci.
Sfruttando i punteggi di IMDb, abbiamo stilato la classifica dei 22 episodi di Black Mirror, dal peggiore al migliore. Siete pronti? Vediamoli insieme.
22) 5×03 – Rachel, Jack and Ashley Too – 6.0
All'ultimo posto, con un punteggio di 6.0, l'ultimissimo episodio della quinta stagione di Black Mirror (qui la nostra recensione). Rachel, Jack and Ashley Too è un po' sottotono rispetto alle altre puntate della serie e, nonostante la presenza di Miley Cyrus, non riesce a decollare, tanto da aggiudicarsi solo la sufficienza su IMDb.
20) 4×05 – Metalhead – 6.6
Penultima posizione per un episodio non troppo amato della quarta stagione: Metalhead. La puntata – interamente girata in bianco e nero – racconta di un mondo postapocalittico in cui si fronteggiano uomini e robot.
Su IMDb ha ottenuto solo un 6.6: un punteggio basso per gli standard di Black Mirror.
20) 2×03 -The Waldo Moment – 6.6
A pari merito con Metalhead, la 2×03 si aggiudica il ventunesimo posto in classifica. The Waldo Moment (uscita in Italia come Vota Waldo!) ha infatti ottenuto su IMDb un punteggio di 6.6.
19) 5×01 – Striking Vipers – 6.8
6.8 per il primo episodio della quinta stagione: Striking Vipers. Due amici si sfidano in un gioco con realtà virtuale (che permette di provare anche sensazioni fisiche) e finiscono per provare qualcosa l'uno per l'altro.
17) 4×03 – Crocodile – 7.3
Arrivano finalmente punteggi migliori. Con un 7.3, Crocodile ottiene il diciottesimo posto in classifica. L'episodio ci mostra una tecnologia capace di far vedere i ricordi delle persone. Inutile dire che i risultati non saranno quelli sperati.
17) 4×02 – Arkangel – 7.3
Al diciassettesimo posto, con un punteggio di 7.3, troviamo Arkangel. La puntata indaga sugli effetti che potrebbe avere un inquietante strumento di parental control, capace di geolocalizzare e controllare i figli, permettendo ai genitori di vedere attraverso i loro occhi.
Un episodio di Black Mirror da brivido che si merita appieno un quasi sette e mezzo su IMDb.
16) 5×02 – Smithereens – 7.5
Stiamo per arrivare ai punteggioni. Smithereens è considerata, praticamente all'unanimità, la più bella puntata della quinta stagione, che – in generale – ha parecchio deluso le aspettative.
Con un 7.5, il 5×02 è il sedicesimo miglior episodio di Black Mirror su IMDb.
15) 3×05 – Men Against Fire – 7.6
Cosa succederebbe se in una guerra non fossimo in grado di capire che stiamo combattendo contro i nostri simili? Men Against Fire – andata in onda in Italia come Gli uomini e il fuoco – è una puntata stupenda che affronta una tematica così forte da mettere i brividi: il genocidio.
Con un punteggio di 7.6 su IMDb, la 3×05 finisce meritatamente poco dopo al pilot assoluto.
14) 1×01 – The National Anthem – 7.7
The National Anthem (Messaggio al primo ministro in Italia) è il primissimo episodio della serie. Vediamo un governante alle prese con una decisione difficilissima: fare e diffondere un video in cui fa sesso con un maiale per non vedere morire la principessa Susannah del Regno Unito. Impossibile non immedesimarsi.
Per ovvie ragioni la prima puntata di Black Mirror risulta indimenticabile e si aggiudica un punteggio di 7.7 su IMDb.
12) 2×02 – White Bear – 8.0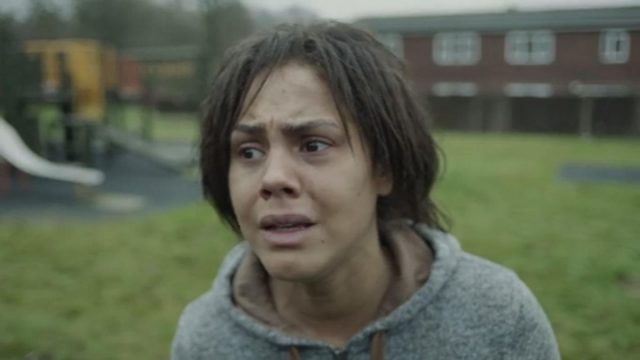 Ecco arrivare una particolare tipologia di zombie: quelli ossessionati dal riprendere ogni evento con il proprio cellulare. Una puntata da brivido, dove il confine tra buoni e cattivi si perde, rivelando un colpo di scena finale. Meritatissimo l'8.0 su IMDb per White Bear.
12) 2×01 – Be Right Back – 8.0
Un altro 8.0 su IMDb per una puntata agrodolce. Una giovane donna dopo aver perso il compagno decide di farlo "tornare in vita" attraverso una sorta di robot di carne sintetica, all'interno del quale è possibile trasferire la personalità dei defunti.
Un episodio di Black Mirror davvero raccapricciante, che forse non è così lontano dal diventare reale. Come riportato qui, Microsoft ha di recente ottenuto un brevetto per creare dei chatbot in tutto simili ai cari che abbiamo perso.
10) 3×02 – Playtest – 8.1
Super punteggio di 8.1 per Playtest, il secondo episodio della terza stagione, che racconta di un ragazzo a corto di soldi che si offre per testare alcuni giochi. I risvolti della puntata sono davvero inquietanti e assolutamente da non perdere.
10) 1×02 – 15 Millions Merits – 8.1
Altro ex-aequo, questa volta tra due puntate con un punteggio di 8.1: Playtest – di cui vi abbiamo appena parlato – e 15 Millions Merits. Un mondo dispotico perfettamente rappresentato, dove si vive su una cyclette per accumulare "valute" spendibili per cibo e qualsiasi altro prodotto necessario alla vita umana.
8) 4×01 – USS Callister – 8.3
Sembra di stare su una navicella di Star Trek e invece siamo in un altro bellissimo episodio di Black Mirror. USS Callister si aggiudica un punteggio di 8.3 su IMDb, a pari merito con Nosedive.
8) 3×01 – Nosedive – 8.3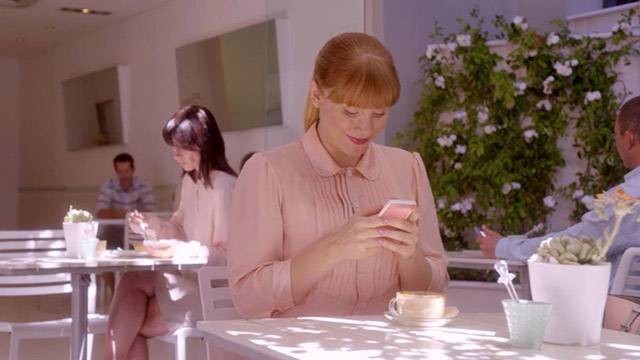 8.3 per Nosedive che, a detta di molti, è uno dei migliori episodi di Black Mirror. La protagonista è Lacie Pound, interpretata dalla rossa di Jurassic World Bryce Dallas Howard.
Lacie vive in un mondo dove il valore delle persone si misura in stelline attraverso un sistema di votazione che si attua con telefoni intelligenti. Un racconto che trae le sue premesse dalla realtà in cui viviamo oggi, dove i like sui social decretano la popolarità della gente e la validità delle opinioni.
6) 3×06 – Hated in the Nation – 8.5
Una serie di morti collegate ai social network. Ecco la trama molto semplificata dell'episodio 3×06 che ottiene un punteggio altissimo su IMDb: 8.5 a pari merito con Shut Up and Dance.
6) 3×03 Shut Up and Dance – 8.5
Abbiamo amato Alex Lawther anche in The End of the F***ing World. In questa puntata di Black Mirror l'attore interpreta Kenny, un ragazzo alquanto introverso che – dopo essere stato registrato dalla sua webcam mentre si masturba – diviene vittima di un ricatto.
Inutile dire che come come quasi sempre avviene in Black Mirror il confine tra buoni e cattivi non è così definito. Ed ecco che "Zitto e Balla" si aggiudica un 8.5 su IMDb.
4) 3×04 – San Junipero – 8.6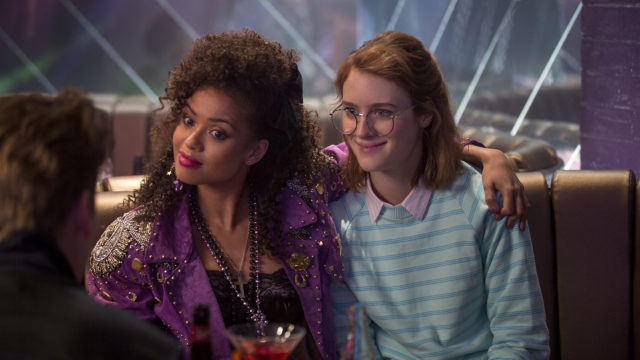 Quinto posto su IMDb, con un punteggio di 8.6, per San Junipero, uno degli episodi in assoluto più amati di Black Mirror. Il mondo descritto non è così spietato come quelli che appaiono nelle altre puntate: a San Junipero, infatti, le anime volano libere, di epoca in epoca, alla ricerca di una felicità che non riescono a trovare nella loro vita vera.
61 minuti di brividi ed emozioni, dove tutto è possibile e l'amore trionfa: un Black Mirror decisamente meno black del solito.
4) 1×03 – The Entire History of You – 8.6
Con lo stesso punteggio su IMDb di San Junipero (8.6), al quarto posto posto troviamo The Entire History of You. Anche in questo caso, come nell'episodio Crocodile, abbiamo a che fare con una tecnologia che registra i ricordi. I risvolti, per una coppia, non saranno affatto positivi…
3) 4×06 – Black Museum – 8.7
Siamo finalmente giunti sul podio. La puntata che si è aggiudicata il terzo posto su IMDb è davvero stupenda. È qui che ci troviamo faccia a faccia con i peggiori crimini contro l'umanità e con una tecnologia sadica e perversa, in un inquietante "museo del male".
Un episodio che si tinge di horror per indagare nel nero dell'anima umana, con un climax inarrestabile che toglie il fiato. Un punteggio di 8.7 meritatissimo.
2) 4×04 – Hang the DJ – 8.8
Secondo posto su IMDb per Hang the DJ, una ben studiata distopia sul mito delle anime gemelle. Un sistema chiamato Coach trova persone affini con un algoritmo e le accoppia, definendo anche per quanto tempo debbano stare assieme. Ma una coppia si ribella ed è pronta a lottare pur di amarsi anche dopo il tempo stabilito da Coach: cosa ci sarà al di là del muro che sembra tenerli lontano dalla libertà di amare?
L'episodio ha ottenuto un punteggio di 8.8, accaparrandosi la medaglia d'argento tra i 22 episodi di Black Mirror. Siete d'accordo?
1) Speciale – Bianco Natale – 9.1
Rullo di tamburi…
Il miglior episodio di Black Mirror su IMDb con un punteggio di 9.1 è lo speciale Bianco Natale. Questa puntata è un contenitore di più storie, unite da un filo conduttore: un Natale dove a trionfare è il cinismo dell'animo umano.
Siete rimasti sorpresi dalle posizioni in classifica? Quali sono per voi i migliori episodi di Black Mirror?