Dopo l'incredibile notizia del super-rinnovo di Rick and Morty (ne abbiamo parlato qui), i fan della serie animata stanno impazientemente aspettando la quarta stagione.
Qualche fan sta tentando di applicare una certa logica per scoprire l'esatta data di uscita, ma siamo sicuri che sia questo il metodo più adatto? Insomma, sono in primis i creatori della serie a non aderire alle classiche logiche delle date di première e alle strutture della televisione tradizionale. Basta pensare che il primo episodio della terza stagione è stato rilasciato il 1 aprile (pesce d'aprile) senza alcun preavviso!
Tutta questa faccenda porta con sé una certa ironia: in una serie incentrata sul più intelligente uomo del mondo, la logica non viene proprio presa in considerazione!
Ciò detto, vediamo di capire perché alcuni fan sono convinti che la quarta stagione di Rick and Morty uscirà nel periodo di Natale!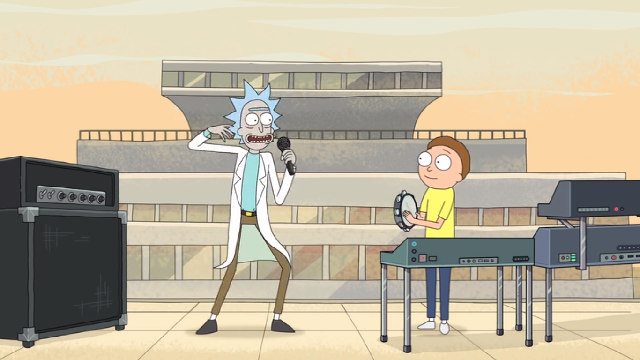 Quando Adult Swim ha trasmesso il finale della terza stagione c'è stata anche una scena post-credits con diversi personaggi, come Mr. Poopybutthole e la sua famiglia. Girandosi verso la telecamera, ha così detto:
See ya for Season 4 in like … a really long time! I might even have a big, white Santa Claus beard!

Ci vediamo alla quarta stagione tra… molto tempo! Potrei addirittura avere la grossa bianca barba di Babbo Natale!
Ovviamente questa citazione non basta a confermare la teoria dei fan. Va infatti affiancata a un easter egg che potrebbe renderla vera. Durante la scena post-credits del finale della seconda stagione (ottobre 2015), Mr. Poopybutthole dice:
Tune into Rick and Morty Season 3 — in like — a year and a half … or longer!

Sincronizzatevi per la terza stagione di Rick and Morty tra circa un anno e mezzo… o di più!
La première della terza stagione è stata trasmessa il 1 aprile 2017, proprio a un anno e mezzo dalla seconda.
Per questo motivo possiamo nuovamente prendere per vere le parole di Mr. Poopybutthole? Lo rivedremo con la barba di Babbo Natale? Possiamo inoltre considerare che la quarta stagione prenda il via con un episodio speciale di Natale, visto che anche la terza stagione ha seguito questo procedimento: il 1 aprile 2017 è stato trasmesso un episodio a tema e a luglio l'intera stagione.
Che dire: Happy Rick-mas!