Attenzione: questo articolo contiene spoiler su Rick and Morty 4×02!
Se Edge of Tomorty si è dimostrato un pilot eclatante e all'altezza delle aspettative, Rick and Morty 4×02 ha diviso i fan della serie in modo netto. Il principale fulcro della discussione ruota intorno alla fragilità di una delle tre storyline dell'episodio, ritenuta dai più ridondante e sviluppata in maniera frettolosa. Nonostante qualche piccola sbavatura e la reazione poco entusiasta di una fetta del pubblico, il secondo episodio riesce in realtà a mantenere una qualità elevata, facendo intuire una maturazione di Rick and Morty sul piano tecnico, ma soprattutto su quello emotivo.
Il titolo, The Old Man and the Seat, è un chiaro e buffissimo riferimento al romanzo breve Il Vecchio e il Mare di Ernest Hemingway. Proprio come il racconto dello scrittore, la puntata è incorniciata da un'atmosfera greve e malinconica, almeno per quanto riguarda la linea narrativa secondaria di Rick, alle prese con le sue necessità fisiologiche. Questa storyline riesce a tessere una nuova epopea fantascientifica partendo da una premessa rudimentale e piuttosto volgare, rivelandosi la punta di diamante di Rick and Morty 4×02. La vicenda principale risulta più spoglia a livello emotivo, ma è proprio quest'ultima a restituire equilibrio e comicità all'insieme, con un riassortimento dei personaggi davvero interessante.
L'eccezionale cast di doppiatori e il coinvolgimento della famiglia Smith al completo rendono The Old Man and the Seat un prodotto davvero godibile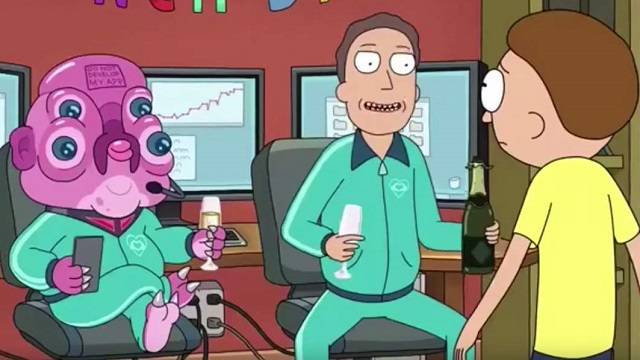 Nella storyline principale Morty e suo padre devono collaborare per distruggere l'app di appuntamenti LoveFinderrz, creata da Jerry insieme allo stagista alieno di Rick, Glootie. Quest'ultimo appartiene alla specie Monogatron, nota per aver perfezionato le relazioni monogame. I membri di questa razza aliena si presentano in modo tanto pacato quanto esilarante, in perfetto contrasto con un Morty agitato e rissoso che, nel goffo tentativo di fare le veci di Rick e gestire la situazione, minaccia di prendere tutti a pugni. A migliorare la qualità dell'episodio, si aggiunge anche un fenomenale cast di doppiatori: Glootie prende in prestito la voce di Taika Waititi (il regista di Thor: Ragnarok), mentre i due imperatori dei Monogatron sono rispettivamente impersonati da Sam Neill e Kathleen Turner.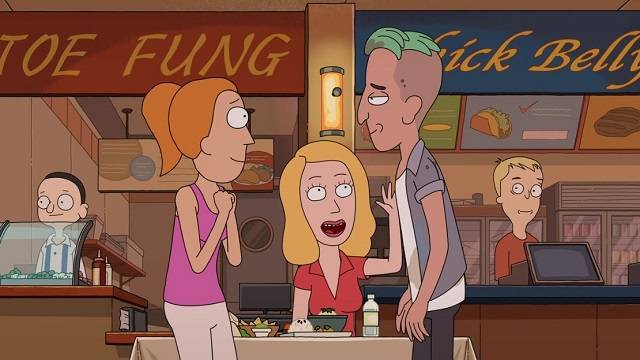 L'unica effettiva pecca della puntata è data dalla vicenda incentrata su Beth e Summer, sempre connessa alla creazione dell'app di incontri LoveFinderrz. Summer viene sostanzialmente ipnotizzata e ossessionata dalla ricerca dell'anima gemella, entrando in un loop di fidanzamenti lampo che la madre cerca in tutti i modi di sventare. Questa parte del racconto è effettivamente costruito in modo piuttosto grossolano e ripetitivo rispetto al resto dell'episodio, e assume un ruolo prevalentemente riempitivo. Nonostante l'apparente fretta in fase di scrittura, si possono comunque individuare delle piccole intuizioni comiche: prendiamo ad esempio il momento in cui Summer osserva schifata la sua nuovissima fiamma mentre si toglie i residui di sporco dai piedi.
Rick and Morty 4×02 è un episodio che intrattiene e sperimenta, alternando momenti comici a scene di profonda introspezione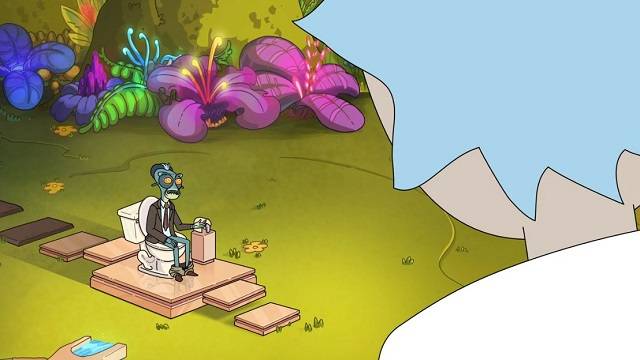 Già nel pilot abbiamo potuto notare un'inversione di tendenza nell'analisi psicologica dei personaggi: Morty ha assunto alcuni tratti del carattere del nonno, mentre la caratterizzazione di Rick intraprende una strada nuova e tutta da scoprire. Con The Old Man and the Seat entriamo nella sfera privata del personaggio (in tutti i sensi) e lo osserviamo in uno stato di contemplazione nel suo spazio personale, compiaciuto della propria solitudine. Tra citazioni di Matrix e gabinetti letteralmente paradisiaci, Rick trova e perde un amico, con un finale commovente che lascia un pazzesco senso di vuoto anche nello spettatore. Tony, l'alieno colpevole di aver usufruito del meraviglioso water di Rick Sanchez, emana tristezza e depressione da ogni poro, con la complicità della voce densa di pathos di Jeffrey Wright (noto per il suo ruolo nella serie Westworld).
Il secondo episodio è anche una testimonianza di come lo standard visivo della serie si sia innalzato nel corso del tempo. Adult Swim è nota per i suoi prodotti animati sovversivi e volutamente rozzi, ma la quarta stagione di Rick and Morty dimostra di aver fatto un enorme salto di qualità in fatto di animazione. In effetti, per quanto sia buffa l'idea che Rick abbia bisogno di un luogo lontano anni luce per poter soddisfare le sue funzioni fisiologiche, le immagini del suo paradiso personale sono spettacolari. Tutto sommato, il rischio corso da Tony si direbbe più che comprensibile. Inoltre, ammettiamolo: chi di noi, guardando la puntata, non ha desiderato avere un bagno del genere?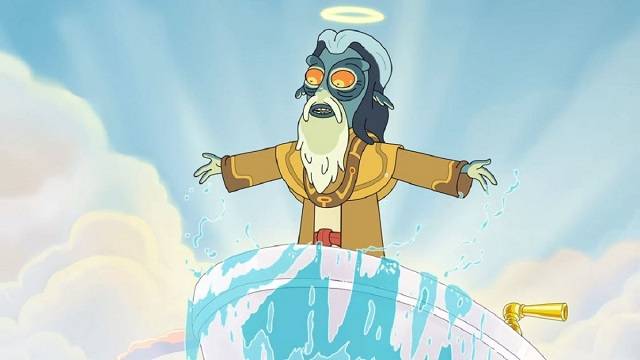 A conti fatti, Rick and Morty 4×02 è un episodio a cui è facile affezionarsi, caratterizzato però da una forte "familiarità narrativa" che può indurre lo spettatore a sottovalutarlo. I battibecchi madre-figlia e il modo in cui Rick affronta i piccoli problemi quotidiani sono argomenti già trattati nelle scorse stagioni, ma The Old Man and the Seat scandaglia gli abissi della solitudine di Rick Sanchez, facendo emergere altri lati del suo frastagliato carattere. Infine, la puntata ricombina i membri della famiglia Smith in coppie bizzarre, riuscendo a farci ridere, sorridere e a creare un forte punto di contatto con il pubblico. La quarta stagione della serie promette davvero bene.