Eccoci qua. Siamo giunti all'inizio della fine. Nel caso abbiate vissuto sottoterra e non siate ancora a conoscenza della notizia: The Big Bang Theory ha appena cominciato a trasmettere la sua dodicesima e ultima stagione (noi vi abbiamo parlato della sua cancellazione qui). Di questi tempi bisogna ammettere che è un miracolo se a una Serie Tv viene data la possibilità di concludere la storia con un preavviso. Capitano spesso infatti cancellazioni inaspettate che lasciano gli spettatori a bocca asciutta. Un vero e proprio incubo. La stessa Penny, da vera addicted, in questo primo episodio si lamenta di come The Vampire Diaries sia stata cancellata.
Inoltre, dopo l'enorme successo della serie creata da Chuck Lorre e Bill Prady, possiamo concordare tutti che si meriti un finale dignitoso. Non importa se pensate che la qualità della sitcom sia calata negli anni, che i personaggi siano stati snaturati con il tempo o che fosse ora che The Big Bang Theory raggiungesse la sua fine. Non potete non desiderare una stagione finale all'altezza delle aspettative.
Ecco come ci eravamo lasciati.
La dodicesima stagione comincia dopo il matrimonio di Sheldon e Amy: i due sono infatti in luna di miele. Indovinate dove? A Legoland. Loro però si sposteranno poi a New York per assistere al musical di Harry Potter e partecipare a un tour guidato,nei luoghi della vita di Nikola Tesla. Senza alcun dubbio tutte destinazioni selezionate da Sheldon.
E qui cominciamo a rivedere le basi del loro rapporto che nonostante il passaggio alla "fase successiva", vede Amy accontentare sempre suo marito (fa ancora strano pensare che siano sposati).  Provando ad andare incontro a Sheldon, la ragazza vuole farlo sentire a suo agio in un territorio inesplorato per entrambi ma che sicuramente si rivela più difficile da comprendere per lui. Prendendolo "con le pinze" Amy gli lascia decidere cosa fare, chiedendogli in cambio di mettere da parte la sua mania per il controllo. Il tutto in favore di un po' di spontaneità.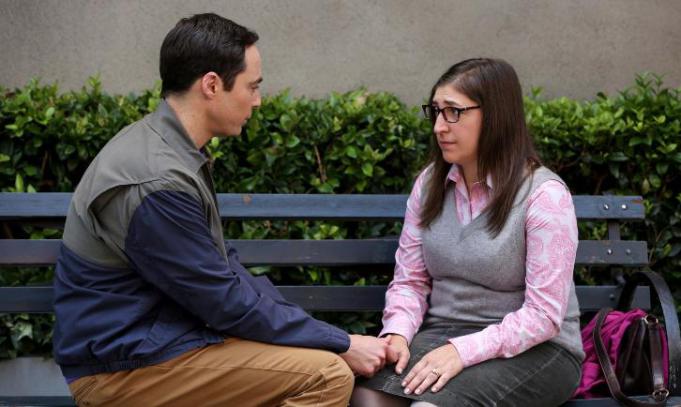 Da sempre il rapporto tra i due è stato messo al microscopio più e più volte. Non è un segreto che l'introduzione del personaggio di Amy, come interesse amoroso per il robotico Sheldon, non era ben visto dai fan della sitcom. Una delle tante critiche mosse alla serie è appunto quella di aver snaturato Sheldon a favore dell'entrata in scena di un nuovo personaggio che pareva una forzatura e rischiava di togliere il fattore comico che tutti riconoscevano nel protagonista di The Big Bang Theory.
Al contrario invece, lei ha contribuito allo sviluppo del personaggio. Mai ci saremmo aspettati uno Sheldon disposto a scendere a compromessi (a meno che non si tratti di un vincolo contrattuale). Di fatto al termine di questo episodio ha confessato di voler provare a essere più spontaneo e a non controllare la sua vita in ogni minimo dettaglio. Questo Sheldon si discosta certamente dalla figura robotica delle prime stagioni, ma ciò era inevitabile. La mancanza di sviluppo psicologico del personaggio sarebbe parsa inverosimile, poiché tutti, seppur in diversi modi, cambiano.
Ma torniamo a Pasadena.
Penny e Leonard devono fare i conti con il futuro che gli si presenta davanti, sotto forma dei signori Fowler, conosciuti proprio in occasione del matrimonio tra Sheldon e Amy. Il signor Fowler cerca disperatamente di scappare dalla moglie, nascondendosi nell'appartamento della figlia. Però quando la signora va a prenderlo per portarlo a casa, Penny e Leonard assistono a un litigio che li fa riflettere sulle loro diversità e sul loro futuro.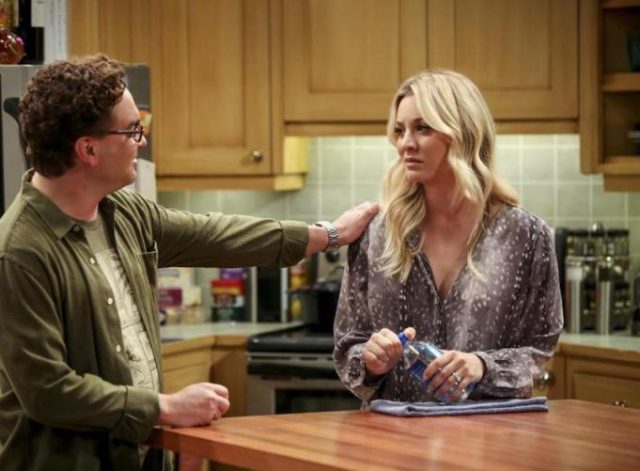 La coppia Penny-Leonard è stata la colonna portante, il filo conduttore di tutte le undici stagioni di The Big Bang Theory. Partendo dal primo episodio in cui Leonard si ripromette di conquistare la bella ragazza dall'altra parte del pianerottolo, fino a quando sono arrivati a portare i loro amici all'altare al termine dell'undicesima stagione. Nell'ultima parte della storia, alla quale stiamo per assistere, i due devono tirare le somme di quanto è accaduto e pensare seriamente al futuro. Indubbiamente sono due persone diverse, ma ciò non significa che non stiano bene assieme. La stessa Kaley Cuoco, interprete di Penny, ha ammesso cosa si aspetta di vedere alla fine della serie (noi ve ne abbiamo parlato qui).
Mi spiace aver visto Howard, Bernadette e Raj separati dal gruppo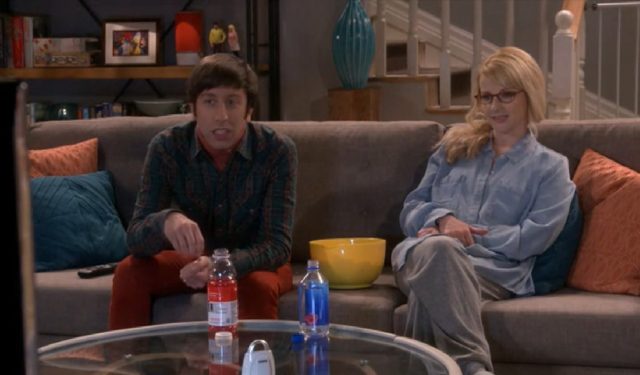 È accaduto spesso negli ultimi episodi che ai tre venga assegnata una storyline diversa. Raj viene invitato dal notiziario locale per parlare di una pioggia di meteoriti. Durante l'intervista però lancia frecciatine al celebre astrofisico Neil deGrasse Tyson, dando vita a un litigio su Twitter. Cosa che fornisce l'espediente più comico dell'intero episodio. Quello che dobbiamo sperare è che i tre vengano fatti incontrare di più con il gruppo. Perché la verità è che in questo episodio ho provato un po' di nostalgia non vedendo tutti i protagonisti assieme a mangiare take-away a casa di Leonard e Penny.
Una cosa di cui dobbiamo essere felici è però il fatto che le premesse lanciate da "The Conjugal Configuration" (la configurazione coniugale), sono in linea con la storyline della stagione precedente e non risultano una forzatura. In questo modo sembra che tutto riuscirà ad avere una conclusione, nel bene o nel male. Ma per saperlo non ci resta che continuare a guardare. Con la triste consapevolezza che saranno sempre meno i minuti che potremo passare con i nostri personaggi preferiti. Fino all'inevitabile rewatch dettato dalla nostalgia.
Leggi anche – The Big Bang Theory: il finale ideale