# #
Lo attendevamo con una certa ansia, non neghiamolo. Outlander dalla prima stagione, in particolare quella dello scorso anno, ci ha abituati a finali strappalacrime, intensi, di quelli che necessitano un paio di mesi per far riprendere noi fan. Ma, d'altronde, questa puntata doveva sciogliere tutti quegli enigmi che la Serie si è portata dietro per 12 lunghi episodi.
# #
Possiamo tranquillamente affermare che questa stagione si è divisa in due parti ben distinte. La prima, forse quella più emozionante, si concentrava sulle vite separate di Jamie e Claire in questi vent'anni lontani l'uno dell'altra. E le reciproche difficoltà di convivere con un dolore troppo grande da sopportare e dimenticare. L'altra, poco dopo che la nostra coppia si era finalmente ricongiunta, è stata una corsa (in mare) a perdifiato, per raggiungere il giovane Ian. Ma eccoci ora giunti al gran finale.
Jamie, questa volta, sarà riuscito a scampare all'ennesima esecuzione? Claire porterà in salvo il giovane Ian? Ma soprattutto, Geillis… cos'ha in mente?
Scopriamolo con l'ultima recensione del 2017 di Outlander. Ripercorriamo insieme questa puntata davvero bomba, dal titolo 'Eye of the Storm'.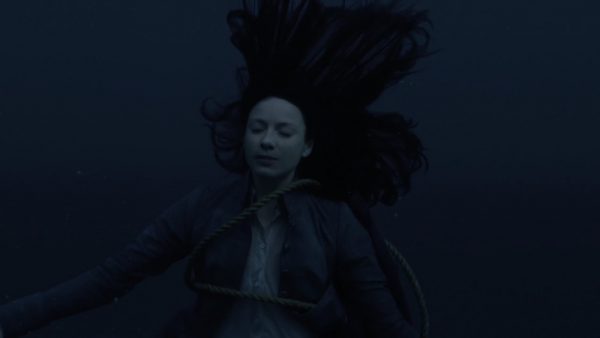 # #
Ma lo sconcerto nel vedere Claire che sembra preannunciare la sua imminente morte, mentre il suo corpo esanime affonda inesorabilmente nell'oceano? Bel modo di iniziare, proprio per metterci poca pressione addosso! Ancora una volta devo fare i miei complimenti al personaggio di Lord Grey e all'attore che lo ha interpretato, David Berry. La migliore new entry di questa stagione di Outlander. Chi di voi non si è fatto venire le vesciche alle mani per gli applausi, quando ha rimesso al suo posto il capitano Leonard? FAN-TA-STI-CO! E così Jamie, come noi, ripensa a come la Fortuna rimescoli di continuo le sue carte. L'aver salvato quel giorno a Culloden il giovane John ha fatto sì che vent'anni dopo, lontano migliaia di chilometri dalla Scozia, quel ragazzino ora cresciuto gli ricambiasse il favore ancora una volta.
Abbiamo salutato con affetto Grey, speranzosi di rivederlo il prossimo anno. E diamo il nostro addio anche a Mr Willoughby e a Margareth Campbell, a cui Outlander ha regalato un lieto fine, ben diverso dalla Saga cartacea della Gabaldon.
Un altro fantasma del passato, decisamente meno piacevole del Governatore della Giamaica, spetta invece a Claire. Geillis, come molti di voi avevano intuito, comprende che Brianna è proprio la risposta alla profezia.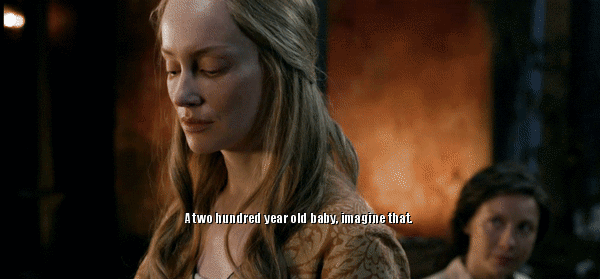 Ecco un altro esempio delle coincidenze che sembrano insinuarsi nelle vite di tutti i protagonisti. L'ex strega infatti, riconosce in Bree la ragazza che aveva incontrato in Scozia tanti anni prima. Outlander, che da sempre ci ha dato pochissime informazioni sul potere delle pietre di Craigh na Dun, sposta l'attenzione proprio su un altro portale. 'Abandawe' appunto, la parola citata molte puntate prima dalla pazza Margareth.
Qui finalmente Geillis ha avuto quel che si meritava, ma, nonostante ciò, la scena è stata atroce e sconcertante. Questa volta la morte l'avrà davvero presa con sé? Sarebbe ora! Ho adorato l'altro elemento che collega inesplicabilmente presente e passato – il teschio mostrato a Claire da Joe Abetnathy anni prima, era quello di Geillis! Da fan dello show (sebbene nei libri abbia trovato qualche risposta in più) spero ben presto si faccia più luce sulle pietre e i portali che permettono il viaggio nelle varie ere e sulle misteriose modalità con cui ciò avviene. Parliamo del resto dell'elemento più criptico e complesso dell'intera narrazione ma su cui quasi mai ci si sofferma a riflettere!
Proprio quando Ian è in salvo e  i protagonisti tirano un sospiro di sollievo, comprendiamo nel giro di pochi secondi a cosa si riferisse la scena iniziale che vedeva Claire annegare.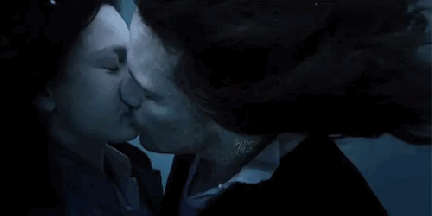 Tutta la sequenza della nave in balia del mare in tempesta è stata tremenda, paurosa e ansiogena, visto che temevamo dove sarebbe andata a parere. La nostra Sassenach sembra affondare con una lentezza estenuante, mentre la pace e l'abbandono dalle sofferenze e da un'esistenza che le ha chiesto sin troppo, prendono il sopravvento. NO! Non lo avremmo mai accettato, non così e non ora. Però, ammettiamolo, non abbiamo davvero creduto che la nostra protagonista potesse morire così! Questo però nulla toglie a ciò che ne è conseguito. Jamie pensa di averla perduta… e non ci sono urla, pianti e disperazione che possano 'raccontare' l'angoscia di un uomo che abbraccia l'amore della sua vita, morto. Le sue lacrime quasi trattenute, le parole di finta rabbia e in primis, il suo viso impietrito, rendono quel dolore tangibile.
La vita, che ha giocato con loro continuamente, sballottandoli qui e lì letteralmente e metaforicamente, concede però loro un'altra opportunità: l'America.
Disperati, stanchi, scossi dagli avvenimenti degli ultimi mesi che si sono abbattuti su di loro, proprio come quest'ultima tempesta, Jamie e Claire non possono far altro che abbracciarsi, lasciandosi andare emotivamente.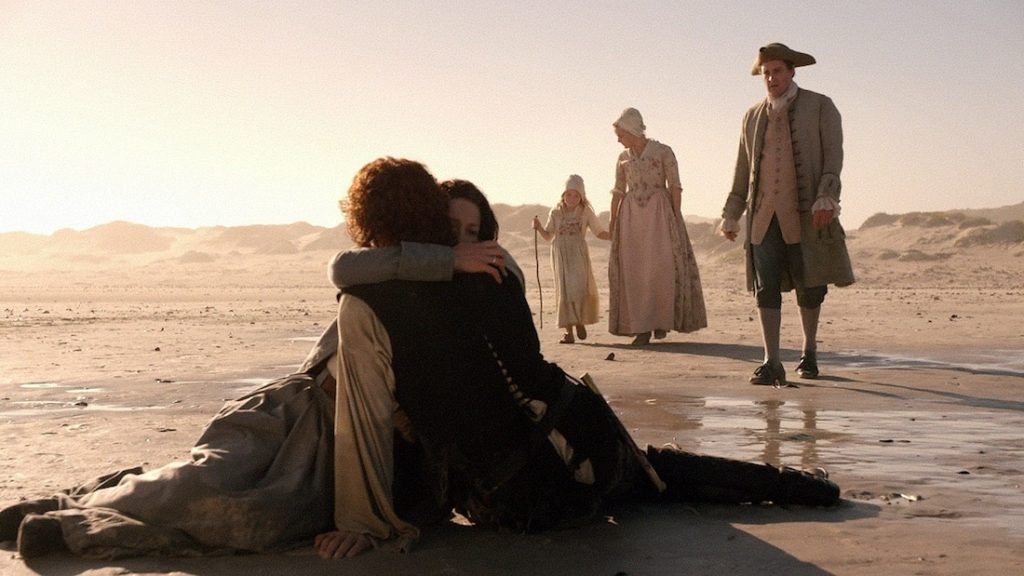 E lo stesso facciamo noi, contemplando questi due personaggi così ricchi di sfaccettature, così intensi e così REALI. Perché la Gabaldon, l'ideatore Ronald D. Moore e soprattutto Caitriona Belfe e Sam Heughan, ci hanno raccontato questo: una storia autentica. E noi fan che l'abbiamo apprezzata, ci sentiamo dei privilegiati per averne fatto parte, nel nostro piccolo.
Finisce qui questa terza stagione di Outlander. Forse per i motivi che più volte abbiamo elencato, è quella che più si è discostata dalle due precedenti. Come ad esempio il ritmo decisamente diverso, l'introduzione di nuovi personaggi e scenari differenti e molto diversi dall'amata Scozia. Forse questo può aver destabilizzato qualche fan. Però, con le dovute eccezioni e 'tagli' necessari, ha seguito a grandi linee i punti cardine della storyline dei libri e non ha deluso le aspettative dei più. Sicuramente non le mie.
A rischio di risultare melensa, ci tengo a ringraziare tutti coloro che hanno letto (anche solo di sfuggita), commentato e criticato le mie recensioni della Serie Tv che ho curato a partire da Settembre. Specialmente i lettori della nostra community su facebook Hall of Series – Comunità di recupero (serie Tv), in particolare il mini-clan formato da Mimma, Valentina e Davide. I loro commenti divertenti, pungenti, appassionati e folli sono stati un supporto fondamentale. Oltre ad avermi strappato non poche risate.
La sottoscritta e Hall of Series vi danno appuntamento al prossimo anno per una nuova stagione di Outlander da seguire rigorosamente insieme!
Last but not the least, un grazie va alla pagina Everything Outlanderღ per l'attenzione e la passione che ha dimostrato sempre per questo show e il suo fandom.