Outlander è una Serie Tv britannico-statunitense di genere storico-fantastico creata da Ronald D. Moore, noto sceneggiatore per i contributi alla saga di Star Trek e Battlestar Galactica.
La prima stagione ha debuttato nell'estate del 2014 nella piccola rete via cavo Starz, che negli anni ha evoluto i suoi palinsesti provando a competere con i colossi HBO e Showtime, compito non facile ma riuscito: tra le serie di punta ci sono Da Vinci's Demons, Black Sails, Ash vs. Evil Dead e le miniserie I pilastri della Terra (2000), Torchwood: Miracle Day (2011), The White Queen (2013).
La serie televisiva di Outlander prende spunto dal libro La Straniera, primo capitolo della Saga di Claire Randall della scrittrice statunitense Diana Gabaldon, edita in Italia nel 2003 da Corbaccio editore,  quando la prima edizione originale e senza tagli delle Outlander series risale al 1991.
Outlander rientra nei canoni del fantasy drama e racconta le avventure di Claire Randall a cavallo tra 1900 e 1700.
La storia ha inizio nel 1945, durante la seconda luna di miele dell'ex infermiera militare Claire Beauchamp e Frank Randall a Inverness, in Scozia. Durante il loro soggiorno nelle Highlands scozzesi, la coppia ne approfitta per visitare i paesaggi incontaminati.
Nella notte di Halloween si ritrovano ad assistere ad un antico ballo celtico nel Craigh na Dun, un misterioso cerchio di monoliti. Quando la donna, appassionata di botanica, tornerà lì il mattino successivo in cerca di fiori, verrà magicamente trasportata nel XVIII secolo.
La donna si risveglia nel 1743, frastornata, nel bel mezzo di un conflitto tra le Giubbe Rosse e la popolazione ribelle, nel contesto militare delle insurrezioni giacobite delle isole britanniche.  Poco dopo il suo arrivo, l' antenato di suo marito, il Capitano Jonathan Randall tenta di violentarla, ma fortunatamente (?) Claire viene salvata dallo stupro e portata da uno dei clan scozzesi residenti a Castle Leoch: i MacKenzie. Riuscirà a rimanere in vita solo grazie alle sue conoscenze mediche che le assicurano un posto di guaritrice, ma tenuta sempre d'occhio perché accusata di essere una spia inglese.
Durante la sua permanenza con il clan, Claire conosce e si prende cura del nipote del capo clan, Jamie Fraser, ricercato dalle Giubbe Rosse per un reato di furto e omicidio. L'iniziale diffidenza dei due si trasformerà in una bellissima e passionale storia d'amore che spezzerà il cuore di Claire tra il desiderio di tornare nel futuro, dal marito Frank, e quello di rimanere nella sua nuova vita accanto a James.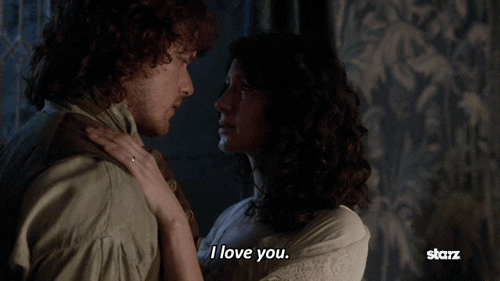 Le due vite parallele e inconciliabili di Claire scorreranno come un susseguirsi di quadri d'autore sullo sfondo delle Highlands, notoriamente riconosciute come uno dei paesaggi naturali più belli del mondo. La Terra dei Gaeli è qui ritratta come una terra selvaggia in cui l'uomo, ancora, non ha distrutto l'equilibrio naturale; ci si cura con le erbe medicinali e al tramonto si accendono le candele.
Il connubio artistico Ronald D. Moore/Bear McCreary è di nuovo stato un colpo da maestro. Il compositore e musicista statunitense, noto per le composizioni di Battlestar Galactica, The Walking Dead, Black Sails e già vincitore di una Emmy per il tema della serie Da Vinci's Demons, ha ricevuto una nomination alla Miglior composizione musicale per una serie durante i  Primetime Creative Arts Emmy Award del 2015, per il pilot di Outlander intitolato Sassenach (La straniera, vers. Italiana).
I costumi e le musiche sono un pezzo forte di Outlander, oltre all'alchimia dei due protagonisti interpretati da Caitriona Balfe e Sam Heughan. Un triangolo amoroso mascherato da avventure a cavallo tra i secoli ne fanno il perfetto esempio per chi è in cerca di una serie esteticamente e stilisticamente perfetta, ricca di pathos, con una buona dose di peripezie.