The Walking Dead 10 arriverà sulla AMC negli Stati Uniti il 6 ottobre 2019 (in Italia dal 7 ottobre, su FOX) e per i protagonisti i pericoli continuano.
La sinossi della decima stagione ci introduce ciò che ci aspetta nei nuovi 16 episodi:
"The Walking Dead è una storia iniziata dieci anni fa con un uomo che cercava di trovare la sua famiglia. La famiglia è cresciuta e lentamente si sono formate comunità. Hanno combattuto e sono sopravvissute, dando vita a una nuova generazione. È la storia dell'umanità e continua.

È ormai primavera, sono passati pochi mesi dalla conclusione della nona stagione, quando il nostro gruppo di sopravvissuti ha provato ad attraversare il territorio dei Sussurratori durante il duro inverno. Le comunità stanno ancora facendo i conti con le conseguenze della terribile ostentazione di potere di Alpha, rispettando con riluttanza i nuovi confini imposti, mentre si organizzano in una forza paramilitare, preparandosi a una guerra che potrebbe essere inevitabile.

Ma i Sussurratori sono una minaccia più grande di qualsiasi altra, sostenuti da un'orda di morti. Sembra una guerra che non si può vincere. Paura e dubbi si diffonderanno nelle comunità, portando a paranoia, propaganda, doppi fini e scontri che li metteranno alla prova come individui e come società."
The Walking Dead 10 non avrà più Andrew Lincoln (interprete di Rick Grimes) come protagonista, ma rivedremo tre veterani della serie tv: Daryl (Norman Reedus), Carol (Melissa McBride) e Michonne (Danai Gurira).
I tre personaggi sono i protagonisti della nuova key art rilasciata dalla AMC. Per Gurira (presente nella serie tv dalla terza stagione) la decima sarà l'ultima.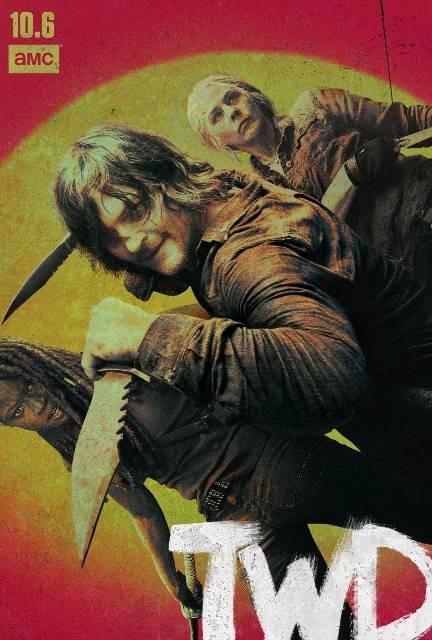 In attesa che arrivi ottobre, possiamo calarci nell'atmosfera della decima stagione rivedendo il trailer, rilasciato in occasione del San Diego Comic-Con di quest'anno.