Quanto si sente l'assenza di Rick Grimes da The Walking Dead da uno a cento?
Avete detto centomila? Sono d'accordo con voi.
Per quanto la serie abbia innegabilmente incespicato negli ultimi tempi (anni), c'è sempre stata una costante, una sicurezza, qualcosa a cui potevamo aggrapparci. Nei momenti difficili, Rick sarebbe arrivato, con i suoi luridi stivali consumati, col suo sguardo sofferente, con tutti i suoi rimpianti e i suoi sensi di colpa. Da sceriffo buono, passando per la Ricktatorship, dalle debolezze, dai fantasmi sempre sul baratro della follia, fino ai sensi di colpa e ai gesti più violenti, Rick Grimes è The Walking Dead.
In molti lo hanno amato, altri lo hanno detestato per i suoi evidenti errori umani: ma come si fa a biasimare Rick Grimes?
L'uomo che si risveglia nello stato più debole e vulnerabile possibile: seminudo, in una camera di ospedale, con ancora il tubo del respiratore nel naso. Disorientato, terrorizzato, inconsapevole, incredulo, attraversa i corridoi dell'ospedale cercando di capire cosa stia succedendo. Non è facile e non è razionalizzabile e Rick lo scopre in fretta.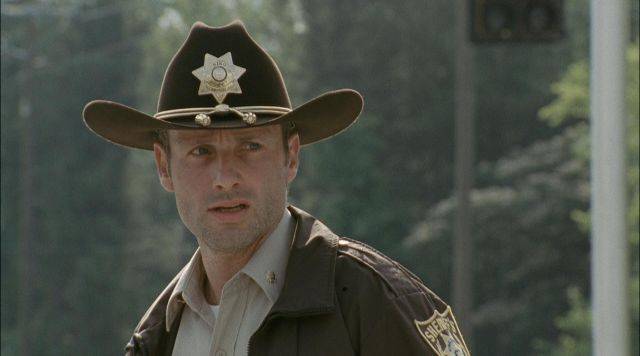 Il mondo che conosceva prima non esiste più: è tutto cambiato. Peggio della rivoluzione, peggio dell'anarchia, questo è caos fuori da qualsiasi immaginabile schema mentale. Rick fa ciò che faremmo tutti: non bada a sé, alle ferite ancora in via di guarigione, ma cerca la sua famiglia, a ogni costo. Cosa sarebbe la sua vita, senza Lori e Carl? Nulla ed ecco perché si mette alla ricerca con l'unico barlume di normalità che ancora lo tiene legato alla vita.
Scelta sbagliata? Io non credo.
Fast forward alla scelta più drammatica della prima stagione: contrariamente al parere della maggioranza, Rick convince il gruppo a recarsi al centro di controllo malattie. A partire da questo punto, Rick smette di essere lo sceriffo gentile e diventa il capo branco, la persona a cui tutti si rivolgono per qualsiasi problema. Da questo momento in avanti, Rick si assumerà la responsabilità di tutte le scelte più controverse e complicate da prendere.
È Rick che tenta di mediare i rapporti con Hershel alla fattoria, che uccide il primo essere umano, che sacrifica il migliore amico, perché quella è la scelta migliore: è la sopravvivenza. Sempre lui decide di assaltare la prigione, di prendere tutte le decisioni più delicate.
Ci vuole un vero leader per fare scelte impopolari e Rick, di scelte impopolari, nel corso delle tante stagioni di The Walking Dead ne ha prese tante. Ha sbagliato, è caduto, ha rischiato la propria sanità mentale, ma quanti lo criticano dimenticano chi sia Rick Grimes: un essere umano, quindi fallibile.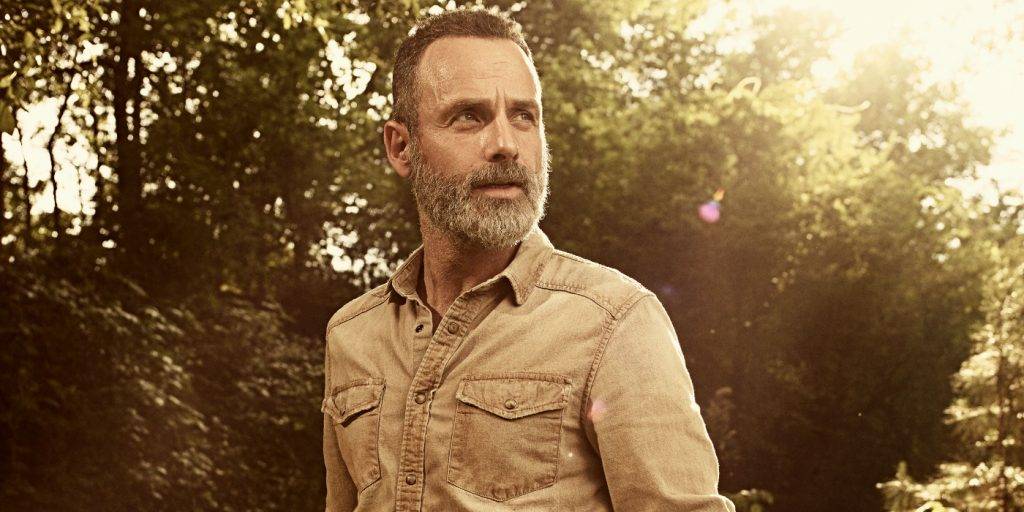 In pochi sarebbero riusciti a gestire tutto quello stress, la pressione, l'ansia, il senso di giustizia che collide con la realtà dei fatti, senza rinunciare del tutto a se stessi. Rick ci riesce, a volte con successo, altre volte no, cadendo, ferendosi, ma mettendosi sempre in prima linea.
Ecco chi è Rick Grimes: un essere umano, fallibile, pieno di dubbi e sensi di colpa, forte, indomabile, cocciuto, capace di slanci istintivi sia teneri che spaventosi: quando si lascia andare tra le braccia di Michonne, quando strappa la giugulare di Joe. È sempre la stessa persona, ma, a seconda delle situazioni, mostra un lato di sé completamente diverso.
Rick ha il grande pregio di sapere cambiare idea: accetta la sbandata e folle Michonne che diventa parte della sua famiglia, il redneck che non sa aprirsi al mondo e che non vuole rapporti umani diventa suo fratello e la bambina non sua, ma del suo migliore amico, è il suo raggio di sole.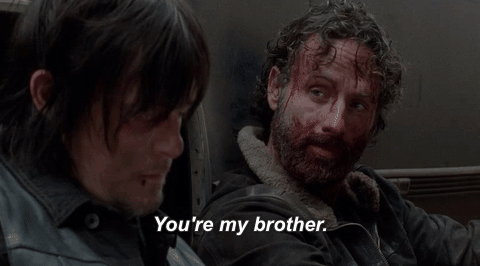 È Judith Grimes, non Judith Walsh perché così ha giustamente deciso Rick.
Altro fast forward verso le stagioni più recenti, siamo all'All out war contro Negan (che, all'epoca, ci sembrava davvero il cattivo più cattivo di The Walking Dead… che ingenui). Rick, da vero leader, sente sulle spalle il peso delle morti di Glenn e Abraham e decide di vendicarli. Rick ha sempre a cuore gli interessi, la salvaguardia e il bene della sua famiglia allargata e questo lo mette dalla parte della ragione, anche quando sbaglia.
Lui non è mai una via di mezzo, anzi, si espone in prima linea: per il gruppo è una specie di faro a cui tutti si rivolgono per ritrovare la strada verso casa, è il padre buono, di polso, a volte severo e altre volte padre-padrone che darebbe la vita pur di salvare la propria famiglia. Solo esponendosi in questo modo si possono commettere degli errori, ma Rick riesce sempre a compiere la scelta migliore, per quanto dolorosa.
Ed è esattamente quello che fa, facendo saltare il ponte e impedendo alla mandria di zombie di raggiungere la comunità dove vivono i suoi cari.