Sappiamo già che torneremo a seguire assiduamente The Walking Dead già dal 6 ottobre di questo autunno, data di uscita del primo episodio negli USA. Siamo consapevoli, inoltre, che questa decima stagione vedrà i nostri beniamini alle prese con la "Guerra dei Sussurratori", come ha rivelato la showrunner Angela Kang.
Non è escluso che rivedremo la bella Lauren Cohan nei panni di Maggie, uscita di scena già nella prima metà della nona stagione di The Walking Dead. Inoltre è stato confermato che Andrew Lincoln ritornerà nella serie… dietro la macchina da presa! Sarà infatti uno dei registi della prossima stagione.
Lasciando da parte le anticipazioni di cui abbiamo già ampiamente sentito parlare e discusso, però, oggi vi lasciamo una dichiarazione della showrunner Angela Kang che riguarda le difficoltà che dovranno affrontare i protagonisti di The Walking Dead.
Dopo il finale della nona stagione, la Kang aveva dichiarato:
L'episodio innevato dell'anno scorso è stato qualcosa che ci siamo divertiti così tanto a fare. Volevamo introdurre la neve da anni, quindi è stata una grande impresa. Stiamo ancora esplorando altri tipi di ostacoli ambientali che non abbiamo mai visto prima, quindi ci saranno altre novità a cui prestare attenzione
Dopo il trailer della decima stagione rilasciato al Comic-Con di San Diego, che ci ha mostrato una spiaggia e una foresta infuocata come ambientazioni, la Kang ha detto che i protagonisti si ritroveranno ad affrontare degli ostacoli ambientali mai visti prima.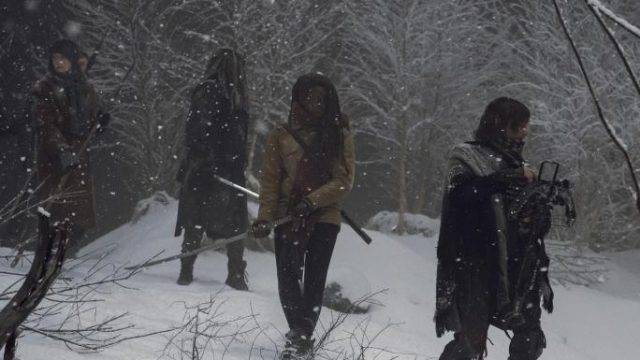 Lo stesso regista Greg Nicotero ha ammesso che le riprese dopo il finale innevato della nona stagione sono state piuttosto angoscianti.
L'unica cosa che nessuno di noi ha mai fatto è stato sparare sulla neve e sparare sulla neve in Georgia. Questa è stata di gran lunga la sfida più grande
Speriamo che i personaggi superstiti di The Walking Dead riescano ad affrontare bene gli ostacoli che gli si porranno davanti! Noi, intanto, teniamo le dita incrociate per un finale positivo.