Dopo mesi di teorie e pettegolezzi è arrivata l'amara conferma: lo show The Punisher non vedrà la luce per una terza stagione.
Come è stato riportato nei giorni scorsi, Neftlix avrebbe infatti terminato la sua lunga e proficua collaborazione con la Marvel Television. Secondo alcune ipotesi, il motivo sarebbe l'arrivo della piattaforma streaming di Disney+. La serie tv dedicata al personaggio di Frank Castle, interpretato dall'attore Jon Bernthal, conosciuto nel corso della seconda stagione di Daredevil, contava numerosi appassionati, fra le quali anche alcune celebrità.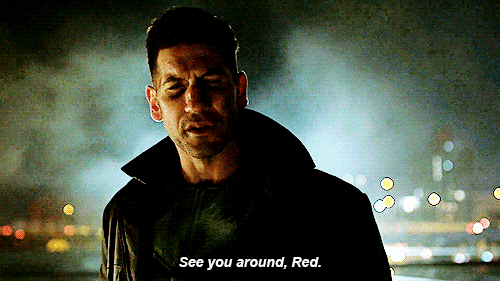 Uno di questi, non ci crederete mai, è proprio Eminem, rapper e produttore discografico di fama mondiale.
Il cantante ha voluto criticare la scelta di Netflix tramite il suo account Twitter. Poche e semplici parole che racchiudono tutto il disappunto dei fan della serie tv dell'antieroe per eccellenza. Un sentimento che accomuna molte persone per il mondo: un'emozione che si era già provata precedentemente per la cancellazione di Daredevil, serie madre di quelle targate Marvel.
Caro Netflix, 
Per quanto riguarda la cancellazione di The Punisher, stai mandando tutto all'aria!

Cordiali saluti,
Marshall
DEAR @NETFLIX,

REGARDING YOUR CANCELLATION OF THE PUNISHER, YOU ARE BLOWING IT!!

SINCERELY,
MARSHALL

— Marshall Mathers (@Eminem) February 21, 2019
Probabilmente i fan non sapranno mai la verità riguardo la fine della collaborazione fra Netflix e la Marvel Television.
La Marvel ha rilasciato una dichiarazione affermando che la volontà di ciò è partita dalla stessa Netflix. All'interno dello stesso comunicato si è voluto far intendere che questi grandi e importanti personaggi potrebbero tornare in futuro sui nostri teleschermi. Ma non sulla piattaforma streaming di Netflix.
Sfortunatamente, nonostante il disappunto di Eminem, le possibilità che il destino di The Punisher possa cambiare in futuro sono pari a zero. Quello che può fare è, però, motivare altre piattaforme (magari proprio quella della Disney) a investire sulle serie televisive della Marvel.
Che cosa ne pensate?