Circa un mese fa le premesse per realizzare un podcast sull'amata serie tv Scrubs c'erano tutte. I rumors a riguardo, nati dagli indizi sparsi lasciati da Zach Braff e Donald Faison sui social, hanno entusiasmato i fan più nostalgici che hanno pazientemente aspettato la notizia ufficiale. Ma finalmente l'attesa è terminata.
Ieri i due attori hanno infatti pubblicato sui loro profili Instagram dei post per presentare l'attesissimo talk show chiamato Fake Doctors, Real Friends With Zach + Donald, inserendo anche il link per poterlo ascoltare.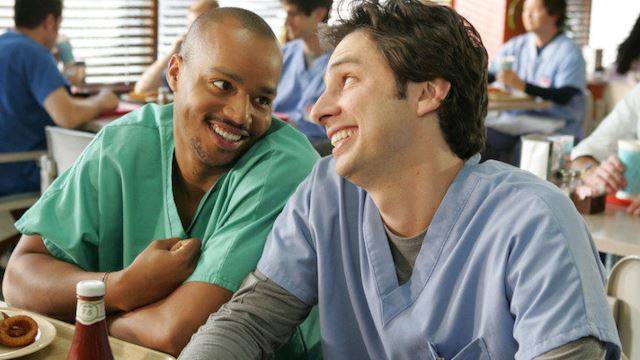 Durante il podcast Braff e Faison faranno un rewatch della serie tv sui medici del Sacrocuore. Nel corso di ogni puntata commenteranno un episodio di Scrubs, aggiungendo aneddoti e retroscena mai rivelati prima. Al momento è possibile seguirlo sulla piattaforma di Spotify o IHeartRadio. Ecco la didascalia del podcast, che anticipa immediatamente l'obiettivo del talk-show presentato dai migliori amici più apprezzati della televisione.
Sapete cosa è lungo, tedioso e noioso? Chirurgia! E sapete cosa non lo è? Questo nuovo podcast! Unitevi alle co-star, nonché migliori amici nella vita, Zach Braff e Donald Faison per un comedy podcast settimanale dove riporteranno in vita il fenomenale show, un episodio alla volta. Ogni settimana questi migliori amici commenteranno un episodio di Scrubs, condividendo storie sul dietro le quinte e ricordando alcuni dei loro ricordi preferiti delle riprese. Saranno anche in contatto con dei fan di Scrubs e componenti del cast per interviste esclusive.
Il primo episodio, intitolato The Pilot/My First Day, è già disponibile e in esso Braff e Faison ricordano il loro primo incontro e l'emozione di poter lavorare a un progetto così grande e ambizioso come Scrubs. Introdotti da una simpaticissima sigla, i due amici si ritrovano così virtualmente, ritornando tra i corridoi dell'ospedale fittizio che li ha consacrati delle star del mondo seriale. Nel corso del talk show gli attori hanno raccontato la propria esperienza sul set il primo giorno di lavoro, nonché dei retroscena relativi alle loro audizioni.
Fake Doctors, Real Friends with Zach + Donald andrà in onda ogni settimana, ripercorrendo un episodio di Scrubs per volta e ospitando colleghi e guest-star. Quale occasione migliore per fare l'ennesimo rewatch della serie tv? Ecco il link per seguire il podcast condotto da Zach Braff e Donald Fraison.