# #
Attenzione attenzione l'articolo contiene spoiler sulla settima stagione di Game of Thrones. Se non volete rimanere invischiati in questo loop allora non continuate la lettura altrimenti The Web Is Dark and Full of Spoiler ma voi siete più impavidi del Primo Cavaliere del Re e allora continuerete a leggere. Scopriamo insieme cosa ha detto Sophie Turner…
# #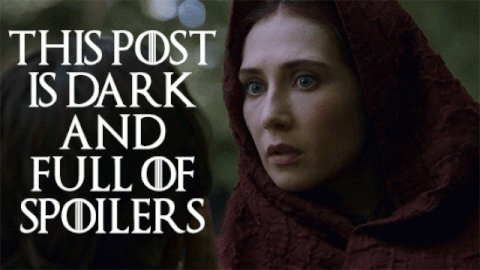 Il 16 luglio sta arrivando e con esso anche l'Inverno; abbiamo visto trailer e fatto le teorie più assurde e una su tutte ci rimbomba nella mente: Sansa Star tradirà Jon Snow? 
# #
A dircelo è la stessa Sophie Turner in un'intervista per il Time:
"Mi meraviglierei se fosse possibile per lei non venire cambiata da questo mondo visto il tipo di  persone da cui è circondata. Fin dall'età di 13 anni è stata lontana dalla sua famiglia, dalla loro morale; giorno dopo giorno ha finito per imparare pessime cose dalle persone che la circondavano. Ha dovuto crescere da sola, ma in fondo questo è normale, siamo in Game of Thrones non nel paese dei balocchi. Durante il periodo di cinque anni che è stata lontana dalla sua famiglia è ovvio che, in un modo o nell'altro, sia stata travolta e cambiata da questo mondo di tradimento e vendetta che è Game of Thrones. Mi chiedo se peggiorerà come persona. Ha passato così tanto tempo in Game of Thrones cercando di sopravvivere e sperando di rivedere la sua famiglia –  è stata la sola cosa che l'ha motivata e fatta andare avanti, quando avrebbe potuto rinunciare. Penso che tutto questo l'abbia cambiata un po', ma a fine giornata penso che il suo cuore sia ancora buono. Ma è ovvio che questo è Game of Thrones e il modo con cui affronta i suoi problemi ed i suoi nemici è diverso da come avrebbe fatto a 13 anni."
Dopo la fine della sesta stagione con la Battaglia dei Bastardi, l'abbiamo vista al fianco di Ditocorto, ipotizzando che quest'utimo volesse seguire a scia delle cattive azioni della ragazza per metterla contro Jon Snow, ci riuscirà?
Sempre l'attrice poi ha continuato nell'intervista:
"Sansa avrebbe avuto una certa gelosia nei confronti del fratellastro Jon Snow"
Ma per adesso il cuore di Sansa è ancora buono e la cosa sembra non accadrà, ma siamo pur sempre in Game of Thrones eh!