Lo state leggendo dappertutto: la Disney ha acquisito la 21st Century Fox. Il favoloso mondo dell'internet pullula di immagini e post ironici sulla questione (ebbene sì, anche Anastasia è finalmente una principessa Disney). Ma come potrebbe essere altrimenti? Stiamo parlando di due colossi dell'intrattenimento audiovisivo, entrambi pregevoli di averci aiutato a sognare in tutti questi anni, ma torniamo a noi.
IL FATTO
L'enorme multinazionale di Rupert Murdoch è stata acquistata dalla Walt Disney Company per "soli" 52,4 miliardi di dollari in azioni, a cui va sommato il debito di 13,7 miliardi di dollari della Fox. Ora, tuttavia, bisogna aspettare il via libera dell'antitrust. Bisogna anche considerare che la 21st Century Fox è ancora in trattative per l'acquisizione del 61% di Sky, che diventerebbe a sua volta patrimonio Disney (il 61%  è quanto manca per completare l'acquisizione, tant'è che già il 39% era di Fox e, ormai, Disney).
Come riporta BadTaste la Disney acquisisce, nel dettaglio: le case di produzione e distribuzione cinematografiche Twentieth Century Fox Film, Fox Searchlight e Fox 2000; le case di produzione televisive  Twentieth Century Fox Television, FX Productions, Fox21; vari network via cavo quali FX Networks, Fox Sports Regional Networks, Fox Networks Group International e National Geographic Partners; Tv internazionali  (Star India); la quota di maggioranza di  Hulu e quote in Tata Sky ed Endemol Shine Group; i prodotti del portfolio Fox come Avatar e I Simpson; molte pellicole come  The Martian,  Gone Girl, Grand Budapest Hotel; Serie Tv come Modern Family, The Americans, This is Us, American Horror Story, Homeland, I Griffin. 
Forse è proprio leggendo questo elenco che riusciamo a comprendere, almeno parzialmente, la portata di quanto sta avvenendo.
Va inoltre ricordato che la Disney, nel 2012, aveva acquisito la Lucasfilm celeberrima creatrice della saga di Guerre Stellari. Alla 20th Century Fox era però rimasto il primo film, Una nuova speranza, ora anch'esso Disney. 
Ma non è finita qui: la Disney si prende anche i diritti di sfruttamento di eroi Marvel che ancora non possedeva: i Fantastici quattro, X-Men e Deadpool.
A tal proposito si è sbizzarrito Ryan Ryenolds (interprete di quest'ultimo), che ha "commentato" l'avvenimento sul suo profilo twitter,  con il suo solito umorismo: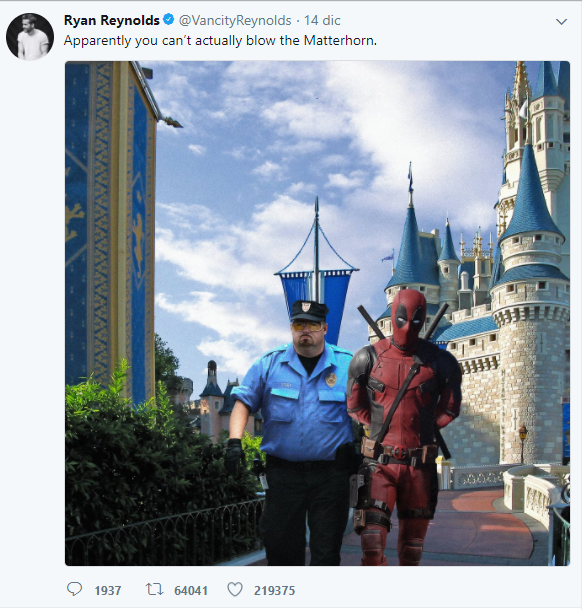 PROSPETTIVE FUTURE
Si vocifera che Disney voglia lanciare due nuovi servizi di streaming, andando così a coprire sia il settore sportivo che quello filmico, seriale. Netflix, sei pronta?
GLI OPPOSITORI
Pare che la WGAW (Writers Guild of America West), si opponga fortemente a quest'acquisizione. Queste le dichiarazioni:
Nell'incessante spinta per eliminare la concorrenza, la grande industria mostra di avere un'insaziabile brama di consolidamento. Disney e Fox hanno trascorso decenni approfittando del controllo oligopolistico che i sei maggiori conglomerati mediatici hanno esercitato sull'industria dell'intrattenimento, spesso a spese dei creatori che alimentano le loro operazioni televisive e cinematografiche. Ora, questa fusione tra concorrenti diretti andrà a peggiorare ulteriormente la situazione, aumentando il potere di mercato della società combinata Disney-Fox. Le preoccupazioni antitrust sollevate da questo accordo sono ovvie e significative. La Writers Guild of America West si oppone fermamente a questa fusione e lavorerà per garantire l'applicazione delle leggi antitrust della nostra nazione.
I SIMPSON, COME SEMPRE, LO SAPEVANO GIÀ
Già nel 1998, con l'episodio When You Dish upon a Star, I Simpson avevano predetto quanto sarebbe avvenuto. La morale? Dare sempre retta ai Nostradamus di Springfield!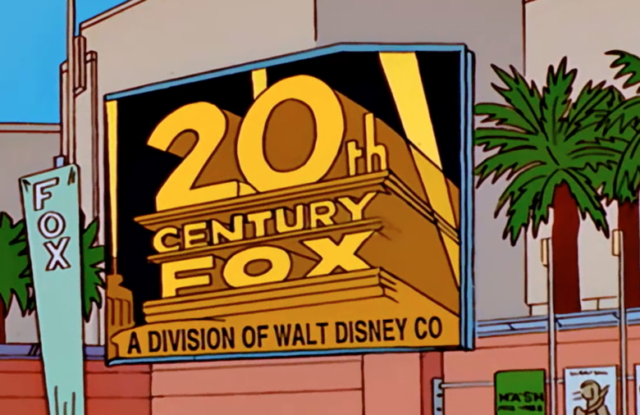 Fonti consultate: BadTaste, WGAW,  Il Post, La Stampa