Tutti conosciamo i Simpson, e sappiamo bene che non sono semplicemente soliti citare opere e personaggi di ogni tipo, ma che riferimenti del genere sono ormai parte integrante del cartone animato, una sua caratteristica imprescindibile.
Nel corso degli anni i Simpson hanno citato grandi autori, reso omaggio a grandi serie tv, film, musicisti, scrittori, attori e sportivi. Alcune volte sono andati ancora più in là e alcuni di questi personaggi sono diventate guest star dell'episodio, in maniera più o meno prominente.
E proprio a quest'ultima categoria appartiene l'episodio a dir poco speciale che andrà in onda negli Stati Uniti il primo marzo. La 31×14 de I Simpson, intitolata Bart and the Bad Guy sarà un omaggio al Marvel Cinematic Universe e ad Avengers: Endgame e avrà come ospiti nientemeno che i fratelli Russo, i registi del film, Kevin Fiege, direttore creativo della Marvel, Cobie Smulders e suo marito Taran Killam. Gli ultimi due sono ben noti ai fan di How I Met Your Mother, ma sono anche coinvolti nell'universo Marvel: Killam come scrittore di una storia dello Spider-Verse e lei come l'agente dello SHIELD Maria Hill nel franchise degli Avengers.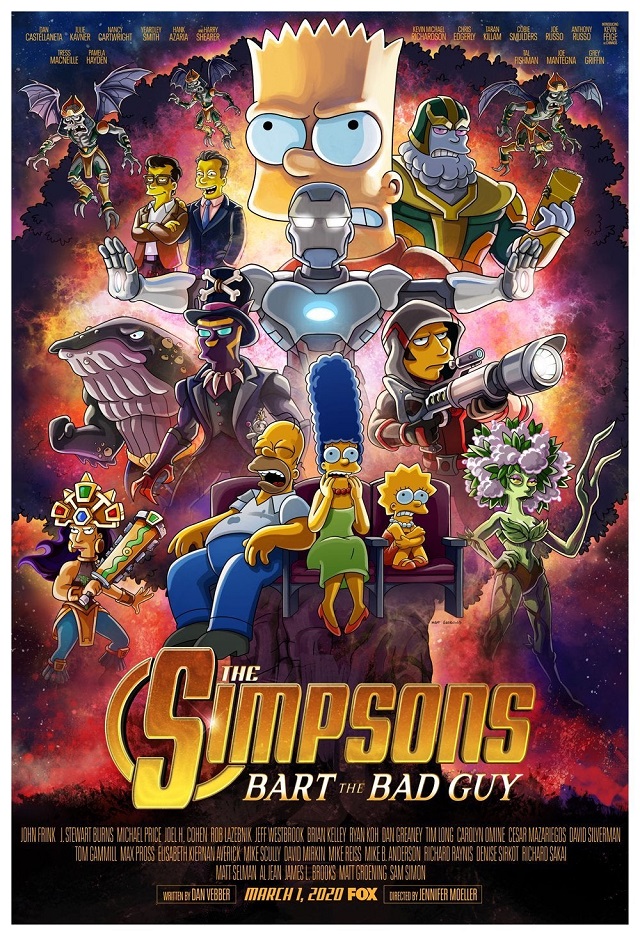 In questo episodio gli Avengers diventano i Vindicators, e Bart viene invitato per errore ad assistere all'anteprima del nuovo film del franchise di supereroi. Lungi da lui farsi sfuggire un'occasione d'oro per ottenere qualcosa, Bart sfrutta la minaccia di spoiler sul nuovo film come arma di ricatto. È qui che entrano in gioco i fratelli Russo, nei panni di due membri importanti degli studios che cercheranno di fermare Bart per impedire agli spoiler di raggiungere i fan.
Le altre guest stars interpreteranno dei personaggi del film incriminato: Kevin Fiege sarà Chinnos, alter ego del grande villain degli Avengers, Thanos, che invece di un mento (chin in inglese) ne avrà 37. Cobie Smulders e Taran Killam saranno due membri dei Vindicators, Hydrangea e Airshot.