Certi panorami delle Serie Tv sono davvero pazzeschi, basti pensare alla fotografia di Game of Thrones. Ma quali sono gli altri scorci che ci hanno rubato il cuore?
La trama di una serie tv è sicuramente importante, ma anche l'occhio vuole la sua parte. Possiamo ragionare per giorni sulle scelte più o meno discutibili dell'ultima stagione di Game of Thrones, o su come sarebbe dovuta finire Sense8. Invece, sulla fotografia c'è poco da fare polemiche: quando una serie è esteticamente bella, non serve aggiungere molto altro. Se poi ci fa dimenticare che siamo davanti a uno schermo e riesce a portarci con qualche fotogramma su un'isola in mezzo all'oceano, ai piedi di una cascata o tra i ghiacci dell'Artico, vuol dire che un po' ci ha già fatto innamorare. Può darsi che esageri, ma prima di stabilirlo date un'occhiata alla top 10 delle serie tv che ci hanno offerto i panorami più belli!
10) Fortitude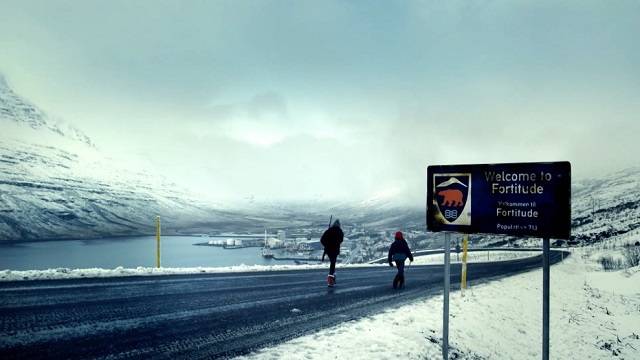 Fortitude, la serie di Simon Donald del 2015 trasmessa da Sky Atlantic, è un thriller incentrato su un misterioso omicidio avvenuto nell'omonima cittadina. La serie ci catapulta nella desolazione artica e,, più precisamente a Spitsbergen, nelle Isole Svalbard, dove montagne innevate e ghiacciai luccicanti fanno da sfondo a tutta l'azione. In realtà le riprese sono state fatte a Reyðarfjörður, una piccola città sulla costa orientale dell'Islanda. Nonostante ciò, i paesaggi in cui è ambientata la serie suscitano un senso di magia e meraviglia e danno l'idea di un luogo senza tempo, in cui il ghiaccio ha reso ogni cosa immobile e imponente. È impossibile non provare una sorta di timore reverenziale per queste terre fredde, remote e bellissime.