Intorno alla settima stagione di Game of Thrones sono già sorte teorie, congetture e previsioni che vanno oltre ogni limite. Dalle analisi frame by frame della prima puntata (alcune serie, altre decisamente meno) fino alle considerazioni più campate per aria, è tutto un fiorire di ipotesi su ciò che potrà accadere, ciò che è accaduto e chi potrebbe clamorosamente tornare dall'oltretomba.
Un personaggio, però, in effetti sembrerebbe essere ritornato in scena dopo una sessantina di puntate. Non era in primo piano, ma gli occhi dei fan più allenati non se lo sono fatti sfuggire. Ce l'avete segnalato in tanti, qualcuno ne ha già scritto e – pertanto – vale la pena soffermarvisi sopra.
Stiamo parlando del pugnale in acciaio di Valyria utilizzato nel tentato omicidio di Bran Stark.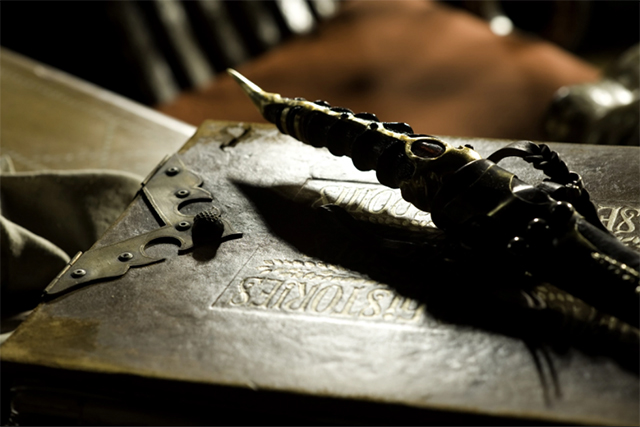 LA STORIA DEL PUGNALE VALYRIANO IN GAME OF THRONES
Ricordate quel tempo in cui i sette regni erano in pace, Ned Stark sembrava dover essere il protagonista assoluto della Serie e Arya era ancora una bambina (più o meno) innocente? Nella seconda puntata della prima stagione il sicario inviato per zittire definitivamente il piccolo Brandon cerca di fare il proprio sporco mestiere con la sua lama, viene fermato e i sospetti ricadono sulla famiglia Lannister.
Tyrion, accusato di essere il possessore del pugnale, viene catturato da Catelyn Stark, momento che dà ufficialmente il via alla mattanza fin qui lunga 6 stagioni e una puntata.
Con quello stesso pugnale Petyr Baelish, il vero proprietario, arresta Ned nella sala del Trono di Spade. Da quel momento in poi l'arma è sparita dalla circolazione, per ricomparire solo qualche settimana fa, nel posto più impensabile: la cintura di Arya Stark, in un book promozionale finito in copertina su Entertainment Weekly.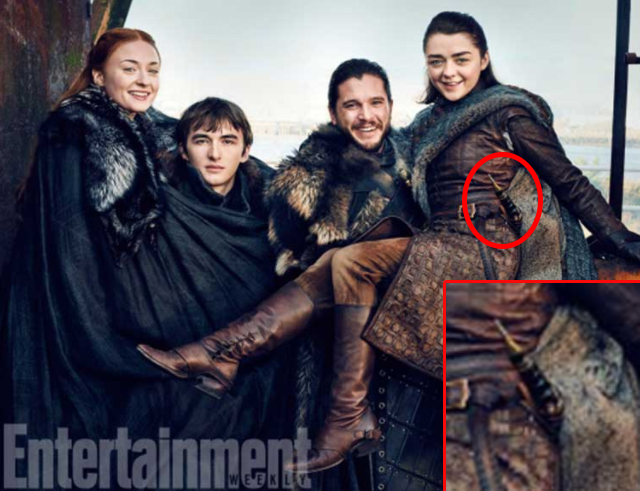 L'impugnatura è inconfondibile: quello è il pugnale in acciaio valyriano di Ditocorto. Questo apre diversi scenari, tutti probabili e altrettanto suggestivi:
Il cammino di Arya non finirà ad Approdo del Re.
Per raggiungere Grande Inverno. Se l'ultimo ad aver avuto in mano il pugnale è stato Baelish, è molto probabile che se lo sia tenuto ben stretto, onde evitare di alimentare sospetti in caso di un suo ritrovamento. La piccola lupa non dà l'idea di essere una che si arrende facilmente quando ha un obiettivo in testa, quindi questo potrebbe voler dire che sia riuscita nel suo intento di uccidere la regina, per poi tornare verso casa. Alcune dichiarazioni di Lena Headey (Cersei Lannister) lasciano pochi dubbi sul fatto che il regno della leonessa abbia un destino molto breve.
Ci sarà uno scontro tra Ditocorto e lei
Allo stesso modo, sembra quantomeno strano che Arya rubi un pugnale senza qualche motivo di fondo. Probabilmente  si potrebbe arrivare allo scontro tra la sua sete di vendetta e quella di potere dell'ex membro del concilio ristretto, il quale ha non poche colpe nelle sventure della famiglia Stark.
I costumisti sono distratti
Magari, semplicemente, può essere stato un caso. Fatico a credere a questa cosa, vista la maniacale attenzione ai dettagli dei produttori, ma soprattutto degli appassionati del Trono di Spade. Non è però da escludere a priori, e a quel punto in questo articolo staremmo solo friggendo un sacco di aria (minuscola, senza la Ypsilon).
In realtà, gli indizi di un clamoroso ritorno del pugnale sono un paio. Il disegno di quello stesso strumento di morte, infatti, appare anche nelle pagine dei libri che il buon Sam Tarly ha trafugato dalla biblioteca proibita della Cittadella.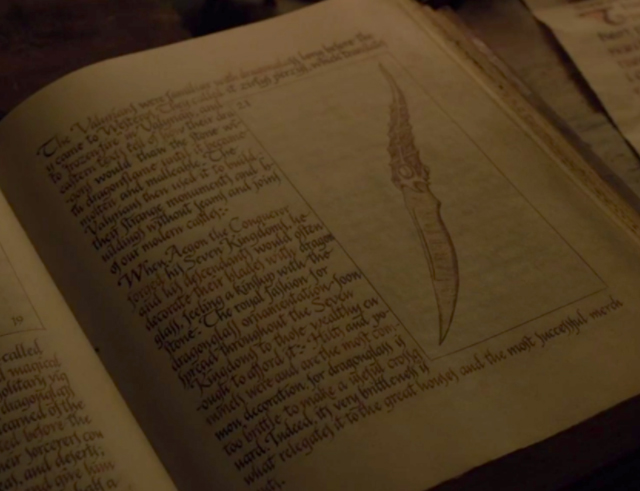 Solo una coincidenza? Se Game of Thrones ci ha insegnato qualcosa (oltre al non affezionarsi ai personaggi) è proprio evitare di credere alle coincidenze. Due indizi del genere ancora non concorrerebbero proverbialmente a costituire una prova, ma sono già una solida base di partenza.
Se queste ipotesi fossero vere, il pugnale in acciaio di Valyria assumerebbe un ruolo importante all'interno di questa settima stagione. Che sia per chi lo porta sul fianco o per qualche potere magico, il cui mistero è custodito nei tomi dei maestri, una cosa è certa.
Colui che ha iniziato la guerra, potrebbe anche terminarla.