La vita per un fan di Game of Thrones è dura, soprattutto per chi guarda la Serie Tv senza prima aver letto i libri. Durante il corso dell'estate, come vi abbiamo riassunto in questo articolo, la messa in onda della settima stagione è stata sovrastata dai vari leak che precedevano le puntate e che quindi spoileravano prima del tempo la puntata. Come se non bastasse, in seguito alla fine della settima stagione è stato pubblicato anche un riassunto delle puntate dell'ottava stagione episodio per episodio. Non si è mai stabilita l'ufficialità, però per chi li ha letti risultano verosimili.
Adesso siamo di fronte a nuovi leak e a nuovi spoiler. Sono stati diffusi alcuni copioni dell'ottava stagione di Game of Thrones direttamente dal redditor KaySen762, noi per dovere di cronaca ve li riportiamo qui sotto, spetta a voi scegliere se leggerli o meno. Crederci o meno.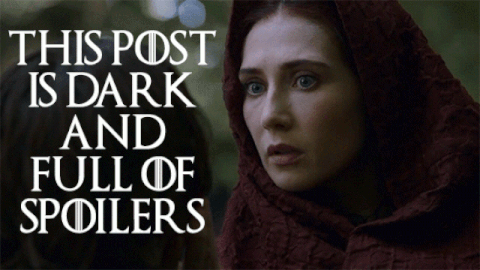 Nelle prime due pagine (che corrisponderebbero al quinto episodio) i protagonisti sono Cersei e Jaime. Cersei si dirige verso il trono, sale i gradini. Il fratello la guarda. Jaime pronuncia queste parole: "Daenerys non è il tuo nemico. Jon Snow non è il tuo nemico. Gli unici nemici di cui ti devi preoccupare sono al di fuori delle porte della città adesso!". Ovviamente i nemici di cui Jaime sta parlando sono gli Estranei che guidati dal Re della Notte starebbero per entrare ad Approdo del Re.
Cersei però non vuole sentire ragioni. E su questi primi leak un'altra parola santa all'occhio. Altofuoco. La regina dei Sette Regni, per sconfiggere l'incombente minaccia, ha intenzione di far saltare tutto in aria ed uccidere così anche milioni di innocenti. Jaime continua a dissuaderla, ma senza riuscirci.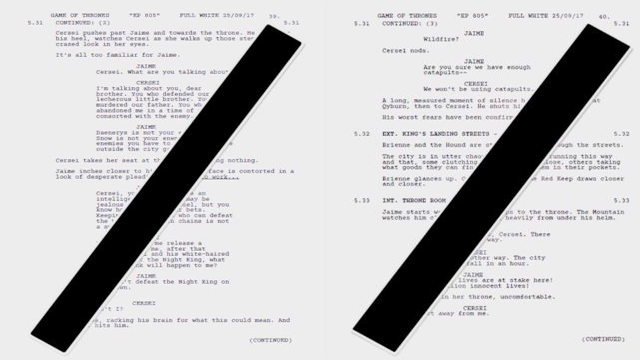 Invece, le foto successive si riferiscono al terzo episodio, che dovrebbe vedere come protagonisti Brienne, il Mastino, Arya, Sansa, Podrick e Tyrion. Il gruppo sarebbe in fuga dall'ormai distrutta Winterfell, ma durante il loro cammino dovranno fronteggiare non solo gli Estranei ma anche l'esercito dei Lannister. A dimostrazione di ciò, le parole di Tyrion: "Posso suggerire di andare un po 'più veloce, Clegane?". E queste figure dagli occhi blu che, come leggiamo, sono fermi di fronte a loro.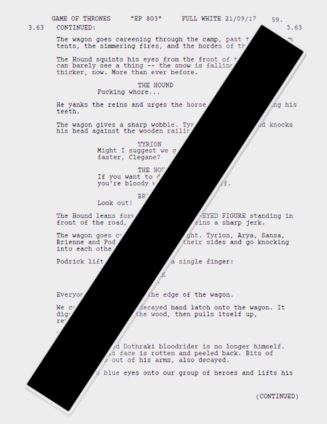 Siamo giunti all'ultima foto, che corrisponde all'ultimo episodio. Cioè il sesto. Questa volta niente battaglie o inseguimenti. I protagonisti sono Bronn e Tyrion (quindi Tyrion sopravviverà alla battaglia) e la promessa che Jaime aveva fatto a Bronn: quella di dargli un castello (questo fa presupporre che lo Sterminatore di Re non arriverà a fine stagione). Tyrion esclama: "Ho sentito che mio fratello ti ha promesso un castello". E stando al copione diventerà Lord delle roccaforti del Guado (le Torri Gemelle).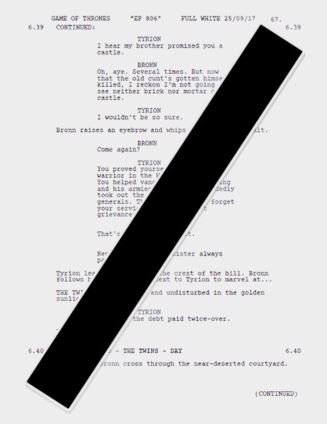 Questi potrebbero essere gli spoiler più vicini alla verità che sono trapelati sull'ottava stagione finora!