Che ci piaccia o no, Game of Thrones è già finito. È finito nel momento in cui è stata scritta la parola FINE sul copione, quindi diversi mesi fa. È finito nel momento in cui i primi membri del cast hanno iniziato a lasciare il set (con messaggi più o meno espliciti).
C'è chi dice che sia finito nel momento in cui ha cominciato a divergere dai libri, prima impercettibilmente, poi sempre di più. Ma la realtà è che stiamo parlando di una creatura che ha già smesso di respirare e della quale da qui a un anno udiremo solo gli ultimi rantoli.
Quindi, dato che nessuno di noi è in possesso della verità sul finale di Game of Thrones, e che il finale esiste già, perché scrivere questo articolo?
Perché non si tratta del finale di Game of Thrones, ma del finale ideale. Non pretendiamo di avere in mano la verità, ma di mettere in campo tutti gli elementi che caratterizzano Game of Thrones, per delineare il finale più in linea con i suddetti.
Consideriamo intanto il primo fattore: di cosa parla davvero questa Serie Tv? Di certo non di chi si siederà sul Trono di Spade alla fine. Quello è collaterale, ma non più così importante, dalle ultime stagioni a oggi. Il titolo della saga cartacea lo esplicita bene: Cronache del Ghiaccio e del Fuoco. Non Il trono di Spade, ma la lotta ancestrale tra luce e tenebre. Tra Estranei e genere umano, per semplificare.
In questa logica, chi merita di vincere? Per rispondere dobbiamo considerare un altro fattore. Game of Thrones non è mai stata una serie "buonista", in cui i buoni trionfano sempre e comunque. Non esistono neanche, i "buoni". Esistono personaggi più virtuosi di altri, ma tutti con le loro cicatrici sulla coscienza.
È innegabile, però, che nell'ultima stagione ci sia stata una tendenza a riequilibrare alcuni elementi, portando l'ago della bilancia a favore di personaggi fino ad allora svantaggiati. Arya ha vendicato la sua famiglia, Jon ha ripreso la sua autorità sugli uomini del Nord, idem Sansa, Daenerys ha il suo esercito, ecc.
Alla luce di questa considerazione, GoT seguirà il trend "karmiko" delle ultime stagioni, o si riconfermerà una serie che non guarda in faccia nessuno, neanche i migliori?
Consideriamo, giunti fino a ora, che Game of Thrones finisca con la sconfitta degli Estranei per mano degli uomini, guidati ovviamente da un leader. È il finale che, in fondo, tutti ci aspettiamo. Una bella storia di eroismo commuove tutti, ci fa sperare in un mondo migliore.
Ma chi sarebbe il leader ideale, per guidare gli uomini attraverso le tenebre? Attualmente, i candidati sono due: Jon Snow e Daenerys Targaryen. Ghiaccio e fuoco. Uomo e donna. Yin e Yang. Due metà perfette di un mosaico bianco e nero, così diversi eppure predestinati allo stesso destino. Sconfiggere gli Estranei.
Chi merita questo onore? Daenerys, che ha iniziato la guerra per riprendersi il Trono di Spade o Jon, che ha militato per tutta la vita alla Barriera, combattendo ogni cosa che si trovava dall'altra parte? Noi ci sbilanciamo, e votiamo per Jon. Non solo perché è colui che oggettivamente ha dato di più alla causa (è pure morto), ma perché la direzione che ha preso Game of Thrones ci conferma che i pronostici sono a suo favore.
Tutte le scelte che ha fatto in quest'ultima stagione hanno confermato il grande leader che è. Tutte le scelte che ha compiuto Daenerys, d'altro canto, hanno confermato la sua immaturità. Si è giocata un drago, non ha dato ascolto a Tyrion e ha quasi sicuramente perso le città del Sud riconquistate con grande fatica. Il suo esercito è composto da mercenari. Attraverseranno l'acqua per lei, dicono. Chissà.
A meno che Game of Thrones nell'ultima stagione non mostri un salto temporale assurdo di 20 anni e ci faccia vedere il figlio di Jon e Dany sul Trono, al momento per noi il podio lo merita Jon.
Dunque, ricapitolando: Game of Thrones termina con la sconfitta degli Estranei da parte di Jon Snow, la pace ristabilita, Daenerys che governa ad Approdo del Re con Tyrion sulle ginocchia. Il finale ideale. Tutti hanno ciò che vogliono: Jon il Nord e la pace, Dany il potere, Tyrion la possibilità di essere utile, il resto del mondo la vita e la tranquillità.
Un finale da lacrime, da cuore in mano, un finale ideale.
Ma ne siamo davvero sicuri?
Qualcuno ricorda forse il motto degli Uomini senza Volto, divenuto una sorta di tagline di tutta la serie?
C'è un unico dio, e il suo nome è Morte.
Forse il finale pacifico, in cui tutti sono felici e contenti, è ideale per noi. Per noi che vogliamo sentirci al sicuro. Per noi che, dal primo fotogramma di Game of Thrones ce la siamo fatta sotto vedendo gli Estranei. Forse questo è il finale ideale dei fan, ma di sicuro non di Game of Thrones.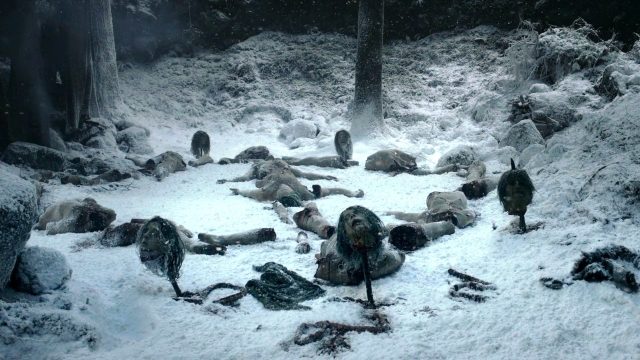 Il finale ideale, non ideologico, di Game of Thrones potrebbe essere diverso. Potrebbero non contare niente l'eroismo di Jon, l'altruismo di Daenerys, il sesto senso di Bran, il menefreghismo di Cersei. Tutti gli sforzi messi in campo contro di Estranei sarebbero un'inutile e vacua battaglia contro la Morte, signora e padrona di Game of Thrones.
Il mondo di Game of Thrones finirebbe come è iniziato: tenebroso, oscuro, pieno di pericoli. Solo che adesso non ci sarebbe soluzione, e il silenzio calerebbe perenne e lapidario su tutto e tutti.
Il silenzio di un finale che rispecchierebbe la morale più profonda e radicale di Game of Thrones: nessuno è al sicuro, la Morte è l'unico dio, bene e male sono concetti insignificanti di fronte all'eternità.
Siamo realisti: non crediamo che Game of Thrones avrà mai un finale del genere. Ma crediamo sia quello che rispecchia di più lo spirito nichilista, disincantato e anti-ideologico della serie.