Parlando di Game of Thrones non importa se il vostro pupillo sia Tyrion Lannister, o Ditocorto, o Sansa Stark (tanto a nessuno piace Sansa). Nemmeno uno di loro può competere per profondità e sviluppo con uno dei personaggi più emarginati ma meno marginali della serie: il Mastino.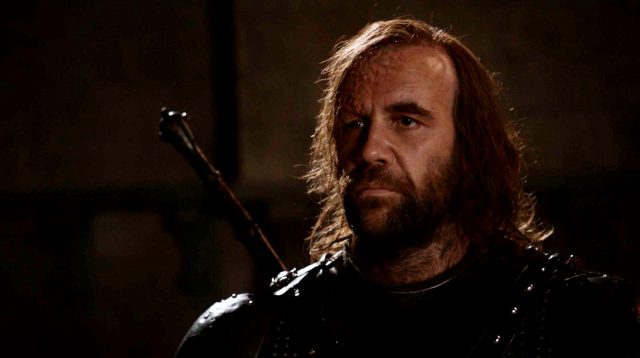 Durante l'intera prima stagione ci viene presentato un personaggio tristemente stereotipato. Il Mastino, infatti, incarna con fastidiosa impeccabilità ciò che il suo nome suggerisce: un cane da guardia e da caccia al soldo del padrone. Per ordine di Joffrey trucida l'innocente Mycah senza mostrare il minimo rimorso, e con altrettanta freddezza ammette di provare un certo gusto nell'uccidere. Niente di più e niente di meno sembrerebbe dunque offrire.
Eppure, in diverse circostanze, grazie al senno di poi e a un occhio che scorga un po' più in là rispetto ai suoi modi brutali, ci si rende conto che così non è.
L'unico motore che muove chiunque, da Westeros a Essos, è l'egoismo, che viene però celato a dovere con le maschere di giustizia e onore. Senza offesa, ma se ancora credete che Daenerys voglia sedersi sul trono per amore del popolo e non per capriccio da primadonna, qualcosa ve lo siete persi. Insomma, è persino immeritevole di avere un marchio di birra dedicato a lei (leggete, è successo davvero). Invece, a dispetto del volto sfregiato e dell'aria rozza, il minore dei Clegane dimostra in più occasioni di essere mosso da un'empatia atipica per lo spirito di Game of Thrones. Il comandante in capo che minaccia i suoi uomini di stuprarne i cadaveri è lo stesso uomo che porge un fazzoletto con fare consolatorio a Sansa e che più volte la sottrae da una sorte altrimenti infausta. Un gesto certamente inaspettato quanto disinteressato.

Proprio per la sua apparentemente contraddittoria umanità, che a piccole gocce si svela sempre più nel corso della serie, il Mastino dovrebbe essere già stato tolto di mezzo con una morte improvvisa e truculenta. Ma con grande sorpresa dello spettatore (e per la mia gioia) Clegane è ancora vivo. Non proprio vegeto, ma comunque vivo. Com'è dunque possibile? Non serve interpellare nessun dio, vecchio o nuovo che sia, per avere una risposta: questo cagnaccio è semplicemente furbo.
Sandor sa quando è il momento di attaccare, ma ancor più saggiamente sa quando è il tempo di ritirarsi.
Gli mancano l'ostinazione e la superbia (troppo spesso fraintese come ammirevoli qualità) che portano alla distruzione chiunque si faccia guidare da esse. Al contrario, gode di quel sano disinteresse che lo conduce sempre al male minore.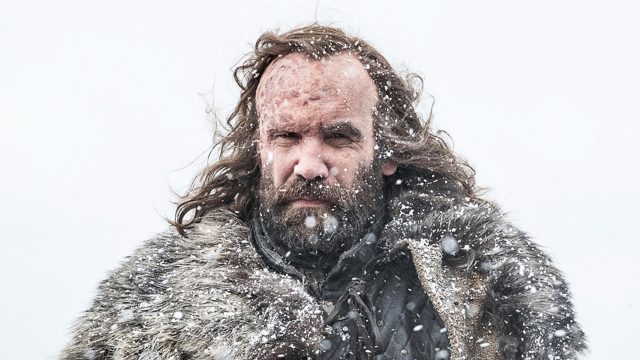 Per farla breve, non è che un menefreghista che volta le spalle al gioco del trono.
Il Mastino è l'unica pedina del tavolo che si è sempre mossa in direzione ostinatamente contraria rispetto alle altre, snobbando la vittoria. Questo perché sa che non c'è nulla da conquistare, se non un concetto fragile e ambiguo come quello del potere. Per Ditocorto il caos non è che una scala su cui arrampicarsi per giungere alla vetta, ma a sua differenza Sandor sa che il nichilismo che governa Westeros non permette ad altri aspiranti sovrani di prendere il proprio posto sul trono.
Tale consapevolezza pare, appunto, sia unicamente instillata in Clegane: il solo ad aver abbandonato una battaglia persa in partenza. Non per codardia, ma per lungimiranza. Quindi, per dirla con parole sue:
F*****o la guardia reale. F*****o la città. F*****o il re.