Qualche giorno fa il sito della HBO è stato hackerato (ne abbiamo parlato qui!). Si è trattato di un grande attacco informatico, grazie al quale gli hacker sono riusciti a entrare in possesso di 1,5 terabyte di dati, tra cui il quarto episodio della settima stagione di Game of Thrones, una delle Serie più seguite al mondo. I dati rubati non riguardano solo Serie Tv: sono state rubate anche informazioni personali di dipendenti dell'azienda.
Dopo essere entrati nel database dell'HBO, gli hacker non hanno aspettato molto ad agire. Oggi è possibile scaricare alcuni dati che sono stati diffusi in rete dagli informatici. Si possono scaricare alcuni episodi di Serie Tv non ancora resi ufficialmente disponibili dall'HBO, tra cui la tanto attesa settima stagione di Game of Thrones. Ecco nello specifico di cosa si tratta: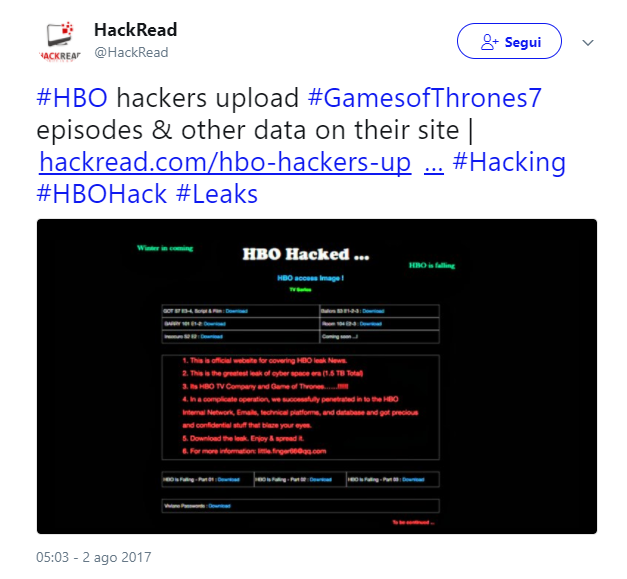 HackRead, un sito specializzato in attacchi hacker, ha riportato la clamorosa notizia: gli hacker hanno iniziato a rendere pubblici alcuni dati rubati all'HBO. L'immagine twittata da HackRead dimostra come sia già possibile scaricare la puntata 3 e 4 della settima stagione di Game of Thrones. Inoltre, sono disponibili anche le prime tre puntate della terza stagione di Ballers e le prime due puntate di Barry, la cui messa in onda è prevista nei primi mesi del 2018.
Gli hacker sono quindi riusciti ad entrare nei database dell'HBO attraverso un'operazione complicata. Dopo aver rubato diversi dati, ha iniziato a diffonderli in rete. A chiudere l'immagine pubblicata da HackRead, ci sono tre delle parole preferite dai serial-watcher. Ma in questo caso, risaltano inquietanti sullo schermo del computer: To be continued…
Non si sa come si evolverà la situazione. Gli hacker stanno nascondendo altre informazioni? Cos'altro verrà pubblicato? Entreranno di nuovo nel database dell'HBO? Non ci rimane che aspettare e vedere cosa potrà ancora succedere.