La casata Martell di Dorne è la vera grande sconfitta di Game of Thrones, comunque vada a finire questa Serie. Se nelle Cronache del Ghiaccio e del Fuoco i Martell e i dorniani erano presentati come un popolo esotico sì ma fiero, indipendente, con le loro tradizioni e una concezione assolutamente rivoluzionaria dei ruoli sociali (basti pensare all'assoluta eguaglianza tra uomo e donna nella successione), nella Serie Tv cominciano bene, grazie al carisma e allo spirito anticonformista di Oberyn Martell, ma continuano malissimo con una serie di scelte sbagliate, personaggi e situazioni al limite del grottesco e del caricaturale, per finire nella maniera più tragica possibile nell'ultima puntata della settima stagione.
Occorre ristabilire, almeno sulla carta, l'onore di questa casata, ingiustamente bistrattata dalla trasposizione scenica, e condannata all'oblio per le scelte degli sceneggiatori, che hanno cinicamente utilizzato Dorne e la sua cultura per scopi meramente finalistici, di supporto ad altri personaggi, privandola della sua identità e annientandola su tutti i fronti nel momento in cui non era più utile ai loro scopi.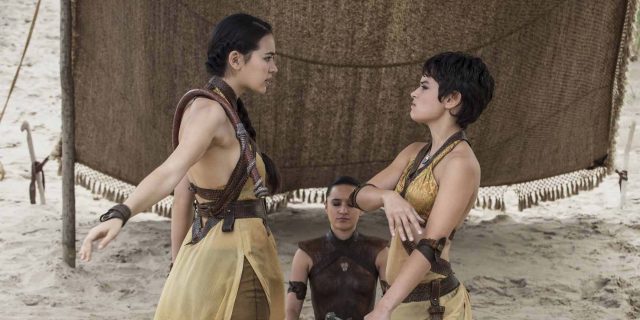 Lo scempio inizia proprio da loro, le Serpi delle Sabbie: una formidabile e affiatata, oltre che variegata, sorellanza di assassine, tutte bastarde, tutte figlie di Oberyn Martell. Le Serpi, nei libri, sono delle vere donne letali, ognuna in modo diverso: da Obara, mascolina e bruttina ma formidabile guerriera, a Tyene, languida bellezza bionda ma letale avvelenatrice, tutte le Serpi hanno un'identità propria, e sebbene non compaiano a lungo nei romanzi, lasciano un'impronta nella memoria del lettore. Nella Serie Tv? Sono una serie di cloni l'una dell'altra, che dal primo momento in cui appaiono non fanno che scannarsi a vicenda, pavoneggiandosi allo stesso tempo per le rispettive abilità guerriere, che vediamo però assai di rado e ci lasciano alquanto indifferenti, dopo aver assistito alla disinvolta sebbene sfortunata performance del loro padre Oberyn contro la Montagna.
Le Serpi delle Sabbie della versione televisiva sono un espediente per presentare una novità in termini di ambientazione (mai come allora ci eravamo spinti così a Sud), ma dal punto di vista della resa scenica si avvalgono di tutti i cliché razziali possibili: fisicamente pressoché identiche, rissose, inconcludenti, intercambiabili in quanto a carattere, spessore inesistente. Un vero boccone amaro per chi sperava di vedere una manciata di vere donne guerriere, e fiere rappresentanti di una cultura egualitaria, per la quale anche le donne hanno il diritto e il dovere di essere addestrate nell'arte della guerra, per tenere fede a quel motto che le vuole "mai inchinate, mai piegate, mai spezzate".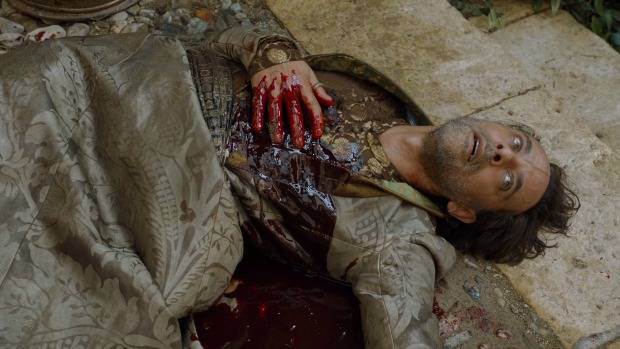 La casata Martell di Dorne, estremamente orgogliosa e patriottica nei romanzi, si autodistrugge letteralmente nella trasposizione scenica: uccidendo vigliaccamente il patriarca Doran Martell, gottoso e strategicamente inutile ma saggio e ancora con una certa autorità (almeno nei romanzi), le Serpi ed Ellaria danno inconsapevolmente il via alla catena di eventi che porterà tutte loro alla rovina totale. Mettersi contro la casa Lannister, abbiamo visto, non porta bene: e l'alleanza con Daenerys non dà i frutti sperati.
Mosse dalla vendetta, le Serpi ed Ellaria dimenticano (ma sarebbe più giusto dire che vengono private) la sacra virtù della pazienza e dell'accortezza strategica, fiondandosi sul fianco solo apparentemente scoperto del nemico senza alcun ragionamento, commettendo una serie di atrocità gratuite e insensate: la peggiore delle quali, l'assassinio per pura crudeltà dell'innocente Myrcella Baratheon, condurrà le uniche sopravvissute dello sgangherato gruppo Donnavventura dorniano a subire l'atroce vendetta della mamma-leonessa Cersei.
Ma anche uccidere Trystane, promesso di Myrcella, un ragazzino dorniano assolutamente innocuo, che avrebbero potuto neutralizzare in mille altri modi, è una cattiveria gratuita e un insulto all'onore dei Martell, che non avrebbero mai mosso un dito contro uno dei "loro". Caratteristica, questa, che li rende molto simili alla loro casata-nemesi, i Lannister. Che gli piaccia o no, chi si somiglia si piglia.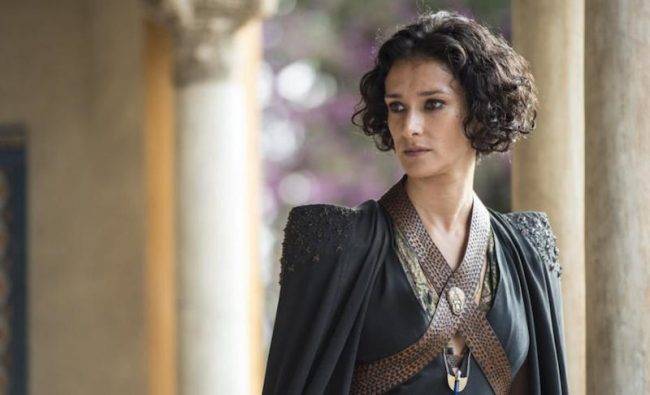 La regista di questa lunga serie di autogol, e colei che ne paga le conseguenze più atroci, è senza dubbio Ellaria Sand. Personaggio che passa dall'essere una donna passionale, di larghe vedute sul fronte sessuale e sentimentale, orgogliosa madre delle più piccole tra le Serpi (nei libri, nella Serie è legata solo a Tyene), al diventare, dopo l'assassinio davanti ai suoi occhi del suo amore Oberyn, una belva cieca e assetata di vendetta, che persegue con cinismo e senza il minimo scrupolo, sì, ma anche senza il minimo raziocinio.
Errore fatale che la conduce a uno dei destini più orribili di Game of Thrones (sebbene accada fuori scena, come ha dichiarato l'interprete di Ellaria). Ellaria è però un personaggio nel quale, nonostante la sconfitta sia bruciante e gli errori abbastanza grossolani, rivive ancora un barlume dello spirito di Dorne: per quanto sia stata sconfitta, portata in catene per tutta la città a mo di trofeo, spinta a forza ai piedi di Cersei, non perde il suo orgoglio e le sputa addosso. Gli sceneggiatori non hanno voluto privare Dorne anche di questo ultimo motivo di fierezza, per quanto ormai la frittata fosse stata fatta dal punto di vista della resa televisiva, e non hanno privato Ellaria del suo onore.
In questa Serie finora ricca di personaggi e di casate interessanti, Dorne rappresenta una sconfitta e un'occasione persa per raccontare un popolo "diverso", e non ci sarà una seconda possibilità, almeno in Tv: la casata Martell è ormai distrutta, e di conseguenza Dorne è fuori dai giochi per il trono e per la vendetta. Non resta che sperare in una ragazzina riccia e bruna, che all'interno dei libri aspetta ansiosa l'occasione di prendersi il suo titolo di Principessa di Lancia del Sole…