Attenzione: sono presenti spoiler sulla settima stagione di Game of Thrones e sul destino di Cersei 
Complessa e raffinata, non è una divinità che stiamo guardando avanzare, è la vita che brutalmente interrompe il tempo e seppellisce l'equilibrio e la dignità.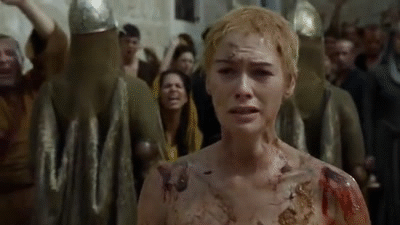 Quando con ribrezzo e sofferenza siamo caduti anche noi con lei, con il suo odio cancellato e la sua vita, per un attimo infinito, spazzata via. La storia di una donna, che costretta al suo limite, viene portata ancora più giù. Lì dove nessuno avrebbe mai pensato di vederla cadere e affondare.
Metro dopo metro tutto quello che Cersei è stata piano si dissolve, fino quasi a scomparire. Il suo avanzare tradito dal dolore diventa insicuro e pesante, ogni passo in avanti aggiunge sofferenza e rassegnazione. E' ormai una donna distrutta, forzata a rinnegare se stessa, costretta a subire una punizione troppo severa.
Per un momento che è sembrato eterno è stata per la prima volta completa protagonista della scena. Come non era mai successo. E' stata al centro di uno dei momenti più intensi e sofferti in Game of Thrones. La camminata della vergogna non ha lasciato nulla di vivo. In quegli istanti Cersei è stata sfinita, lasciata in fin di vita a dover raccogliere i pochi pezzi di sé rimasti.
E' da qui che Cersei come l'araba fenice, rinasce dalle proprie ceneri, da quelle dei suoi figli, della sua famiglia e del suo potere. Torturata e umiliata dal suo passato torna a combattere nel presente.
Comincia a risorgere con ancora dietro le spalle l'ombra della sua debolezza, ma non c'è tempo per farsi trascinare a fondo di nuovo. Cersei reagisce e rinasce dopo aver realmente perso tutto.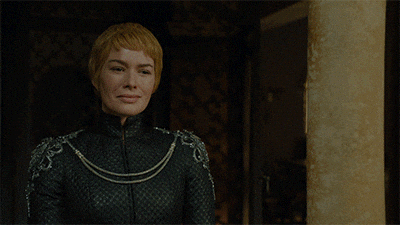 Non è rimasto neanche un istante da dedicare a ciò che non c'è più. Ciò che le è stato tolto ha ormai valore solo nel passato.
Quello che adesso la storia deve raccontare è la resistenza di una donna nuova. Di una madre che non è più madre, che non è più la seconda voce dei suoi figli, ma che si ritrova a gestire un trono conquistato d'improvviso, quasi inaspettatamente.
E ancora una volta, è sola con il potere tra le mani. Come lo è sempre stata. Nessuno dei tre figli sembrava aver ripreso la sua stessa indole, la sua sagacia e il suo fascino. La crudeltà manifesta di Joffrey non si avvicinava neanche lontanamente a quella raffinata ed elegante della madre, Tommen le ha voltato le spalle senza riflettere e Myrcella non ha avuto neanche il tempo di capire chi fosse sua madre. Al suo posto, la persona che ha avuto modo di stare accanto a Cersei è indubbiamente Sansa Stark, che forse qualcosa di lei ha ripreso.
A differenza degli altri personaggi, Cersei è stata l'unica a sopravvivere, ha fatto le sue mosse sempre e solo dopo quelle dell'avversario. La sua vita non è mai stata veramente felice eppure è ancora qui e ha più potere di tutti. E' una sopravvissuta, e in quanto tale ha forza e ferocia da manifestare.
Ha fatto di tutto per i suoi figli, ha giurato vendetta per loro e ha ucciso per loro. Ma le cose sono cambiate lentamente ma definitivamente, e adesso tutto quello che le resta è la realtà. Deve proteggere il suo trono, dare vita di nuovo al regno, questa volta completamente suo, e ricostruire ciò che è andato perso. Il mondo è davanti a lei, tutto ciò che deve fare è difendere la sua storia, quella che ha cominciato a riscrivere da poco.
Da quando, in quel cammino di redenzione verso il suo castello, i suoi occhi sembravano voler dire sommessamente: 'sono solo un essere umano'.