Attenzione: evitate la lettura se non volete imbattervi in spoiler sulla 6×07 su Game of Thrones. 
Mille volti, nessuna identità. Mille volti, mille maschere. Uno, nessuno e centomila. Braavos non ha niente a che vedere col capolavoro di Pirandello e non è un palcoscenico teatrale, ma può diventarlo all'occorrenza. Per una necessità vitale e fin troppo comune: recitare una volta per capire chi recita per una vita. Nessuno diventa uno e uno diventa centomila. Potrebbe essere il caso di Jaqen, deus ex machina della Casa del Bianco e del Nero, possibile protagonista a sorpresa della 6×07 di Game of Thrones. Possibile? Di una puntata già andata in onda? Esattamente, perché lui non è comparso, ma potremmo averlo avuto di fronte a noi per diverso tempo.
Proviamo a fare chiarezza. È necessario.
Arya Stark è stata ingenua. Troppo ingenua. Tanto da non crederci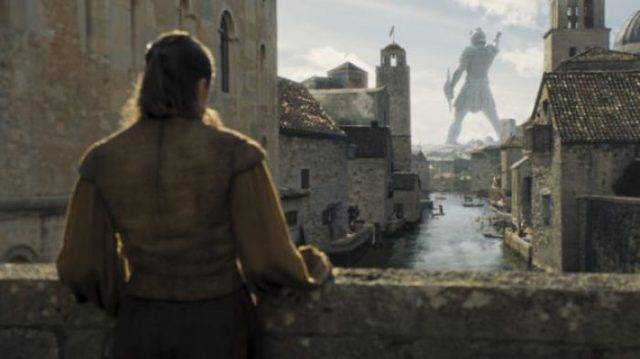 Se ci si trova in un luogo inospitale dal quale si intende fuggire al più presto, oltretutto inseguiti da due persone che vogliono la tua testa, l'ultima cosa da fare è sbandierare ai quattro venti le proprie intenzioni. E non prendere alcuna precauzione, sopratutto. Arya, una che ha fatto dello spirito di sopravvivenza una filosofia di vita, ha fatto due passi falsi da novellina, facendosi beccare e ferire facilmente dall'Orfana. Strano, troppo strano. La figlia di Ned Stark non è un'ingenua, affatto. Eppure stavolta è stata tale.
Perché?
Una risposta sicura arriverà soltanto nel prossimo episodio, intitolato "No One" con un riferimento fin troppo chiaro alle vicende di Braavos, ma una teoria molto interessante che sta spopolando negli Stati Uniti potrebbe averci detto la verità prima del tempo. Il presupposto è semplice, gli sviluppi un po' meno. Punto numero uno: l'Arya Stark che abbiamo visto nell'ultimo episodio non è Arya Stark. Non sarebbe poi così difficile crederci, visto quanto abbiamo detto poche righe fa. Punto numero due: se quella non fosse Arya Stark, potrebbe essere Jaqen.
Il mistero si infittisce, ma c'è una risposta a tutto.
Arya, senza Arya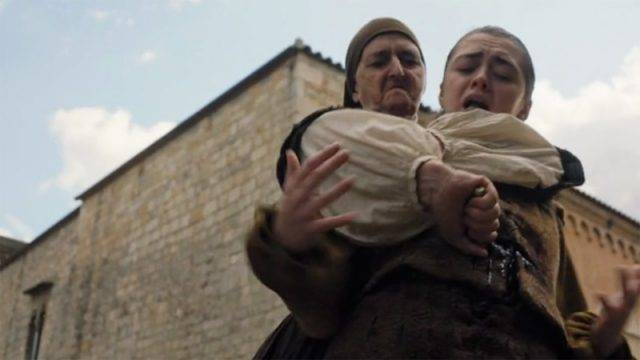 Cosa ci fa pensare che la persona ferita brutalmente dall'Orfana non sia Arya? Diversi comportamenti strani. Tutti nello stesso episodio. Arya è mancina, ma non nell'ultima puntata. Utilizza la mano destra per consegnare il sacchetto di denaro al personaggio che dovrebbe portarla via da Braavos e poco dopo usa lo stesso arto per proteggere la ferita. È mancina, lo sappiamo per certo. Ricordate l'addestramento con Syrio Forel?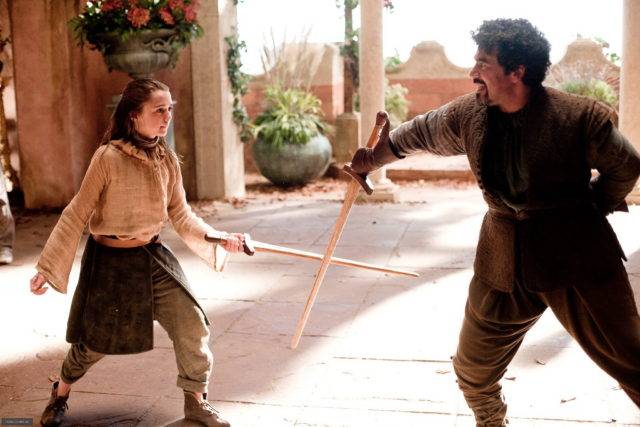 È sempre stata mancina, ma non stavolta.
Questa, tuttavia, potrebbe essere una grave svista degli sceneggiatori. Serve qualche altro indizio. Il suo atteggiamento è lontano da quello della Arya che abbiamo imparato a conoscere e culmina con la totale spregiudicatezza con la quale mette a repentaglio la propria vita. Gira tranquillamente per Braavos e si ferma in un ponte nel quale può essere identificata facilmente. Senza armi, addirittura. Prima va a dormire con Ago e poi non la porta con sé sapendo di essere cercata da due killer spietati? Stranissimo. E poi lei aveva già visto il "volto" della sua assassina. Da tempo.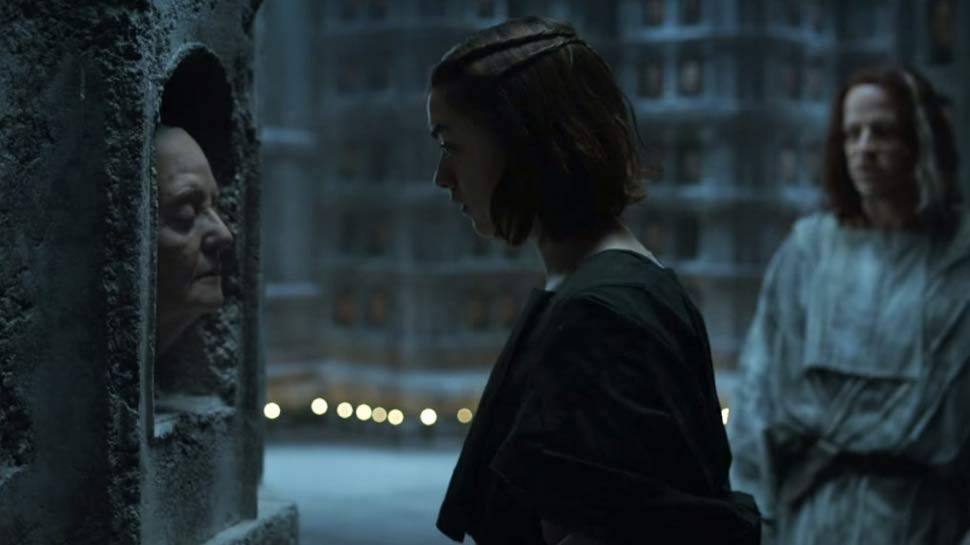 Nonostante ciò, si è fatta avvicinare da lei senza problemi. I conti non tornano. Questa non è Arya. Questo è un impostore. Questo è Jaqen.
Perché dovrebbe farlo? Per mettere alla prova l'Orfana. E poi ci sarebbe un terzo nome in sospeso tra quelli promessi tempo addietro ad Arya, e quel nome è proprio Jaqen. Ora concentriamoci sull'Orfana, una donna ambigua e indecifrabile con delle crepe che un'adepta del Dio dai Mille Volti non può mostrare. Chi vuole essere Nessuno non prova dei sentimenti. Lei li prova, al punto da provare una certa soddisfazione nel ricevere l'incarico di uccidere Arya, una ragazza che odia come un Nessuno non dovrebbe mai fare. Lei sì, e questo la porta ad affrontare inconsapevolmente una prova di maturità: uccidere Arya senza farla soffrire né esserne felice. Ma quella non è Arya, secondo la teoria. Quello è lo stesso Jaqen. L'Orfana è caduta nella trappola e deve mostrarsi per quello che è realmente: un qualcuno senza maschere. A prescindere dal volto indossato. Volti di persone morte, normalmente.
A questo punto si pone un altro problema: se Jaqen ha preso le sembianze di Arya, Arya è morta? Probabilmente no. I visi del tempio appartengono a persone decedute, ma c'è stato un momento della quinta stagione nella quale abbiamo assistito ad una sequenza molto suggestiva.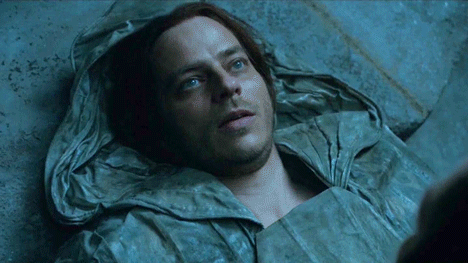 Questa.
Si può giustificare solo in due modi: Arya potrebbe essere in preda a deliri visivi ed esistenziali causati da uno sdoppiamento di personalità con una parte rimasta legata alla sua identità reale (Arya, quella che conosciamo) ed un'altra alla sua evoluzione in Nessuno (l'Orfana). Se così fosse, e questa è una seconda teoria sul futuro della Stark che spopola da giorni sul web, Arya e l'Orfana sarebbero un'unica entità scissa in due anime in lotta tra loro. La chiamano sindrome di Fight Club. Non ci crediamo granché, ma non si sa mai.
La seconda ipotesi è più plausibile: Jaqen è in grado di impossessarsi anche dei volti di persone vive, e a questo punto si pone un problema: con un potere così grande a disposizione, lui e i suoi adepti sarebbero capaci di tutto, persino di conquistare il Trono di Spade. Perché non dovrebbero sfruttarlo? La teoria rimane credibile, ma il dubbio è lecito.
Fra tre giorni avremo una risposta definitiva. Definitiva come la complessità di una storyline affascinante e dai molteplici sviluppi. Almeno mille. Oppure uno, come l'Arya che pensavamo ci trovassimo di fronte. Un'Arya, nessuna e centomila allo stesso tempo, in realtà. Due, sennò. Una è vera, l'altra è una maschera. Ma dov'è finita quella che abbiamo conosciuto finora?
Antonio Casu