Il gruppo di Morgan in questa puntata di Fear the Walking Dead sta attendendo invano l'arrivo di Quinn.
Quinn, come sappiamo dalla precedente puntata, non arriverà mai, perché la dirty woman lo ha ucciso, sostituendo Purvis.
Purvis, a sua volta, viene trovato dal gruppo, che nota immediatamente la scritta "Prendi quello che ti serve" incisa sul viso dello zombie.
Chi può arrivare a tali livelli di follia?
È facile dirlo: la villain di questa stagione di Fear the Walking Dead, la dirty woman.
Una donna disturbata, senza scrupoli, che ha come chiaro intento infastidire Morgan e i suoi amici, la dirty woman conosce la vera natura del tormentato guerriero armato di bastone. 
Io so chi sei veramente, so di cosa sei davvero capace, non lo hai rivelato del tutto, ma hai rivelato abbastanza e io riesco a vedere che è ancora così. È ancora così.
Nella terza stagione della serie tv madre, Morgan, ricordiamolo, aveva completamente perso la testa. Dopo la morte del figlio Duane aveva commesso atti indicibili, smarrito in un mondo di follia. 
Solo il salvifico intervento del caseificatore lo aveva riportato ad un'apparente normalità, infranta di nuovo, nella settima stagione di The Walking Dead, con la morte inutile del giovane Benjamin.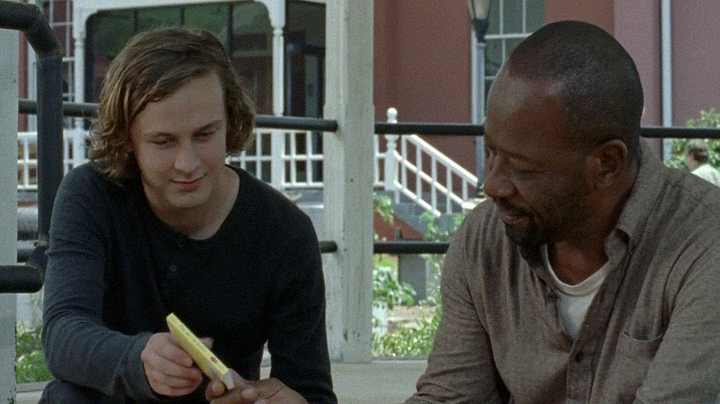 Morgan è stato sempre in bilico sul sottilissimo filo tra raziocinio e follia omicida e, questo, la dirty woman lo sa alla perfezione.
Nel frattempo, si rivedono John Dorie e Strand, confinati su un'isola che non era un'isola (lo è diventata dopo lo straripamento del fiume) e dalla terra li separa non solo una distesa d'acqua, ma anche un bizzarro alligatore che sembra uscito direttamente da un B movie horror.
La dinamica tra due personaggi è interessante: diversissimi, ma rispettosi l'uno dell'altro, sono poli opposti che, insieme, funzionano. 
John Dorie è un sognatore, un uomo dagli alti valori, Strand, invece, è concreto, materialista e scettico: dove John è pieno di speranza e procede a testa bassa, crede ancora nella speranza e nel futuro, Strand ha smesso di crederci da tempo, o, forse, non ci ha mai davvero creduto.
Perché? Perché credere che sia vero e che le cose andranno meglio?

(…) se non crediamo che le cose andranno meglio, se non crediamo di poterle renderle migliori, se noi non lottiamo, per ogni giorno, siamo uguali ai trapassati.

La sola differenza tra noi e i trapassati, la fa qualche giorno di provviste.
Eppure Strand sbaglia nel ritenersi così diverso da John: anche lui ha una famiglia a cui deve ritornare, qualcuno per cui combattere, qualcosa in cui credere.
Resta il sub-plot più convincente di questa seconda parte di Fear the Walking Dead.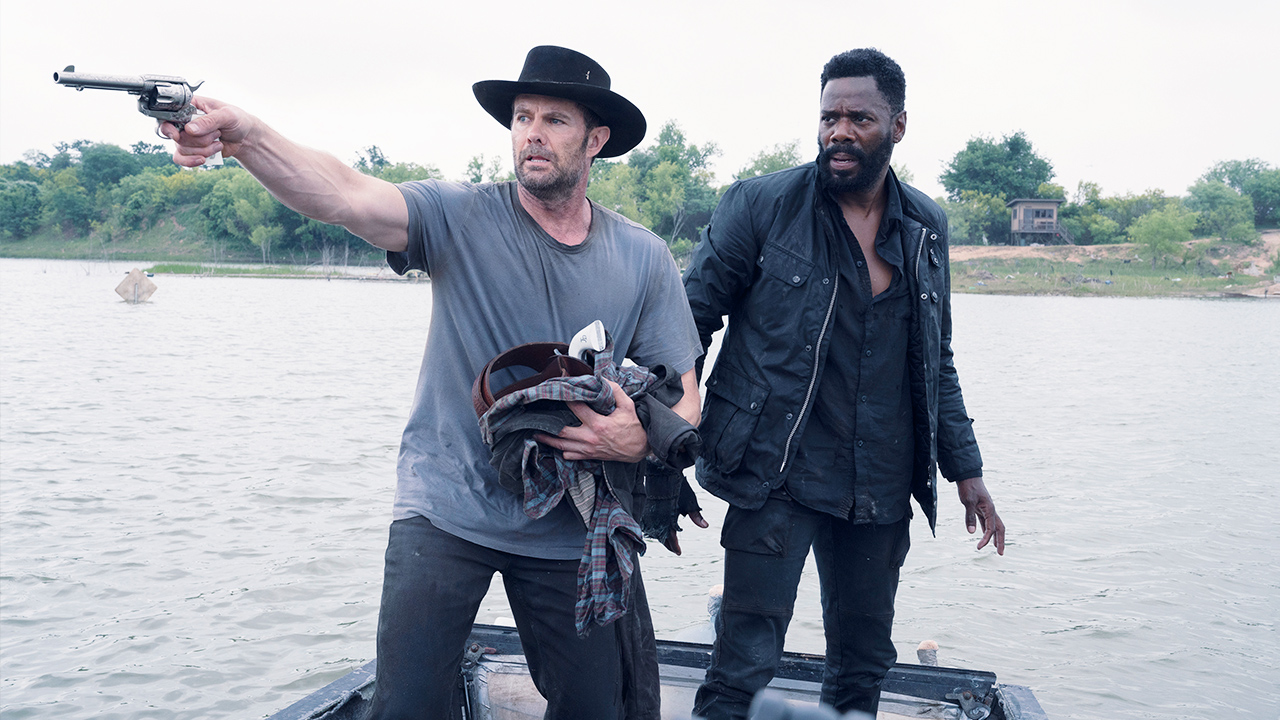 Si rivede anche Luciana, che è alla ricerca di Charlie e, invece, trova un uomo moribondo all'interno di un'auto.
Per esaudire il suo ultimo desiderio, si avventura alla ricerca di una birra fredda che, guarda caso, fa da trait-d'union con il personaggio da poco introdotto nel gruppo di Morgan, Jim.
Non solo, l'uomo fa una grande rivelazione: 
Solo perché non sei riuscita ad aiutare me, non vuole dire che non riuscirai ad aiutare qualcun altro in futuro.
Insomma, Luciana deve darsi pace per la morte di Nick e girare pagina.
Lei non molla e trova la birra in una scatola di cartone lasciata da Morgan lungo la strada, in cambio l'uomo le regala una serie di quaderni che segnano dove poter trovare cibo e rifornimenti.
Grazie agli immancabili walkie-talkie, ringrazia l'anonimo benefattore che ha confezionato la scatola, senza nemmeno attendersi una risposta, che, invece, arriva.
E, così, il gruppo di Morgan, recupera finalmente Luciana: le coincidenze, in Fear the Walking Dead non finiscono mai.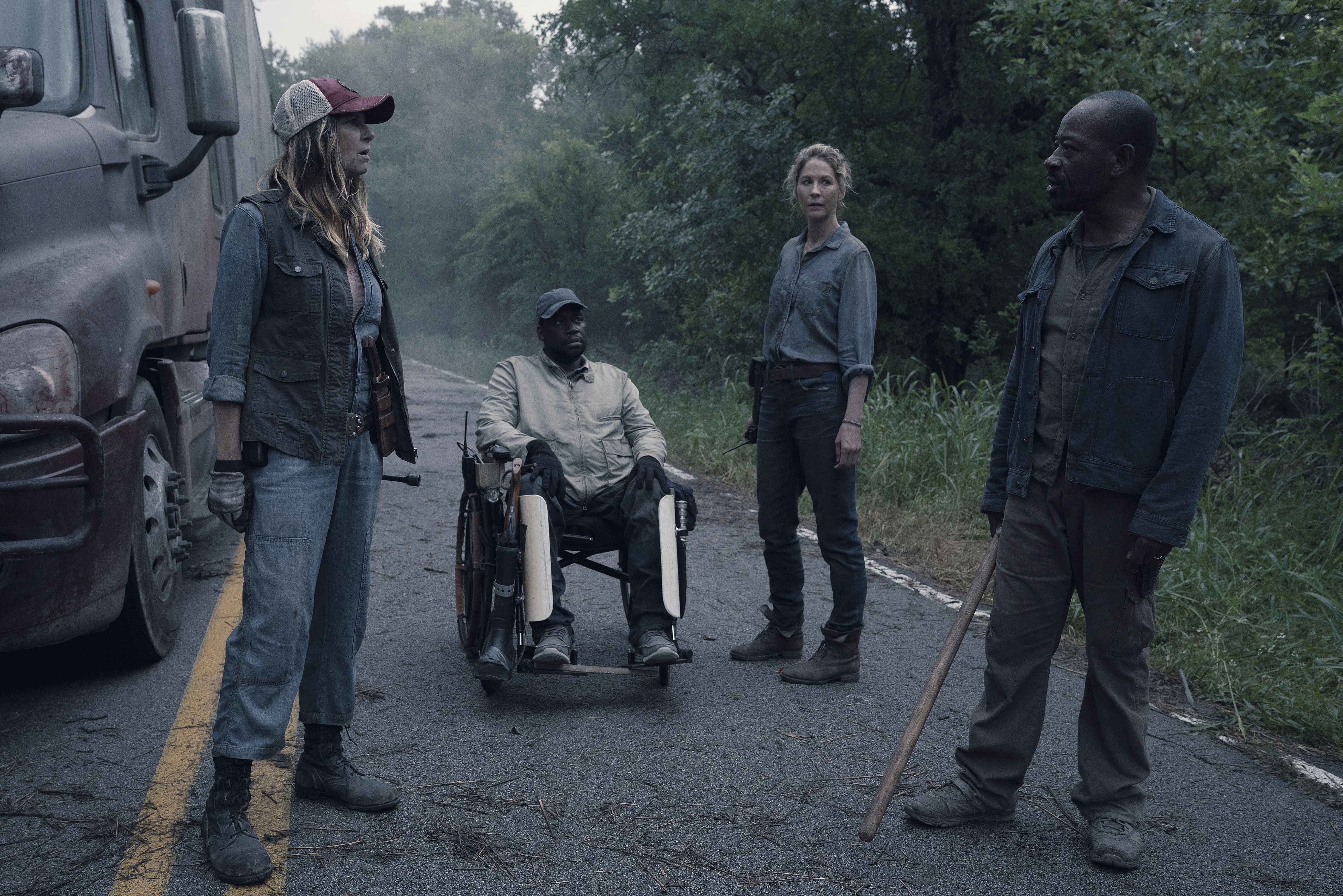 Tra il ricongiungimento finale tra il gruppo ed Alicia e Charlie si frappone la dirty woman, che ormai ha come chiaro intento di mettere i bastoni tra le ruote ai protagonisti di Fear the Walking Dead.
Per quanto questo sia meno lento e confuso degli altri, viene naturale chiedersi a che servano quattro episodi trascorsi alla riunione dell'intero gruppo, se non a "riempire" il vuoto di una stagione davvero troppo lunga.