Per il secondo crossover tra The Walking Dead e il suo spin off un nuovo personaggio dopo Morgan Jones passerà da una serie all'altra. Si tratta di Dwight, l'ex braccio destro di Negan dal volto sfregiato che si era ravveduto collaborando con gli uomini di Rick per concludere l'era di terrore creata da Negan e dalla sua Lucille.
Con Dwight eravamo rimasti al finale dell'ottava stagione di The Walking Dead, quando Daryl aveva deciso di non ucciderlo ma di lasciarlo libero di fuggire, purché lontano da Alexandria e dal resto del suo gruppo. L'ex scagnozzo de I Salvatori aveva sì, ucciso Denise, ma poi come a tentare di ristabilire il suo karma aveva voltato le spalle a Negan e salvato Tara, l'amore di Denise.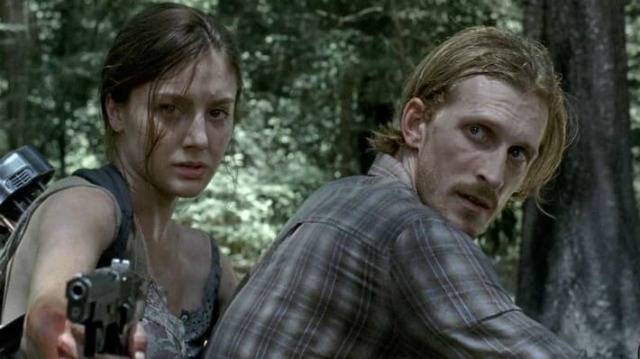 La quinta stagione di Fear The Walking Dead sarà rilasciata probabilmente nella seconda metà dell'anno appena iniziato.
Mentre la seconda parte della nona stagione di The Walking Dead inizierà in Italia il prossimo 11 febbraio. Le timeline delle due serie, che si erano avvicinate con l'arrivo di Morgan nella quarta stagione dello spin off, riprenderanno le distanze in seguito al lungo salto temporale della serie madre (sei anni in avanti). Dunque nella quinta stagione di Fear The Walking Dead scopriremo cosa è successo a Dwight dopo essere andato via da Alexandria e come gestirà l'incontro con gli altri personaggi. Chissà che durante il suo vagare l'uomo non riesca a ricongiungersi con sua moglie Sherry?  Sempre ammesso che lei sia ancora viva e che non sia finita preda dei walkers durante la sua fuga.
Non ci resta che attendere l'inizio della quinta stagione di Fear The Walking Dead per avere un'idea più chiara dello sviluppo che il personaggio di Dwight (interpretato da Austin Amelio) prenderà nel corso dello spin off.