Finalmente, Fear the Walking Dead ci illumina sulla backstory del romantico e solitario cowboy John Dorie. Uno tra i personaggi più riusciti di questa stagione.
John vive da solo in una baracca in mezzo al nulla, dorme in un letto singolo, svegliato, ogni mattina, da una radiosveglia con un pesce che balla. Ha la sua routine, perché John Dorie è un abitudinario: gioca a scarabeo; cucina; tenta di allenare la propria mente anche nell'assordante solitudine post-apocalittica in cui è costretto a vivere.
A interrompere quelle costanti abitudini arriva una donna senza nome. Ferita, mezza morta, che lui trae in salvo e di cui si prende cura fin da subito. Solo che questa donna distrutta, sfinita, irremovibile e cocciuta non vuole restare confinata in quella solitudine e scappa, ci prova, salvo rendersi conto che ha bisogno di John, almeno quanto John ha bisogno di lei, seppur per motivi ben diversi.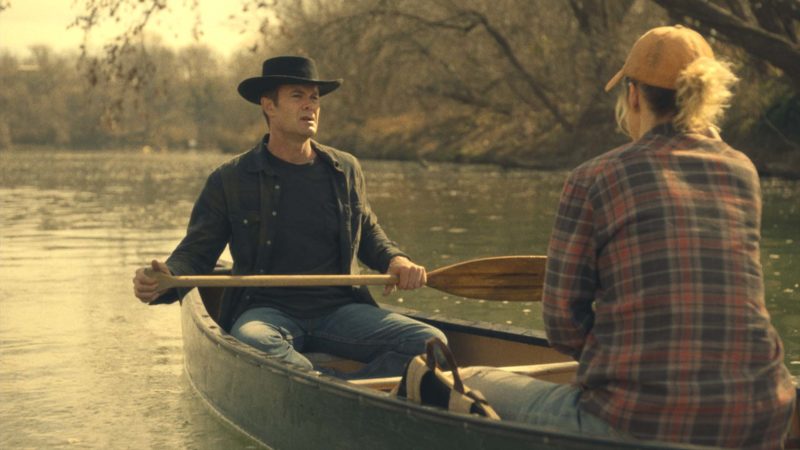 A questa donna taciturna, che di certo nasconde tanti segreti, John dà il nome di Laura, perché le sta bene, le si addice. Fin da subito è preso da lei, perché è disperatamente alla ricerca di qualcuno che gli dia un motivo per andare avanti. John non dorme se non per un'ora a notte, è solo e la solitudine è ben peggio che affrontare gli zombie con una semplice ascia. John ha un terribile desiderio di parlare, di raccontarsi. Vuole condividere la propria vita con un altro essere umano.
Desiderio ben più che legittimo.
La donna senza nome è caparbia, testarda e indipendente. Accetta l'aiuto di John solo perché non ha altra scelta, non parla quasi mai di sé, mentre lui è un vero libro aperto. Il loro rapporto, in punta di piedi, è fatto di sguardi e brevi racconti, in un mutuo soccorso che nasconde la paura di entrambi. Da una parte l'aver perduto qualcosa di lei, dall'altra il desiderio di avere di nuovo qualcuno di lui.
Ti chiami John Dorie, come il pesce e ti piace pescare.
Lui è tutto lì, in quella frase oggettiva. Un uomo semplice, forse troppo buono e onesto per un mondo così crudele come quello di Fear the Walking Dead. Per la prima volta John ha qualcuno con cui condividere la sua routine. Quando Laura si siede sul divano accanto a lui, per la serata film, sembra quasi un appuntamento come tanti. Ed è in quella ritrovata normalità che gli svela il suo segreto: Laura ha perso un figlio ed è la prima volta che riesce a confessare qualcosa di sé di davvero profondo.
Con quella confessione, qualcosa sembra cambiare, perché, giorno dopo giorno, i due condividono una specie di ritrovata normalità. Pescare, pulire il pesce, cucinare, azioni quotidiane che sembravano dimenticate per sempre.
Perfino giocare a scarabeo ha un sapore tutto diverso.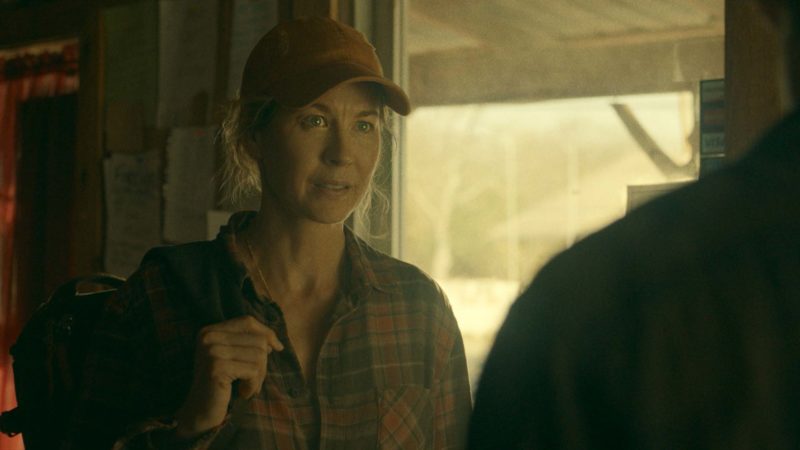 Non è un amore romantico nel senso classico del termine, non è neppure un vero amore, perché, con la ferita bendata e in via di guarigione, Laura è pronta ad andarsene. Lo aveva detto fin da subito. John non dovrebbe esserne sorpreso, né dovrebbe rimanerci male. Insieme decidono di sistemare il parapetto del ponte che causa un continuo arrivo di vaganti davanti a casa e lui rischia quasi di morire, scatenando un diverbio tra i due. Laura può fingersi indifferente, ma la sua preoccupazione per il cowboy è sincera.
John è un poliziotto che non vuole più usare la pistola, a causa di un errore commesso ben prima dell'inizio dell'apocalisse. Una disgrazia, una fatalità. Qualcosa per cui ancora sta soffrendo e con il quale deve fare i conti ogni singolo giorno: ha ucciso un rapinatore, ma non si sente un eroe, ma un assassino. Attaccati da un gruppo di zombie, Laura rischia di morire e solo allora lui riprende in mano la propria pistola.
Non è un eroe perché la gente gli dice di esserlo, ma perché lo è agli occhi di lei.
La pistola, il simbolo del blocco che aveva frenato John per anni, finisce nelle mani di Laura che ha capito perfettamente l'animo gentile e buono dell'uomo. Il loro amore nasce dal desiderio di appoggiarsi a qualcuno, di avere qualcuno, ma, in maniera molto più profonda, di avere qualcuno per cui vale la pena andare avanti, vivere, continuare.
Lei se ne va di nascosto, durante la notte, senza dirgli una parola, ma non prima di avergli confessato di ricambiare i suoi sentimenti. Messaggio lasciato alle lettere mute dello scarabeo.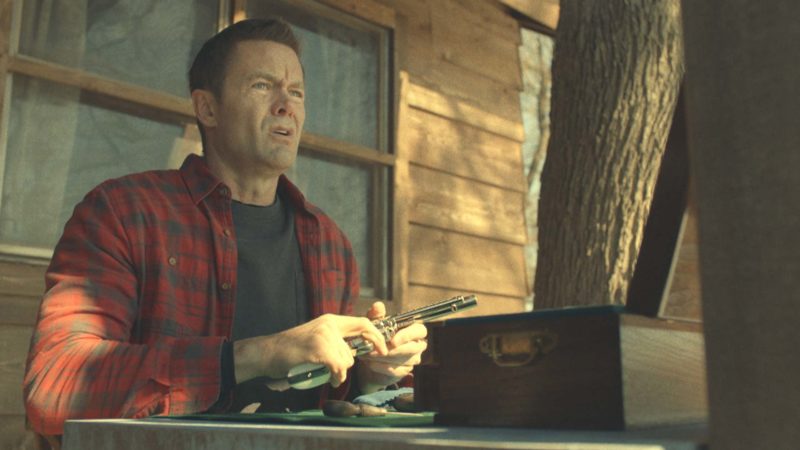 Come aveva annunciato Luciana nella puntata precedente, Laura/Naomi è morta nella caduta dello stadio, vittima degli Avvoltoi. Di certo scopriremo presto il suo destino, ma, per il momento, la sua morte rende il cowboy un uomo spezzato, incredulo, dai mille rimpianti.
Siamo vivi, facciamo parte del mondo: non sprechiamo neanche un minuto, gli dice Morgan al termine del flashback ed è da lì che John riparte, con i suoi ricordi e la sua pistola.
Non dimenticatevi di passare anche dai nostri amici di: