Fear The Walking Dead ha saputo crearsi una sua storyline nonostante i rimandi alla sua serie d'origine siano evidenti.
È vero che le dinamiche possono essere simili, vedi i tentativi di sfuggire il più possibile alle disgraziate sorti dell'apocalisse e la speranza di trovare un luogo sicuro in cui poter sviluppare una sorta di vita quotidiana, ma le due serie hanno mantenuto due anime distinte.
Per quanto riguarda Fear The Walking Dead, l'anima vibrante è da attribuire sicuramente alla famiglia Clarke. Madison, Nick e Alicia sono personalità distinte ma accomunate da una stessa impronta che ne condiziona la natura. L'egoismo.
Impronta sicuramente più profonda nell'anima di Madison, la carismatica e volitiva protagonista, che con lo scorrere delle stagioni sbiadisce o si imprime ancora di più nei comportamenti dei suoi due figli.
Madison come dicevamo è un'egoista, non in modo ovvio e dichiarato, naturalmente, ma a differenza del suo alter ego nell'universo creato da Robert Kirkman, Rick Grimes, davanti a una scelta sofferta lei farà sempre la scelta più fruttuosa e calcolata per sé e i suoi figli.
Anche se questo dovesse costare la vita a qualcun altro.
La figlia Alicia, interpretata dalla fascinosa Alycia Debnam-Carey, seguirà lentamente le orme della madre nel suo venire a patti con il suo istinto di sopravvivenza, mentre Nick sentirà con il tempo il bisogno di staccarsi sempre più dalla visione opportunistica della donna, cercando guide differenti che gli offrano una visione di speranza oltre che una chance di resistenza.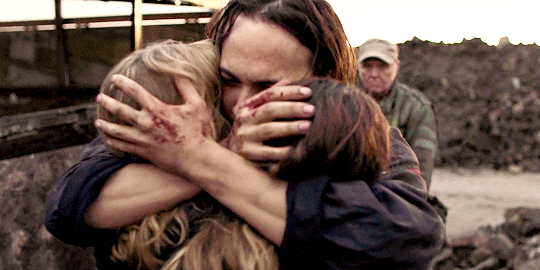 Questo fino a quando nella terza stagione di Fear The Walking Dead i tre non arrivano al ranch degli Otto.
Qui entreranno in gioco dinamiche differenti a cui Madison non si era preparata. Quella più imprevedibile è quella che riguarda la nascita della bromance tra Nick e Troy.
Durante questa stagione guardiamo Nick imbastire una stranissima amicizia con il violento e ambiguo figlio minore di Jeremiah, lo stesso che per primo non lo voleva nel ranch e per cui provava una evidente e insana gelosia.
Un'evoluzione strana eppure non così incomprensibile. Troy nonostante il suo lato sociopatico non è altro che un figlio trascurato e non amato che vede su Nick proiettato quel tipo di amore incondizionato da parte di Madison che lui stesso avrebbe sempre voluto ricevere e che sente di meritare.
Tuttavia se ne rende conto e la sua gelosia per Nick non è sufficiente a soffocare l'affinità borderline che avverte esistere con il ragazzo. Nonostante Nick abbia dimostrato nel corso delle prime tre stagioni e non solo di essere il cuore pulsante della famiglia Clarke, anche con le sue debolezze e fragilità possiede comunque un'anima altamente distruttiva e ribelle che ben si connette a quella ingestibile di Troy.
Ecco quindi che nasce una delle realtà più interessanti della storia che come in molte altre serie hanno dato quella marcia in più alla trama. Sono molti gli esempi nel panorama seriale infatti di bromance che hanno coinvolto il pubblico più di altri rapporti presenti nella storia che avevano visibilità maggiore.
Da Damon Salvatore e Alaric Saltzman di The Vampire Diaries a Tyrion Lannister e Bronn di Game of Thrones ci piace sempre quando due nemici diventano amici. Non importa quante volte Troy abbia meritato quel maledetto colpo in testa decisivo. Prima con l'omicidio dei Trimbol poi con l'arrivo dell'orda, anche contro ogni giusta causa Nick lo ha sempre protetto, persino quando la vendetta del ragazzo si scaglia sul ranch.
Lo difende mentendo anche alla sua stessa famiglia (che proprio delle sante persone non sono) dimostrando che con Troy, volente o nolente, il rapporto è più intenso di quello che dice.
A differenza però degli altri universi che offrono delle bromance coinvolgenti, in Fear The Walking Dead non c'è tempo per fare amicizia. Bisogna pensare a salvarsi la pelle possibilmente senza pestare i piedi a Madison Clarke, che quando si tratta dei suoi figli e delle potenziali minacce che gli girano intorno è più drastica di Cersei Lannister nell'eliminarle.
Alla fine sarà proprio lei a decretare la fine di questo rapporto intenso e pieno di potenziale proprio perché Troy, nonostante lei stessa abbia provato a comprenderlo e a tutelarlo un paio di volte, rappresenta una minaccia per il suo Nick. Specie quando capisce che è proprio quest'ultimo a essersi legato a lui.
Un vero peccato dal momento che il rapporto tra i due poteva offrire ancora moltissimo alla serie. L'influenza negativa di Troy poteva far emergere l'aspetto più autolesionista di Nick, considerando anche che l'oscillazione tra i due lati dell'animo del ragazzo (quello più compassionevole e amabile e quello più autodistruttivo) ha spesso contraddistinto i momenti più interessanti dell'intera serie. Ma poteva anche avvenire il contrario.
E cioè che fosse l'indole piu pura di Nick a contaminare quella di Troy e a regalarci quindi una di quelle splendide evoluzioni che tanto ci piace vedere in una serie tv.