Young Sheldon, lo spinoff di The Big Bang Theory, è stato rinnovato per ben due stagioni, la terza e la quarta!
Questo rinnovo conferma la presenza del piccolo Sheldon Cooper per i prossimi anni, almeno fino al 2021. Una notizia che cambia certamente il nostro weekend. E pensare che appena due settimane fa, un'altra serie creata da Chuck Lorre – Mom – è stata anch'essa doppiamente rinnovata per la settima e ottava stagione.
E se teniamo in mente anche il successo de Il Metodo Kominsky si può dire che questo sia l'anno delle serie di Chuck Lorre.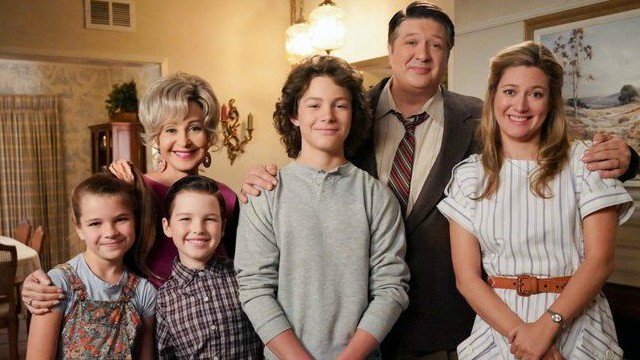 Young Sheldon in questa stagione ha ottenuto un successo pazzesco. Basti pensare che ha raggiunto una media di ben 11 milioni di spettatori settimanali. Era quasi impossibile non pensare a un rinnovo per lo show, voluto anche per dare un senso ai racconti dello stesso Cooper adulto e mettere un punto a tante storie.
Da questa conferma, i fan dello show sono in delirio. Il presidente della CBS Entertainment Kelly Kahl, ha rilasciato questo commento alla conferma del doppio rinnovo:
Grazie a Chuck Lorre e alla straordinaria leadership creativa di Steve Molaro, Young Sheldon è stato un potente esecutore della rete con un pubblico che domina gran parte del panorama televisivo.
Alle sue parole si sono aggiunte quelle di Thom Sherman, Senior Executive VP di programmazione, il quale non si è risparmiato nei complimenti verso il cast:
I Coopers sono interpretati da un cast straordinario, e non vediamo l'ora di avere il talentuoso staff di scrittura all'opera per rendere il tutto ancora più esilarante. Non vedo l'ora di vedere Sheldon e la dinamica familiare che ha reso questa commedia uno dei preferiti, con un pubblico straordinario.
E dopo una valanga di serie tv cancellate negli ultimi tempi, vedere un rinnovo simile ci rende solo immensamente felici. Mentre The Big Bang Theory è ormai agli sgoccioli e piovono una valanga di teorie sulla fine dello show, il piccolo Sheldon ci promette nuove entusiasmanti avventure.