The Royals, la serie televisiva britannica e statunitense creata da Mark Schwahn e andata in onda sul canale via cavo E! tra il 2015 e il 2018, aveva conquistato il suo pubblico grazie a una potente miscela di trash, situazioni inverosimili, forti sentimenti e le dinamiche di una inusuale e fittizia famiglia reale, piena di complicazioni e scheletri nell'armadio (le serie tv sui reali ci piacciono proprio tanto, qui vi spieghiamo perché). Stagione dopo stagione (per un totale di quattro), gli spettatori avevano imparato a capire che il mondo della famiglia Henstridge era ben più intricato, ma anche ben più profondo di quel che si potesse pensare dal pilot e dai primi episodi. Le avventure della regina Helena e dei suoi figli Eleanor, William e Robert sono però state bruscamente interrotte in seguito alla cancellazione della serie avvenuta nell'agosto del 2018. Il motivo dell'interruzione risiede nello scandalo che ha colpito il creatore della serie, accusato di molestie da parte della sceneggiatrice Audrey Wauchope. Schwahn è stato licenziato, ma nessuno ha preso il suo posto. Ecco allora che The Royals ha dovuto salutare il pubblico al termine della quarta stagione.
Qual è stato il grande problema? La serie è stata interrotta proprio nel suo culmine, in un momento in cui ogni storyline era aperta e tutto stava precipitando. E se è vero che gli spettatori di The Royals non sono tanti come quelli di altre serie tv, è altrettanto vero che il discreto gruppo si è spesso interrogato su quel che sarebbe potuto succedere alla famiglia Henstridge se le linee narrative fossero proseguite. Cerchiamo quindi di riannodare i fili del finale aperto e provare a immaginare quali sarebbero potuti essere gli sviluppi successivi.
Nel quarantesimo episodio di The Royals era giunto il momento del matrimonio di Robert, il fratello maggiore che a inizio serie credevamo morto. Il futuro Re d'Inghilterra aveva ingannato madre e fratelli con il solo scopo di conquistare il trono, ma la copertura era saltata. L'unico modo per svelare il vero piano dell'uomo davanti a tutta Inghilterra sarebbe stata la denuncia da parte di Willow, la sua promessa sposa, nel corso del matrimonio, prima di dire i voti. Tutto sembrava procedere secondo i piani organizzati dal resto della famiglia Henstridge, finché Willow non ha improvvisamente cambiato idea. Al momento stabilito, al posto di distruggere la reputazione di Robert in pubblico, la ragazza ha detto sì. Pronta a diventare la futura regina.
E The Royals si è concluso proprio così, con l'antagonista che raggiunge il suo scopo, affiancato da una donna che il pubblico pensava fosse dalla parte dei buoni.
Di certo non la fine che gli spettatori avrebbero voluto, anche se – prima della notizia della cancellazione – il finale aveva certamente creato un grande hype per la quinta stagione. Ma non sapremo mai che piega avrebbero preso gli eventi. Innanzitutto, per quale motivo Willow ha cambiato idea e ha supportato il piano di Robert? Si è trattato di una scelta legata al sentimento che provava per lui oppure una decisione opportunistica? In fondo, quanto sarebbe facile rifiutare la possibilità di diventare regina? Nella quinta stagione avremmo scoperto le vere intenzioni di questo personaggio così ambiguo, all'apparenza delicato ma forse ben più oscuro di quel che ci si sarebbe aspettati. Forse, Willow avrebbe addirittura svelato tutto il piano degli Henstridge a Robert, che avrebbe preso provvedimenti contro la sua stessa famiglia. La brama di potere può essere davvero pericolosa.
E per quanto riguarda il destino degli altri personaggi? Di sicuro, un'altra questione aperta riguarda Kathryn, la fidanzata del principe Liam – precedentemente contesa tra lui e Robert. Ben due grandi misteri aleggiano attorno alla ragazza. Il primo riguarda una sua presunta gravidanza, mai confermata prima del finale. Sembra probabile che la donna aspettasse davvero un bambino. Nella quinta stagione, però, avremmo scoperto l'identità del padre. Liam o Robert? Nel primo caso ci saremmo trovati davanti a una storia d'amore sempre più dolce, la nascita di una famiglia che – in caso di sconfitta di Robert – avrebbe potuto regnare sull'Inghilterra in tempi successivi. Nel secondo caso, le carte in tavola si sarebbero mischiate ancor di più. Robert avrebbe rivendicato la paternità del figlio oppure no? E come avrebbe reagito Willow?
A questi interrogativi si aggiunge il secondo mistero legato al destino di Kathryn: nell'ultimo episodio della serie, infatti, la ragazza viene rapita. Da chi? Perché? In un'intervista, William Moseley (Liam) aveva provato a ipotizzare che dietro al rapimento ci fosse proprio Robert. Il fratello maggiore avrebbe dunque scoperto della gravidanza di Kathryn tenendola prigioniera? Forse avrebbe usato la condizione della donna per ricattare Liam e ottenere qualche altra vittoria sulla famiglia. Sarebbe stata una storyline molto interessante.
Al fantomatico matrimonio tra Robert e Willow, aveva fatto la sua apparizione anche Violet.
L'unica donna che abbia mai veramente toccato il cuore di Cyrus, badando a lui nel periodo di riabilitazione dopo il cancro, è tornata nel finale di stagione. Lo zio di Robert, Eleanor e Liam l'aveva creduta morta dopo il fittizio racconto della Gran Duchessa che gli aveva comunicato di un incidente d'auto in cui Violet avrebbe perso la vita. E invece eccola ricomparire dal nulla, pronta a farsi largo nuovamente nell'animo dell'eccentrico Cyrus. Nella quinta stagione, forse, avremmo visto l'influenza positiva della donna su Cyrus. Certo, sarebbe stato difficile per l'uomo rimettere la testa del tutto a posto: in fondo, lui è il pazzo della serie, l'uomo senza limiti, il trash del trash (e a proposito di trash, qui trovate la classifica delle serie tv più trash di sempre). Però si sarebbe potuto evolvere e migliorare come personaggio, un percorso al quale non assisteremo.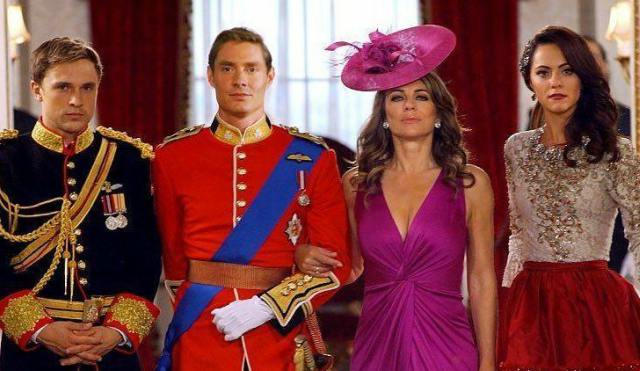 Ma diciamo le cose come stanno: i personaggi che ci è dispiaciuto di più lasciare sono sicuramente Eleanor e Jasper. La loro tormentata storia d'amore è stata uno dei punti di forza della serie, così come il percorso evolutivo di Eleanor stessa, che ha imparato a non buttar via la sua vita e a impegnarsi per migliorare giorno dopo giorno. Un rapporto tanto bello quanto complicato, che ha spezzato varie volte il cuore dei fan. I due avrebbero finalmente trovato la pace nella quinta stagione? Gli attori stessi (Alexandra Park e Tom Austen) hanno rassicurato i fan dopo la cancellazione della serie, scrivendo il loro finale ideale: Eleanor e Jasper si sarebbero sposati, avrebbero avuto il loro happy ending senza lasciarsi mai più. Conoscendo i personaggi, però, forse gli attori sono stati fin troppo ottimisti. Anche un finale tragico sarebbe stato adatto a questa coppia... ma visto che la conclusione ce la possiamo inventare noi, beh, ognuno si immagini quella che crede!