Spesso ci troviamo di fronte ad articoli di critica cinematografica dallo spessore imperscrutabile. Veri e propri trattati che si spingono ben oltre le conoscenze del lettore e talvolta dello scrittore stesso.
Odi al bello che tirano in ballo fotografia, regia, sceneggiatura…bene, cancellate queste informazioni dalla vostra memoria. Toglietevi di dosso quel pesante macigno culturale perché ciò che andrete a leggere non ha niente a che vedere con tutto questo.
So bene che dietro a quella serie tv russa in bianco e nero guardata senza sottotitoli si cela un animo più leggero, uno spirito che a volte ha solo voglia di staccare la spina e rilassarsi nel confortevole mondo del trash.
Capita a tutti, nessuno escluso. Tra chi ne è un fan affezionato e chi mente, il trash – che sia voluto o inconsapevole – accoglie tutti tra le sue braccia fatte di insensatezze e cattivo gusto.
Spogliatevi di ogni vostra insicurezza: queste 10 Serie Tv trash sapranno consolarvi e farvi divertire più di qualsiasi altro sceneggiato sovietico.
10) Devious Maids
Serie ideata niente meno che da Eva Longoria e Marc Cherry – attrice protagonista la prima e creatore il secondo di Desperate Housewives – Devious Maids segue quel mix vincente di giallo, dramma, commedia e soap opera già noto ai fan di Desperate, declinandolo in una versione ancora più trash.
Protagoniste di questo show sono un gruppo di domestiche latine che lavorano nelle case delle persone più benestanti di Beverly Hills.
Tra litigi mortali e scandali sessuali, non esiste un solo giorno dove le nostre protagoniste non assistano a un omicidio o non debbano nascondere qualche segreto, trasformandosi in improbabili detective con la crestina.
9) Santa Clarita Diet
Con Drew Barrymore e Timothy Olyphant, Santa Clarita Diet accoglie il trash nella sua declinazione più splatter.
Due coniugi apparentemente normali, nascondo tra le mura domestiche un oscuro segreto: Sheila, la moglie, è in realtà una zombie che necessita della sua dose giornaliera di carne umana per il suo sostentamento.
Tra braccia mozzate e sangue che scorre a fiotti, la vita dei due agenti immobiliari procede incappando in esiti fin troppo grotteschi pure per una famiglia di zombie.
8) Insatiable
Serie criticata per la leggerezza con la quale vengono trattati temi insidiosi come i disturbi alimentari e il body shaming, Insatiable sembra puntare a un diverso tipo di comunicazione, più satirico e oltremodo trash.
Seppur sotto una spessa scorza di superficialità si celino messaggi importanti non del tutto esplicitati, il fitto strato di nonsense sembra far da padrone in questa serie dove le cose accadono senza un reale perché.
Scene casuali di pura follia collettiva si intersecano nel bel mezzo di una scena apparentemente significativa, spogliandola di ogni qualsiasi tipo di significato. Se non è trash questo..
7) Élite
La Spagna ci ha regalato preziose perle di trash (coff coff La Casa de Papel) ma con Élite ha veramente voluto strabiliarci.
Un po' teen drama alla ricerca di spessore, un po' crime che non teme le incongruenze, i ragazzi di Las Encinas, ci fanno sognare con le loro vite lussuose e dannate. Ma questi non ce li hanno dei genitori? A quanto pare no.
Con la nascita dei soliti amori impossibili tra poveri e ricchi e popolari e impopolari, Élite si classifica come portabandiera dei luoghi comuni.
6) Baby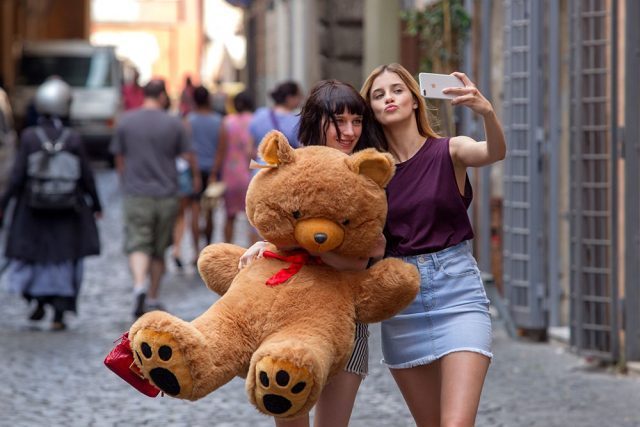 Se ne son dette di cotte e di crude su Baby, ma purtroppo, nonostante il gran seguito accumulato, dubito che qualcuno si sia meravigliato della sua presenza in questa classifica.
La serie italiana di Netflix ha molti problemi, ma c'è una cosa che ci fa sorridere più di tutte: i dialoghi. Magicamente surreali e spesso mal recitati, i colloqui all'interno di questo show sono talvolta figli di un nonsense purissimo arricchiti da lunghi silenzi e volti inespressivi.
Tra sottotrame che si disperdono lasciandoci senza risposta alcuna e personaggi che compaiono e scompaiono senza dirci nulla del loro via vai, Baby ci lascia molte domande e pochi riscontri.
5) Pretty Little Liars
Chi è A? La domanda che affligge il telespettatore dalla prima fino all'ultima stagione della serie lascia intorno a sé, molti, moltissimi interrogativi.
In uno show che sicuramente non ha fatto della linearità il suo punto forte, i picchi di trash sono davvero altissimi.
Una serie capace di rendere le proprie incongruenze un escamotage per arricchirsi di molti più misteri di quanti non ve ne fossero all'inizio: un vero colpo da maestro.
Istituti psichiatrici trattati come parchi giochi, sparizioni non giustificate e riapparizioni date per scontate, morti non davvero morti, Pretty Little Liars è questo e molto di più.
4) Paso Adelante
Un Dos Tres Cuatro: un riff indimenticabile dei nostri ricordi più oscuri.
Flashdance in chiave spagnola, la versione seriale di Amici, Paso Adelante fu un'icona trash.
Come dimenticare Lola, Pedro, Roberto, Ingrid e tutti gli altri protagonisti della più importante scuola di ballo e recitazione di Madrid.
Le interminabili lezioni di danza e gli insopportabili stacchetti musicali, sono ora solo un lontano ricordo. Tra scaramucce, flirt proibiti e molto, molto drama, la scuola più trash di Spagna chiude i battenti nel lontano 2005, lasciandoci orfani di un'inesauribile fonte di cattivo gusto.
3) Sogni d'amore
Giungiamo finalmente al podio con una perla purtroppo dimenticata ma degna come poche di sedere al terzo posto di questa classifica delle serie tv più trash mai esistite.
Resa nota al grande pubblico grazie a Mai dire Gol, Sogni D'amore fu una serie televisiva trasmessa negli anni 90 da Rete 3 Manila e presa dalla Gialalappa's Band come bersaglio per le proprie pungenti battute.
La serie, nota come la telenovela piemontese è sicuramente uno degli esempi più alti di pessima recitazione mai riprodotti su una rete televisiva. La trama al limite del ridicolo gravita attorno al niente in un tripudio di banalità e dialoghi surreali, conditi da un marcato accento piemontese.
2) Scream Queens
Lo show parodia del genere horror e di tutti i suoi cliché, è una dichiarata ode al trash che non potete assolutamente farvi scappare.
Scream Queens è una bellissima apoteosi di trash in ogni sua forma; ricca di citazionismo horror e non solo. Lo show targato Ryan Murphy è in grado di rendere qualsiasi scena iconica e incredibilmente raccapricciante, nella sua accezione più positiva che esista.
Non si può parlare di trash senza prima aver menzionato almeno una quindicina delle scene più assurde presenti in questo show.
Tra chi di trash perisce e chi di trash ne fa la sua forza, Scream Queens appartiene a quest'ultima categoria.
1) The Lady
The Lady è una web series, è vero, ma la sua concentrazione di trash è talmente alta da vincere sia sul fronte web che su quello televisivo. The Lady batte tutti, e se avete avuto la fortuna di bearvi di questo prodotto sicuramente lo saprete.
Un prodotto talmente trash da fare il giro su sé stesso e diventare perfetto: questo è The Lady.
Dai dialoghi surreali, sgrammaticati e imperfetti, al doppiaggio (italiano su italiano) non sincronizzato, passando per le voci monocorde e infine attraversando il magnifico mondo del nonsense che richiama a sé ogni parte dello show, dalla recitazione fino all'ambientazione, The Lady è la forma più pura e più alta del trash. Un orgoglio tutto italiano di cui dovremmo andare fieri.