Per questa prima settimana di The Big Bang Theory siamo stati graziati con ben due puntate della dodicesima stagione. Dopo l'episodio di lunedì, che ha senza dubbio creato nostalgia e tristezza al pensiero che è sempre meno il tempo che abbiamo a disposizione per divertirci con il nostro gruppo di amici preferito, ho deciso di smetterla di piangermi addosso. Non posso – non possiamo – vivere ogni puntata con il pensiero che la dodicesima sarà l'ultima stagione di The Big Bang Theory. Anche perché, se no, non riusciremmo a goderci ogni momento.
In "The Wedding gift Wormhole" il gruppo è finalmente riunito in una classica cena a base di cibo take-away nell'appartamento di Leonard e Penny. Ah, quanto mi mancavano!
Senza alcun dubbio, il tema dell'episodio è l'amore.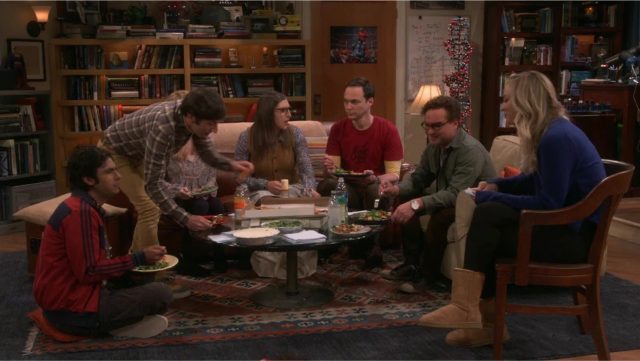 La storyline principale riguarda la nuova coppietta di sposini: Amy e Sheldon. I due, alle prese con i regali di nozze, non riescono a capire cosa sia il regalo fattogli da Leonard e Penny. Inspiegabile, proprio come Westworld, dice Sheldon. E chi è fan della Serie, può capirlo benissimo. Finiscono per credere che si tratti di un indizio per una caccia al tesoro che li avrebbe portati al vero regalo. Insomma, credono a quello che vogliono, e ritengono che il regalo migliore sia stata la consapevolezza di poter fare tutto, se collaborano come copia. Ah, l'amore.
A legare i due al resto del gruppo è proprio il regalo, in realtà ciò che Leonard e Penny avevano ricevuto a loro volta per le nozze da Howard e Bernadette. E indovinate? Gli stessi Howard e Bernadette lo avevano ricevuto quando si sono sposati: si tratta di una bacchetta chakra di cristallo, ovviamente un regalo di Raj.
L'amore approda anche al negozio di fumetti, dove Stuart ha finalmente il coraggio di chiedere a Denise di uscire. E poi succede una cosa che nessuno si sarebbe mai immaginato. Tenetevi forte perché questa rivelazione non è adatta ai deboli di cuore. Stuart sorride. Capite? Stuart è capace di sorridere!
Questo è stato il colpo di grazia per Raj.
Siamo tutti a conoscenza della situazione complicata di Raj per quanto riguarda la sua vita sentimentale. Lui è sempre stato il solitario del gruppo. Certo, ha avuto relazioni in passato: ricordiamo Lucy, l'assistente vocale di iOS Siri, Emily, Claire. Emily di nuovo, Emily e Claire contemporaneamente. Insomma, non si può certo dire che sia rimasto sempre da solo. Tuttavia, sono passati dodici anni da quando lo abbiamo conosciuto e ora è l'unico in The Big Bang Theory a essere ancora single.
Devo ammettere che nel corso della precedente stagione ho notato un cambiamento nel suo carattere, che non ho però riconosciuto oggi. Se prima era leggermente più sicuro di sé, anche con il nuovo lavoro al planetario, ciò non si nota anche in questo secondo episodio della dodicesima stagione. Insomma, il vedere tutti i suoi amici trovare "l'anima gemella" lo ha distrutto. Tanto da chiedere a suo padre di fare una cosa che non ci saremmo mai aspettati da lui.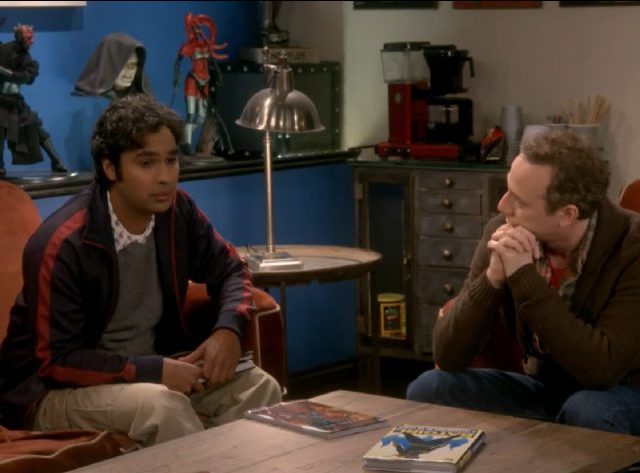 E così arriva la rivelazione di questa puntata: Raj si sposerà. Suo padre ha trovato una ragazza indiana con cui sistemarlo. Questa non me l'aspettavo, ma è vero che anche Raj, come personaggio di The Big Bang Theory, ha bisogno di una conclusione. A questo punto della storia, pare chiaro che questa sarà la sua ultima storyline. Starà a lui, agli scrittori, decidere come terminare la Serie per il personaggio di Kunal Nayyar.
Nel frattempo, non dimentichiamoci dei momenti divertentissimi che ci ha regalato con il suo mutismo selettivo, con il suo essere imbarazzante. Con il suo essere nerd. Insomma, anche se trovasse una ragazza, rimarrebbe quello che ha trovato la ragazza dopo Sheldon Cooper! (E Stuart. Ma questo è meglio non ricordarglielo).