Onestamente pensavo che la faida tra Howard e Raj in The Big Bang Theory sarebbe durata un po' più a lungo, invece è finito tutto in una bolla di sapone alla fine di questa 11×11. Peccato, perché poteva essere una linea narrativa interessante e invece non hanno saputo sfruttarla.
Nonostante questa considerazione, la puntata è stata davvero piacevole. Non all'altezza della 11×10, ma comunque migliore della media della puntate di questa undicesima stagione di The Big Bang Theory.
La puntata ha due storyline predominanti, come al solito (la struttura delle puntate è un po' sempre la stessa). La prima riguarda il primo compleanno di Halley, la figlia di Howard. Lui non vorrebbe fare nulla, perché la piccola ha un anno e quindi, ovviamente, non le importa e Bernadette è a letto, bloccata dalla nuova gravidanza. Ed è proprio Bernadette a volere la festa, perché si sente in colpa: si sta perdendo troppe cose di Halley. E così Howard si ritrova a dover organizzare una festa in tutta fretta. Inutile dire che non sa nemmeno da dove cominciare.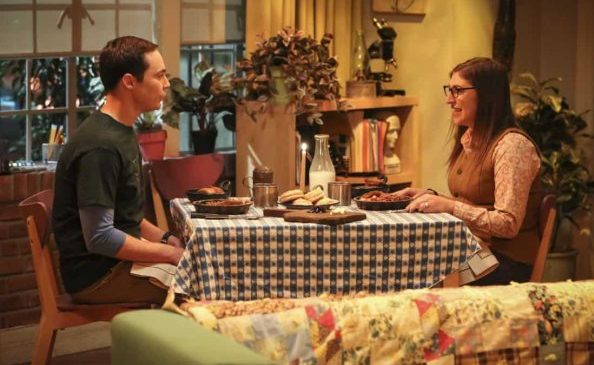 L'altra storyline, invece, riguarda la sorpresa di compleanno che Sheldon sta organizzando per Amy: una cena storicamente accurata stile Casa nella prateria, la Serie preferita della scienziata. Ci si è messo davvero d'impegno, il nostro Sheldon, forse pure troppo. Ed è qui che nascono i problemi.
Perché Sheldon ha eseguito ricette secondo le indicazioni storiche e quindi alla fine lui e Amy si ritrovano con un'intossicazione alimentare. Tanto che non possono nemmeno eseguire "il coito", vero "regalo" che Sheldon concede ad Amy una volta all'anno, proprio in occasione del compleanno. Ma, dal momento che entrambi non fanno che rimettere, Amy declina l'offerta di Sheldon di farlo comunque. Lo so, shoccante, ma la ragazza ha ragione!
Non dimentichiamoci, però di Penny e Leonard, ultimamente molto in disparte. Sembra che abbiano esaurito le idee con loro. E, in effetti, il loro matrimonio va bene, non ci sono gelosie, non ci sono drammi, non ci sono novità. Sembrano bloccati ed è proprio su questo che si concentra la loro storyline: sulla necessità di dare una scossa al loro rapporto. La scusa viene fornita da una lettera con allegata foto di Natale, che il fratello di Leonard manda loro. L'uomo si vanta di tutto quello che ha fatto in quell'anno e Leonard vorrebbe contrattaccare, ma si rende conto di non sapere cosa scrivere.
È qui che viene – di nuovo – accennato a un bambino. Leonard lo propone a Penny, che tuttavia non si sente pronta. Eppure è il passo seguente, è più che evidente. Ed è alquanto probabile che entro la fine della stagione Penny rimanga incinta, visto quanto stanno insistendo sulla cosa fin dalla prima puntata.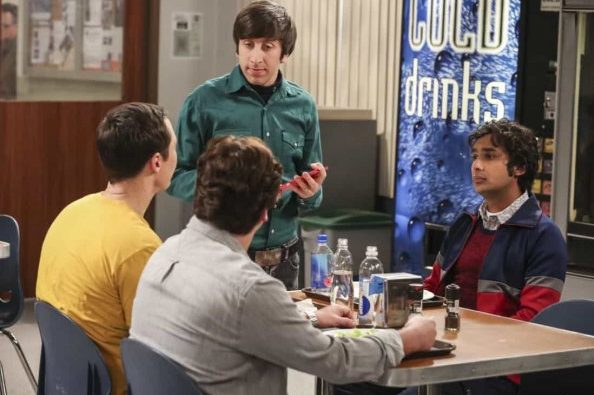 Comunque, il vero punto focale della puntata è il rapporto tra Raj e Howard. Raj evita ancora Howard che, per punirlo, non lo invita alla festa di Halley. Raj ci rimane comprensibilmente male, perché Halley è la sua figlioccia e significa molto per lui. Ma Howard sembra molto fermo nella sua decisione, per poi tuttavia cambiarla quando si rende conto che deve organizzare la festa da solo in meno di ventiquattrore. Allora va da Raj, che prima si arrabbia, ma poi decide di aiutarlo. Per Halley, naturalmente.
Quando però i parenti di Howard e Bernadette avvisano che non potranno esserci perché stanno male, Raj e Howard iniziano a litigare perché non ci saranno altri invitati oltre i loro amici e la festa sarà uno schifo. Come la casa gonfiabile di una simil Wonder Woman che Raj ha affittato.
I due finiscono per entrare nella casa gonfiabile e dirsene di tutti i colori, riuscendo finalmente a essere sinceri: entrambi hanno ferito i sentimenti dell'altro, senza però volerlo. Iniziano a spintonarsi e, dato che sono in una casa gonfiabile e rimbalzano, trovano la cosa divertente. Ed effettivamente è divertente tutta la scena, come abbastanza lo è anche tutta la puntata di The Big Bang Theory. Divertente, leggera, piacevole.
Però, come ho detto all'inizio, la lite tra Howard e Raj finisce in una bolla di sapone. Noi fan non possiamo che esserne contenti, ma siamo sicuri che abbiano fatto bene a risolvere il tutto così velocemente? Lo scopriremo presto. Non ci resta che aspettare che The Big Bang Theory ritorni dopo le vacanze di Natale.