Dopo il rinnovo alla sesta stagione, The 100 si avvicina alla sua messa in onda sia negli USA che da noi in Italia. Ma dove eravamo rimasti?
È già incredibile che sia stato girato un sesto ciclo di episodi: Jason Rothenberg, il creatore di The 100 aveva ammesso di aver concepito il format della serie in cinque stagioni, ma visto l'enorme successo quella successiva è stata d'obbligo.
I vertici di The CW sono entusiasti e i fan ne sono ancora innamorati, non manca nulla!
Se non sei in pari con gli episodi non andare avanti, PERICOLO SPOILER!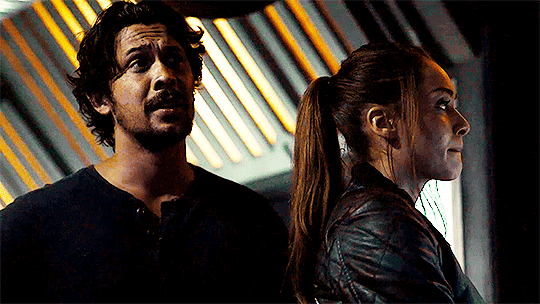 Questa serie di episodi di The 100 sarà concepita come un nuovo capitolo, un inizio per i protagonisti rimasti e le new entry che verranno (di cui abbiamo parlato qui).
Gli ultimi episodi vedevano l'esplosione della Terra, costringendo i protagonisti a cercarsi un nuovo pianeta adatto alla vita. Ma in The 100 non sempre va tutto come dovrebbe andare (l'intera storyline ne è la prova) e il nuovo pianeta potrebbe non essere ospitale quanto sperato.
La sesta stagione, pertanto, avrà una trama tutta sua, nonostante rimanga sempre legata alle precedenti stagioni. Ci sarà infatti un salto temporale di 125 anni in avanti, che non ha avuto conseguenze sui protagonisti per effetto di un periodo di ibernazione.
Il gruppo di sopravvissuti composto tra gli altri da Bellamy e Clarke ispezioneranno il nuovo pianeta ritrovandosi nuovamente nei panni di chi non sa cosa aspettarsi e se si riuscirà a sopravvivere, proprio come all'inizio dello show.
Questo cambio di rotta rappresenta anche il momento in cui The 100 si distacca dai libri a cui era inizialmente ispirata: i romanzi di Kass Morgan.
Lo show debutterà con il primo dei suoi 13 episodi il 30 aprile.
Per quanto riguarda noi italiani, è probabile che The 100 uscirà in autunno 2019.
Che il conto alla rovescia abbia inizio!