Alzi la mano chi ormai aspetta in sconfortante attesa la seconda stagione di Taboo, promessa da Steven Knight (papà dei Peaky fottuti Blinders) e confermata dal suo interprete e co-creatore Tom Hardy, più di due anni fa.
Le dichiarazioni rilasciate sul prosieguo delle torbide avventure di James Delaney sono arrivate dai piani alti già dopo la messa in onda della prima stagione nel 2017. Parole giunte nientemeno che dal produttore esecutivo Ridley Scott e accolte con entusiasmo dal pubblico, rimasto stregato dal mondo esoterico trascinato a Londra dall'avventuriero tenebroso.
Conferme arrivate anche da Steven Knight, che aveva annunciato: "Sto cercando di scriverlo il più velocemente possibile, lo stiamo facendo adesso". Eppure sono passati altri due anni da quell'annuncio, e di Tom Hardy conciato da indigeno tutto nudo nella foresta non ne abbiamo avuto più traccia.
Ormai lo abbiamo capito: gli impegni del divo inglese, quelli del creatore della celebre serie sui farabutti ben vestiti di Birmingham e la terribile pandemia che ci affligge da un anno, posticiperanno ancora di molto l'arrivo della seconda e tanto agognata stagione di Taboo.
Noi però non molliamo, la speranza è l'ultima a morire e per chi ancora non si è fatto ammaliare dal mondo di Taboo (male, molto male ragazzi), ecco dieci buoni motivi per recuperare la serie targata BBC.
Cercheremo di essere descrittivi ma se puntassimo all'eloquenza basterebbe stilare un semplice elenco:
Tom Hardy mezzo nudo nei boschi;
Tom Hardy che fa magia nudo davanti al camino;
Tom Hardy che mette raramente i pantaloni;
Tom Hardy che seduce la sorellastra grugnendo;
Tom Hardy che guarda in camera con gli occhi truccati;
Tom Hardy che fa sesso come uno appena uscito di galera;
Tom Hardy che cammina come in un video rock anni '80;
Tom Hardy che riesce a rendere un cilindro un capo sexy;
Tom Hardy che la fa pagare all'Alto Passero (non c'è dimensione seriale in cui si possa nascondere);
Tom Hardy versione pirata che salpa in cerca della Perla Nera.
Sebbene molte lettrici abbiano trovato in questa lista motivi più che sufficienti per correre a cercare gli episodi della serie, per un'altra porzione di lettori che necessitano di qualche motivazione in più, ecco un elenco un po' più approfondito.
1. Londra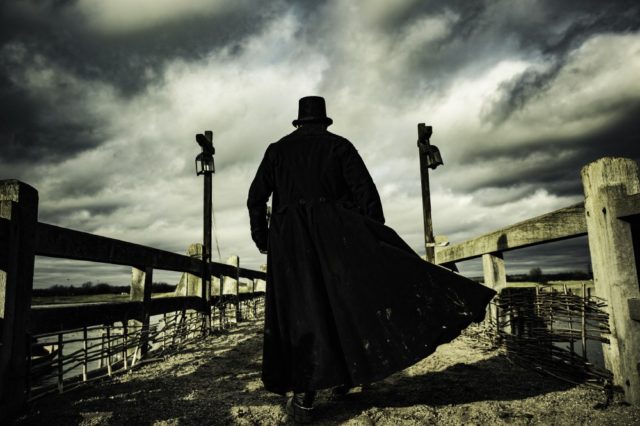 Steven Knight ci ha messo parecchio impegno per offrire agli spettatori dello show delle atmosfere londinesi davvero suggestive. Per tutti quelli che hanno amato la Londra fumosa e gotica intravista in serie come Penny Dreadful, le scenografie di Taboo saranno un vero piacere per gli occhi. Sfuggente, cupa e ruvida, la fotografia dello show vi introdurrà nelle atmosfere della storia rapidamente. Un omaggio alla città che ricorda con dedizione le ambientazioni dei racconti di Arthur Conan Doyle ed Edgar Allan Poe.
2. La trama
Potremmo dire solo che Steven Knight si è occupato della sceneggiatura dello show e, dal momento che siamo tutti fan di Peaky Blinders (vero?), sentiamo di avere già una buon garanzia sulla cura dello script. Tuttavia c'è molto altro da dire al riguardo, tipo che la storia della famiglia Delaney si sviluppa su molti più livelli rispetto a quella dei fratelli Shelby. È un conflitto d'affari quello che lega le sinossi della storia, ma sopra di esso si sviluppano molte altre sottotrame affascinanti di cui vogliamo sapere di più, dopo ogni episodio dello show.
I segreti dei Delaney, la parentesi nel Nuovo Mondo di James, l'esoterismo e le faide scorrette tra la Compagnia delle Indie e il legittimo erede della baia di Nootka. Il terreno goloso per i commerci tra Stati Uniti e Inghilterra nel 1800 che la società commerciale vuole assicurarsi e che muove gli scontri all'intero della storia.
3. L'amore proibito tra i protagonisti
Siamo spettatori semplici, le storie d'amore legalmente inaccettabili e torbidamente vissute ci attaccano allo schermo come la finale di un Mondiale. Quella tra James e Zilpha è di quelle che fanno sospirare anche senza l'uso smodato di lunghe dichiarazioni e gesti dal romanticismo esagerato. Una delle passioni meglio ricostruite sullo schermo, specie perché la loro attrazione tangibile viene espressa con pochissime parole e moltissimi (e torbisissimi) sguardi.
4. L'esoterismo
Come dicevamo, la trama di Taboo offre svariate sottotrame, una di queste è quella che racconta l'esperienza di dodici anni che il protagonista ha fatto in Sudamerica e in Africa a contatto con gli indigeni. Creduto morto per tutta la sua assenza dalla capitale inglese, quando vi ritorna dopo la dipartita del padre per rivendicare ciò che è suo di diritto si porta dietro un allure da sciamano che può solo accompagnare. Un incentivo per tutti gli amanti del genere.
5. I costumi e le ricostruzioni storiche
Per tutti gli amanti delle serie storiche Taboo rappresenta una perla che non può non essere annoverata nella vostra collana di serie d'epoca preferite. Dalle scenografie impeccabili dal contesto quasi teatrale, ai costumi riprodotti con dovizia, sia che appartengano alla società londinese dell'epoca che a quella della bassa manovalanza portuale.
6. Steven Knight
Per tutti quelli che sono fan dello sceneggiatore e regista inglese, leggere il suo nome a capo di un progetto è la garanzia che, di qualunque argomento tratti, la storia sarà di certo qualcosa di appassionante. Che metta la sua penna al servizio di grandi registi, come nel caso de La Promessa dell'Assassino di David Cronenberg o Allied di Robert Zemeckis, o che si assuma la responsabilità di un intero progetto come per Peaky Blinders o Locke (sempre con Tom Hardy), la qualità della storia è sempre notevole.
Lo stesso vale per Taboo ovviamente.
7. I personaggi
Intorno al protagonista gravitano una serie di ottimi personaggi davvero ben strutturati, dall'animo complesso e corrotto che cercano di arrabattarsi ciò che credono gli spetti. La carismatica e conturbante Zilpha, la sagace e sprezzante matrigna Lorna, Sir Stuart Strange, interpretato dal sempre ambiguo e macchinoso Jonathan Pryce e Tom Hollander, il cui ruolo marginale non gli impedisce di brillare e farsi notare all'interno di un cast davvero notevole. Nonostante la presenza ingombrante del talento di Hardy, ognuno di loro catalizza l'attenzione restando impresso nello spettatore.
8. Tom Hardy
Se siete fan dall'attore, davvero non potete perdervi questa sua incredibile recitazione. Intenso, tormentato, a tratti quasi bestiale, la recitazione di Hardy come nel caso di Mad Max si svolge spesso senza l'utilizzo di parole e grandi dialoghi riuscendo comunque a risultare trascinante ed efficace. Un ruolo fisico dotato di un'aurea quasi inquietante che, invece di disturbare, attrae lo spettatore seducendolo, evidenziando l'incredibile bravura di questo attore che non smette di macinare conferme e successi.
9. I colpi di scena
Molte prime stagioni di uno show di successo scivolano nel facile errore di dire troppo poco, o troppe cose, circa lo sviluppo della trama. Lasciando lo spettatore con numerose domande irrisolte e magari un anno davanti per torturarsi in attesa che la stagione seguente venga prodotta.
Taboo al contrario chiude bene il cerchio pur riservandosi alcune porte aperte necessarie per incuriosire lo spettatore sul destino dei personaggi.
Gli intrecci principali però nascono, si sviluppano e si concludono durante i primi otto episodi così da non lasciare nello spettatore quel fastidioso senso di incompiuto che spesso rimane in alcuni show di successo.
10. Le musiche in Taboo
Partendo dall'ipnotica sigla curata dall'Orchestra Cinématique fino ad arrivare ai temi assegnati a ogni personaggio per suggellarne l'essenza sullo schermo, Max Richter crea un'opera sonora suggestiva che gli amanti seriali del genere non potranno non apprezzare. La spina dorsale musicale in un serie tv ha giustamente acquistato sempre più importanza negli ultimi anni, dimostrando la sua importanza specie quando accompagna un momento cruciale della storia (basti pensare alla splendida The Night King di Ramin Djawadi che accompagna l'arrivo da Bran del Re della Notte in Game of Thrones). In Taboo la colonna sonora diventa un elemento essenziale nella percezione drammatica del racconto.
LEGGI ANCHE – Tom Hardy è più bravo in Taboo o in Peaky Blinders?