Nel mondo delle Serie Tv esistono dei personaggi che incarnano la positività, l'allegria, la spensieratezza. Ci sono poi quelli che rappresentano il male più assoluto, i cosiddetti cattivi: senza sentimenti né speranza di redenzione. Poi c'è Dean Winchester di Supernatural che si trova esattamente nel mezzo. Lui è uno dei buoni, senza alcun dubbio, combatte per la salvezza del genere umano e del mondo intero. Allora perché associarlo ai cattivi, ai malvagi senza scrupoli? Perché ha tanti demoni che lo tormentano, come cantano gli Imagine Dragons in Demons.
Dean è il personaggio più complesso di Supernatural, inimitabile con i suoi dubbi e le sue profonde imperfezioni.
When your dreams all fail

And the ones we hail

Are the worst of all

And the blood's run stale
La vita di Dean non è mai stata facile. All'età di quattro anni perde la madre a causa del demone dagli occhi gialli e con lei anche il padre, il quale diventa ossessionato dalla vendetta. Proteggere il fratellino diventa la missione di Dean. Insieme all'essere il figlio perfetto, un ragazzino irreprensibile, degno di avere John Winchester come padre. Dean ha tante passioni: la musica, le macchine, il cibo e chissà se Mary fosse stata viva quale strada avrebbe intrapreso il maggiore dei Winchester. In Supernatural, però, è raro avere la possibilità di inseguire e realizzare i propri sogni.
Il destino sceglie per te, e anche se si prova a sfuggirgli ti riacchiappa tra le sue grinfie nel modo più tragico.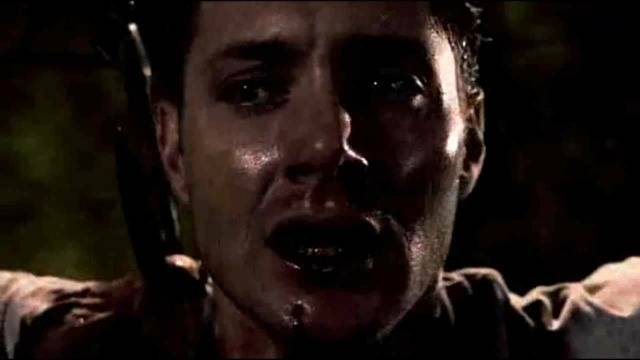 Dean e Sam quindi diventano cacciatori come era stato il padre prima di loro e, scopriranno più tardi, come anche la madre. Ma la vita del cacciatore di mostri non è facile. Bisogna abituarsi a uccidere a sangue freddo, e a volte le creature mostruose hanno sembianze spaventosamente umane. In Supernatural la linea tra bene e male è molto sottile e spesso è difficile capire cosa sia giusto fare, anche per i suoi protagonisti. Vedere tanto sangue, vivere una vita sregolata nelle camere dei motel e non riuscire a fidarsi di nessuno rende difficile creare dei legami stabili.
I want to hide the truth

I want to shelter you

But with the beast inside

There's nowhere we can hide
Come si può aprire il proprio cuore a qualcuno con il timore di vederlo ucciso o scoprire che era un mostro pronto a pugnalarti alle spalle? Gli unici legami che Dean è riuscito a instaurare è con altri cacciatori, come Ellen o Jo, capaci di capire il suo stile di vita e le sue paranoie. Dopo il riavvicinamento con Sam, che aveva cercato di allontanarsi da questa vita, il maggiore dei Winchester esce dal suo guscio e comincia ad aprirsi. Sono piccoli passi ma il suo grande cuore inizia a intravedersi tra le crepe della sua maschera.
Sfortunatamente non sono solo questi i problemi che Dean deve affrontare. Nella vita ci sono tante persone che hanno difficoltà a legarsi agli altri o a esprimere i propri sentimenti. I guai seri iniziano quando Sam muore per la prima volta perché Dean non riesce a salvarlo. Allora il maggiore propone uno scambio a un demone per resuscitare il fratello: vende la sua anima e finisce all'inferno, vittima di terribili torture.
Da vittima, però, Dean diventa aguzzino. Impugna gli strumenti di tortura e ripropone le sevizie subite ad altre anime tormentate.
Questo dolore non lo lascerà più, è una macchia troppo grande perché sia cancellata. Come sappiamo in Supernatural nessuno resta morto a lungo, e Dean viene salvato perché è il prescelto. Ma quanto ci ha messo ad accettare il gesto di Castiel?
Qual è il problema? Tu non pensi di meritare di essere salvato.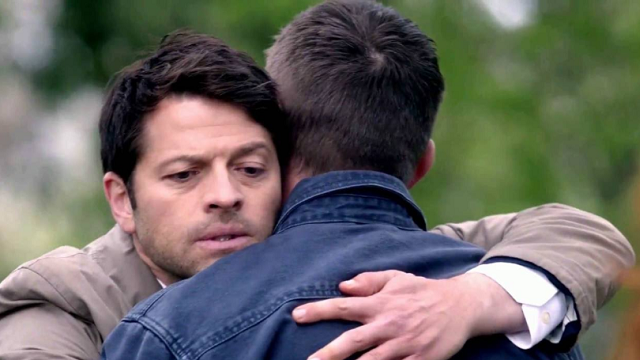 Non è una domanda quella dell'angelo. Castiel può leggere Dean come un libro aperto e vede che l'uomo pensa di non meritare una seconda possibilità. Come potrebbe dopo quello che ha fatto?
No matter what we breed

We still are made of greed

Look into my eyes

It's where my demons hide
La vicinanza dell'angelo e del fratello lenisce l'anima di Dean, la alleggerisce dalle terribili memorie dei quarant'anni passati da carnefice infernale.
Ci sono nuove avventure per i Winchester e nuove persone da salvare. Ci sono anche nuovi amici sulla strada di Dean: Benny, un vampiro buono incontrato in purgatorio; Charlie, la sorella nerd che i cacciatori non hanno mai avuto; Kevin, un profeta che praticamente viene adottato dai nostri protagonisti e Jody, intrepida poliziotta la quale diventa cacciatrice a sua volta.
Ma quanto può aumentare l'odio di Dean verso se stesso quando pensa che tutte queste persone, tranne Jody, sono morte a causa sua? Come può sperare di redimersi se il primo a non riuscire a perdonare è lui stesso?
Don't get too close

It's dark inside

It's where my demons hide
Allora non deve stupire il gesto autodistruttivo di Dean che nella nona stagione di Supernatural accetta di sobbarcarsi il peso del Marchio di Caino per sconfiggere Abbadon con conseguenze nefaste. Il cacciatore non riesce infatti a liberarsi del Marchio e dopo essere stato pugnalato da Metatron si risveglia immortale: ormai è un demone. Anche nella canzone Demons sembra che non ci sia speranza di salvezza:
So they dug your grave

And the masquerade

Will come calling out

At the mess you made

Don't want to let you down

But I am hell bound
Senza più autocontrollo, Dean sembra sfogare tutta la rabbia repressa con atti barbari e violenti, spalleggiato da Crowley. Dentro di sé però continua a esistere un briciolo di umanità, portata a galla sempre più spesso da Sam e Castiel. La morte di Charlie però contribuisce alla discesa nell'abisso di Dean che si disprezza sempre di più e sembra ormai irrecuperabile. Alla fine, grazie all'aiuto inaspettato di Rowena, un incantesimo lo libera dal Marchio.
Tutto il male racchiuso in questo simbolo, però, è rilasciato sul mondo intero che deve prepararsi ad affrontare un nemico impossibile da sconfiggere.
L'oscurità ha un nome: Amara, potentissima entità sovrannaturale, sorella di Dio. Il senso di colpa di Dean è schiacciante, sembra che non riesca a farne una giusta: pur di salvare se stesso ha messo di nuovo a rischio il mondo intero. Forse i Winchester sono davvero una maledizione per l'umanità, non si può sfuggire a questo destino crudele.
They say it's what you make

I say it's up to fate

It's woven in my soul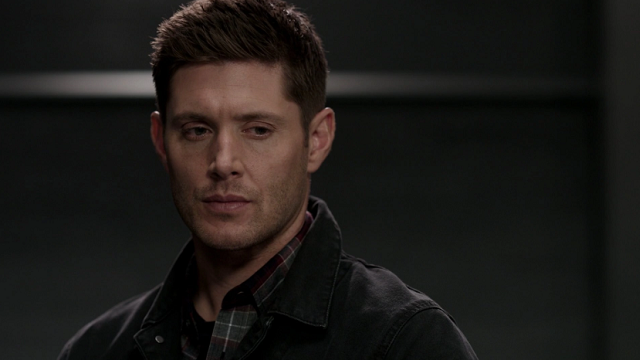 Dean però non è solo un male per la Terra, ne è anche l'ultima speranza. È lui a convincere Amara ad abbandonare i suoi propositi di distruzione dell'umanità, lui la spinge a riconciliarsi con Dio. La famiglia è tutto per Dean e proprio per questo Amara, per sdebitarsi con il cacciatore, riporta in vita la sua amata mamma, Mary. Il suo ritorno è accolto con gioia dai figli, ma abituarsi a questa nuova vita non è facile per lei. E non è facile nemmeno per Dean, che non riesce a conciliare i ricordi che ha della madre con la donna che ha di fronte.
Però l'amore supera tutto e lui ne ha così tanto da dare.
Dean Winchester ama, ama con tutto il suo cuore. Ama la madre, il fratello, Castiel e anche l'ultimo membro della loro famiglia allargata, Jack. L'unica persona che non riesce proprio ad apprezzare è se stesso. Il cacciatore pensa di non meritare niente dalla vita, di non essere all'altezza di nessuna delle cose belle che gli capitano, ma noi sappiamo che non è così.
Don't get to close

It's dark inside

It's where my demons hide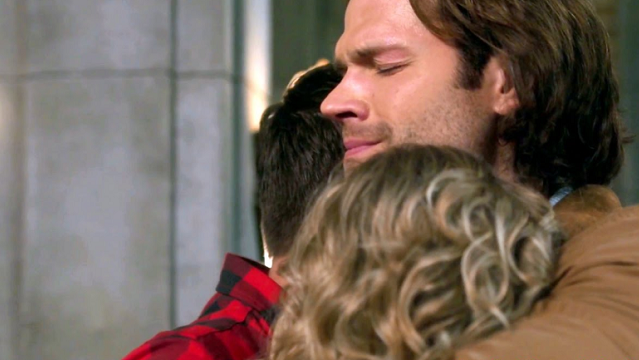 Tutti hanno dei demoni nascosti nel profondo dell'animo. Il problema di Dean è che porta il cuore nel palmo della mano, con il suo spirito di sacrificio si mette sempre in prima linea, si espone a ogni tipo di sofferenza. Lui può sopportare tutto, ha la pellaccia dura. Peccato non sia così, perché Dean Winchester è un superbo cacciatore, un uomo forte, coraggioso e altruista, ma prima di tutto è una persona con un grande cuore. E la sua brillante luce riuscirà sempre a distruggere tutti i demoni che tentano di avvelenare la sua vita, nonostante lui non ci creda.