UNAGI! Chi di voi ha capito a cosa ci stiamo riferendo? Andiamo per gradi.
Le serie tv, si sa, ci hanno mostrato un'infinità di cose. La vera amicizia, l'amore, la sofferenza. Abbiamo visto gente che affronta entità sovrannaturali, adolescenti alle prese con il liceo, serial killer che cercano di non farsi beccare e chi più ne ha più ne metta.
Le serie tv sono ormai parte integrante della nostra vita. Dobbiamo ammetterlo: non riusciamo più a farne a meno. La sera, prima di addormentarci, durante la pausa pranzo, nei tragitti con il treno o con l'autobus, sono sempre loro a farci compagnia.
Quante volte, guardando un episodio della nostra serie televisiva preferita, abbiamo sentito i protagonisti coniare termini che non avevamo mai sentito prima? Un esempio tra tanti potrebbe essere il celebre Unagi di Friends!
Possiamo dire, allora, che i telefilm ci hanno addirittura insegnato dei veri e propri vocaboli? Oggi vi proponiamo proprio una carrellata di termini che abbiamo scoperto solo ed esclusivamente grazie alle nostre tanto amate serie tv.
1) UNAGI – FRIENDS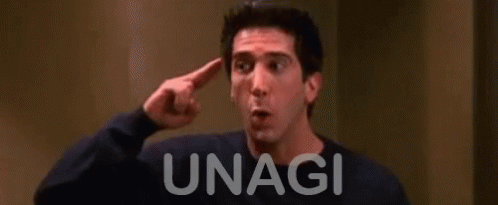 L'Unagi è in realtà un piatto tipico della cucina giapponese ma, in Friends, ha assunto un significato leggermente differente.
Ross utilizza infatti l'Unagi come se fosse un sesto senso che soltanto chi ha fatto karate può comprendere, un'abilità nascosta che può fargli prevenire il pericolo.
2) BAZINGA – THE BIG BANG THEORY
Dopo The Big Bang Theory non riusciamo più a fare uno scherzo a qualcuno senza poi esclamare: "Bazinga!", vero? Siate sinceri.
Sheldon Cooper pensa di essere un simpatico burlone, ma sappiamo tutti che la maggior parte dei suoi scherzi non sono poi così simpatici. Nonostante ciò, non possiamo non ridere quando lo vediamo esclamare con espressione soddisfatta la parola Bazinga.
3) AMMACCABANANE – SCRUBS
In un momento di terribile imbarazzo non sapete cosa rispondere al vostro interlocutore? La soluzione è semplice! JD ci ha insegnato che Ammaccabanane è la risposta a ogni situazione imbarazzante… anche se non ha un minimo senso logico.
Così come Unagi e Bazinga, Ammaccabanane è un termine inventato di sana pianta proprio dalle serie tv in questione, ma che oggi ricordiamo come se fosse reale!
4) POSSIMPIBILE – HOW I MET YOUR MOTHER
Per tutta la vita ho sfidato i miei limiti per sorpassare il confine del possibile […] più oltre ancora, fino al punto in cui ciò che è possibile e l'impossibile si mescolano e si trasformano nel possimpibile […]. E se posso lasciarvi con una massima, ecco qual è: nella vita niente e ogni cosa è possimpibile.
Che dire? Barney Stinson dovrebbe essere uno dei nostri maestri di vita.
Lo scaratopo è, presumibilmente, un animale con cui nessuno di noi vorrebbe realmente avere a che fare. Ne parlano Lily e Marshall in How I Met Your Mother quando affermano di aver visto nel loro appartamento uno strano essere che sembrava metà scarafaggio e metà topo.
Speriamo tutti di non scovare mai un esserino del genere!
6) CHRISMUKKAH – THE O.C.
Seth Cohen, l'uomo che ha unito due fedi!
Avendo un padre ebreo e una madre protestante, il piccolo Seth non sapeva come fare per poter festeggiare entrambe le ricorrenze. Così, a soli sei anni, inventò il Chrismukkah: "otto giorni di regali più un giorno di super regali!"
7) BOBOINGARE – SCRUBS
Andiamo, ammettetelo: anche voi vorreste boboingare i riccioli dei vostri interlocutori.
Scopriamo questo termine quando, in un momento più unico che raro, Cox è costretto a chiedere aiuto a Elliot per parlare con una paziente molto giovane. Tra le condizioni che la dottoressa impone, però, c'è quella di poter boboingare i ricci del dottore.
Chi non lo farebbe?
8) BLABLAOLOGO – SCRUBS
Sappiamo bene che Perry Cox non è il personaggio più paziente che abbiamo avuto modo di conoscere nelle innumerevoli serie tv che abbiamo visto. Non potremmo mai dimenticare il momento in cui, quando Elliot va da lui per parlargli, il dottore le suggerisce di portare i suoi blablabla da un blablaologo.
Quante volte avremmo voluto dirlo ai nostri interlocutori?
9) ZSA ZSA ZSU – SEX AND THE CITY
Carrie ci ha insegnato che non dovremmo mai uscire con qualcuno se non proviamo il famosissimo zsa zsa zsu. Cosa vuol dire questo termine? Semplice, sono le celeberrime farfalle nello stomaco!
Lo ricordavate tutti?
10) BLALLO – MALCOLM IN THE MIDDLE
Il blallo è quel colore che si ottiene unendo il blu e il giallo che, come ben sappiamo, è stato scoperto da Reese in Malcolm in the Middle.
Dite che somiglia al verde? Ma no! In fondo abbiamo sempre saputo che Reese era un piccolo genio, diamogliene atto.
11) CROMOLENTO – I SIMPSON
Il termine cromolento, in lingua originale cromulent, è coniato da Lisa nell'episodio Lisa l'iconoclasta. Usato in senso ironico vorrebbe dire legittimo e quindi, in realtà, sostanzialmente spurio.
Dopo essere apparsa nella serie I Simpson la parola "cromulent" è addirittura apparsa nel Webster's New Millennium Dictionary of English!
12) DALEK – DOCTOR WHO
I Dalek sono una razza aliena introdotta in Doctor Who durante la prima stagione della serie classica. Originari del pianeta Skaro, sono stati creati dallo scienziato Davros.
Sapevate già che il termine è stato recentemente inserito persino nel dizionario britannico?
13) MUPPET – THE MUPPETS
Il termine muppet deriva, ovviamente, dall'unione di "marionetta" e "puppet" (pupazzo). La parola ci riporta ovviamente alla memoria il celebre show The Muppets ma, in realtà, ha oggi assunto anche un significato differente. "Muppet" viene infatti utilizzato anche per indicare un individuo dalla dubbia intelligenza!
14) SOFFOMITANDO – SCRUBS
Oh mio dio! Sto soffocando e vomitando al tempo stesso. Sto soffomitando!
Perry Cox dovrebbe insegnarci la vita, c'è poco da dire!
Cinico, prepotente e creatore di neologismi che ricorderemo probabilmente per tutta la vita. Come potremmo non amarlo alla follia?
15) SLOCK – ORANGE IS THE NEW BLACK
Slock è l'abbreviazione per lock in a sock, ossia lucchetto nel calzino. È un'arma improvvisata usata dalle detenute della celebre serie tv Orange is the New Black.
Insomma tra Bazinga, Unagi, zsa zsa zsu e chi più ne ha più ne metta, sono davvero molti i termini che abbiamo imparato grazie alle nostre amate serie tv! Forse dovremmo ringraziare i nostri frequenti binge-watching.