New Girl può sembrare una comedy come tutte le altre, ma chiunque abbia mai visto questa Serie Tv sa che è molto, molto di più.
Jess Day (Zooey Deschanel) è entrata nella vita dei protagonisti dello show, e anche nelle nostre, con un brio e un ottimismo unici nel suo genere. Personaggio divertente alla ricerca di risposte nel mondo e di uno scopo per se stessa, intrattiene tutti grazie alla sua straordinaria personalità. In questo programma ci siamo affezionati a Nick, Schmidt, Winston e Jess, con i loro difetti e le loro criticità. L'amore ha mosso gran parte delle azioni dei personaggi e uno degli episodi si è focalizzato principalmente sulla ricerca di quest'ultimo attraverso un sito di incontri online, ovviamente creato proprio per lo show.
Ma New Girl non è certo l'unica Serie Tv a utilizzare dei social media fittizi, tutt'altro.
Da How to Get Away with Murder alla recente Riverdale, i social hanno raggiunto il mondo della televisione, rendendo l'informatica protagonista delle vicende dei personaggi. Vengono utilizzati dei motori di ricerca opportunamente creati per determinate Serie Tv (come in CSI o Dexter), ma anche delle app e dei siti internet il cui scopo è quello di far sbocciare l'amore, o buttare un po' di pepe nella vita dei personaggi. Ebbene sì, i siti d'incontri costituiscono il punto di partenza per molti di loro. Alcuni sono solo sfortunati nei rapporti di coppia, altri dei semplici opportunisti con degli scopi nascosti.
In ogni caso, ciò che accomuna queste 5 Serie Tv così diverse tra loro è l'utilizzo di social media falsi creati proprio per la storia narrata.
1)  Grind'em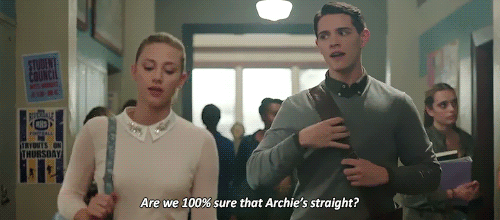 L'abbiamo conosciuto per puro caso nella 1×01 di Riverdale.
Il comune interesse di Betty Cooper (Lily Reinhart) e il suo migliore amico Kevin (Casey Cott) per Archie Andrews (KJ Apa) pare implacabile. Difatti, le teorie riguardanti il suo improvviso cambiamento estetico non fanno che alimentare la cotta per il ragazzo dai capelli rossi. Facendo leva sullo stato sentimentale dell'amico omosessuale, Betty lo invita a cercare qualcuno con cui uscire, utilizzando un'app adatta a incontri prettamente maschili. Tale applicazione si chiama Grind'Em. Vi ricorda qualcosa?
Non è un caso che il nome sia quasi identico al social media per incontri maschili più conosciuto al mondo – Grindr -, né che la signorina Cooper nello show cerchi di sbarazzarsi, tra una battuta e l'altra, della presenza dell'amico per far colpo su Archie. Kevin, d'altronde, le risponde con le rime, ricordandole che non sempre ciò che è sulla rete corrisponde a verità. Episodi di catfishing o lo scambio di immagini pornografiche non avvengono  solo nella realtà, e i personaggi di Riverdale lo ricordano bene.