Negli ultimi anni la serialità ci ha deliziato con diverse serie e miniserie (qui vi abbiamo parlato delle 5 più sottovalutate su Netflix) che sono riuscite a raccontarci la loro storia nel giro di pochi episodi. Ormai si sa, la formula di 10 puntate a stagione è una delle più gettonate e apprezzate. Ma prima che prendesse così tanto piede, gli spettatori erano abituati a show molto più lunghi, con tante stagioni e altrettanti episodi. Basti pensare ai grandi capisaldi del mondo seriale: Buffy, Lost, Friends, Dr. Who. O ancora Supernatural (qui troverete il Behind The Series dedicato allo show), The Walking Dead (qui troverete la recensione della 10×21) e Una Mamma per Amica. Serie tv con più di 100 puntate che ci hanno tenuto compagnia per anni, favorendo la nascita di un grandissimo affetto che persiste ancora oggi.
Ognuno di noi ha una vita più o meno frenetica, ma la pandemia – per quanto ardua – ci ha almeno concesso del tempo libero per recuperare serie tv che avremmo sempre voluto vedere. Dunque, per aiutarvi nella vostra scelta, oggi vi vogliamo parlare di show lunghi che potrebbero scacciare la noia durante le vostre tediose giornate di quarantena. Ma piuttosto che proporvi titoli di cui si parla già spesso, in questo articolo ci concentreremo su quelli di cui si discute tendenzialmente meno, dandovi la possibilità di riscoprire gioiellini spesso dimenticati.
Ecco quindi a voi 5 grandi Serie Tv con più di 100 puntate che dovreste guardare almeno una volta nella vita.
1) 24
Iniziamo con uno dei prodotti che più hanno segnato la serialità degli ultimi anni. Stiamo parlando di 24, serie tv creata da Joel Surnow e Robert Cochran con Kiefer Sutherland come protagonista. Andato in onda dal 2001 al 2010, questo gioiellino ha portato un nuovo tipo di linguaggio sul piccolo schermo, ponendo le basi per la Golden Age televisiva che stiamo vivendo ancora oggi. La grande idea di 24 è stata quella di raccontare gli episodi in tempo reale: difatti, ogni ora delle 24 ore della vita di Jack Bauer, agente dell'unità anti-terroristica di Los Angeles, equivale a un episodio di 45 minuti (che durante la messa in onda si trasformavano in 60 grazie alle pubblicità). Partendo da questo presupposto, lo show si è ritrovato a raccontare 8 giorni in 8 stagioni, dunque poco più di una settimana analizzata però nei minimi dettagli.
Stimolante e innovativa, la serie ha segnato la storia della televisione soprattutto grazie all'utilizzo del tempo reale (scandito inesorabilmente da un orologio digitale), e a quello dello split screen, necessario per mostrarci azioni contemporanee e per passare da una scena all'altra. Grazie a questi escamotage, 24 ha saputo infondere un costante senso di ansia e suspense negli spettatori, mostrando loro la capacità del protagonista nell'affrontare diversi tipi di situazioni nel giro di poco tempo. Una vita frenetica per un personaggio complesso e dalle molteplici sfumature, simbolo di un'America eroica ma talvolta anche senza scrupoli.
Fonte di ispirazione per diversi spin-off, videogiochi e film televisivi, 24 sarà capace di tenervi sempre con il fiato sospeso, avvicinandovi a paure e minacce concrete, ai segreti della politica interna americana e a un protagonista affascinante che difficilmente dimenticherete.
2) Bones
12 stagioni e 246 episodi. Non potevano non includere Bones nella nostra selezione di serie tv con più di 100 puntate.
Prodotto dal 2005 al 2017, lo show della Fox ha una premessa piuttosto interessante: Temperance "Bones" Brennan è un'antropologa forense di fama internazionale che lavora per il Jeffersonian Institute insieme al suo staff. Quando verrà contattata dall'agente dell'FBI Seeley Booth, la dottoressa dovrà mettere da parte le ostilità nei confronti dell'uomo per risolvere un omicidio in cui sarà necessaria l'analisi delle ossa. Da quel momento in poi, i due protagonisti avvieranno una prolifica collaborazione per risolvere molti casi. Difatti, il rapporto fra Brennan e Booth è uno degli elementi centrali dello show, che ha saputo mostrarci la loro evoluzione da collaboratori riluttanti a partner affiatati e innamorati.
Anche se trae il suo titolo dal soprannome della protagonista, lo show non sarebbe stato lo stesso senza il resto del cast. La complicità fra i vari personaggi ha infatti contribuito a far funzionare una serie che ha proposto una grande varietà di generi (comedy, dramma, scienza, azione e tante emozioni) e tematiche importanti come stupro, adozione, bambini soldato e veterani dimenticati. Inoltre, se siete appassionati di scienza, sappiate che Bones è stato riconosciuto come uno degli show televisivi più accurati per quanto riguarda le nozioni scientifiche! Dunque, se cercate un prodotto che vi faccia ridere, emozionare e anche imparare qualcosa, date una chance alla creazione di Hart Hanson. Non ve ne pentirete!
3) The Mentalist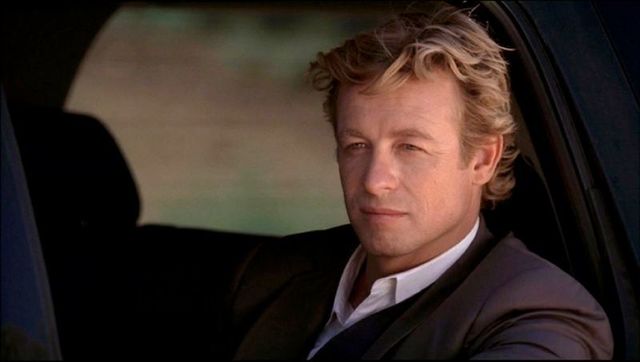 Così come Bones, The Mentalist trae gran parte della sua forza dalla dinamica di un duo apparentemente incompatibile che poi imparerà ad amarsi. La serie firmata da Bruno Heller racconta la storia di Patrick Jane, il "mentalista" del titolo. L'affascinante protagonista è un sensitivo spesso ingannevole, una personalità televisiva la cui famiglia verrà distrutta dal serial killer John il Rosso. Consapevole di essere in parte responsabile di quella tragedia e pronto a tutto pur di vendicare moglie e figlia, Jane diventerà un consulente per la CBI (California Bureau of Investigation), unendosi alla squadra guidata da Teresa Lisbon. La backstory del protagonista non è di certo innovativa, ma se non altro ha permesso allo show di costruire una trama orizzontale che si è dispiegata per quasi tutte le stagioni, costruendo così una base solida sulla quale sviluppare anche le trame secondarie.
Avvincente e mai banale, The Mentalist non solo ci racconta l'epopea di Jane, protagonista dall'intuito infallibile e maestro della manipolazione, ma anche del labile confine fra il bene il male. Così come di una storia d'amore quasi impossibile (che però troverà un suo personalissimo lieto fine) e di misteri ed enigmi che vi terranno incollati allo schermo. Alla luce di tutto ciò, è chiaro quanto nel corso di sette stagioni Heller sia riuscito a bilanciare perfettamente vari elementi, dando vita a uno show equilibrato e avvincente, capace di offrire spunti di riflessione sulla psicologia dei personaggi e sul contesto in cui si svilupperanno le loro vicende.
4) Desperate Housewives
Fra le serie tv con più di 100 puntate dovevamo includere anche Desperate Housewives.
Nata dal genio creativo di Marc Cherry, la serie ABC è ambientata nel quartiere fittizio di Wisteria Lane, palcoscenico delle vite di quattro casalinghe disperate che dovranno barcamenarsi fra problemi personali e una serie di misteri che sconvolgeranno la loro "tranquilla" periferia. Ma Wisteria Lane è tutto fuorché tranquilla: difatti, dietro le facciate delle rassicuranti villette a schiera si nascondono mille segreti e misteri, mascherati da una costante ricerca di perfezione da parte dei suoi residenti. Ma con la morte improvvisa di Mary Alice Young, le quattro donne dovranno fare i conti con la realtà e i segreti occultati per anni dietro la loro vita "perfetta".
Pur parlandoci di misteri e maschere, Desperate Housewives ha saputo diversificarsi coniugando diversi generi con abilità e brillantezza. Ed è così che la serie ci ha proposto un mix di dramma, commedia, giallo, satira e soap opera che non solo ha funzionato, ma ha saputo adattarsi a tutte le situazioni presentateci senza sembrare fuori luogo o eccessivo. Bree, Gabrielle, Lynette e Susan sapranno farvi ridere e commuovere, riusciranno a farvi condividere il loro punto di vista o a spingervi verso una scuola di pensiero completamente opposta. Ma soprattutto vi mostreranno quanto dietro a un'apparente perfezione possano nascondersi debolezze, fragilità e pressioni con cui è impossibile non empatizzare.
5) The Good Wife
The Good Wife è uno dei capostipiti del genere giudiziario come lo conosciamo oggi. Trasmesso dal 2009 al 2016, lo show di Robert e Michelle King parla di politica e legge, di matrimoni e scandali, attraverso un punto di vista che all'epoca era ancora inesplorato: non quello del politico finito nell'occhio del ciclone ma quello della moglie che, nonostante tutto, decide di rimanere al suo fianco. La serie infatti inizia durante una conferenza stampa durante la quale Peter Florrick, procuratore di stato dell'Illinois, finisce al centro di uno scandalo sessuale con in aggiunta accuse di corruzione e sfruttamento della prostituzione. Mentre il marito è in carcere per scontare la sua pena, Alicia Florrick deciderà di riprendere in mano la sua carriera da avvocato (professione abbandonata per dedicarsi alla famiglia) per far fronte a quella situazione difficile.
Partendo da questa premessa, lo show vi stupirà con la sua scrittura precisa, sofisticata e scorrevole, adatta ad argomenti difficili come abuso di potere, omicidi, problemi razziali, intrecci amorosi, ambizioni e fallimenti. Tematiche importanti che fanno da contorno all'evoluzione di Alicia Florrick che, da vittima e moglie tradita, si trasformerà in una donna potente e ambiziosa, capace di terribili sotterfugi pur di raggiungere i propri scopi.