8) The IT Crowd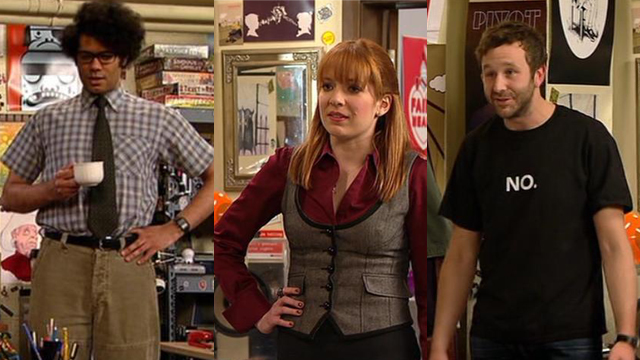 Una pietra miliare della comicità che grazie a Netflix può ottenere il prestigio che merita, come accaduto per Community e The Office US. The IT Crowd è senza dubbio un prodotto di nicchia, non per tutti. Principalmente a causa del suo umorismo tipicamente british e carico di citazionismo. Irriverente e cruda, la serie parla di due tecnici informatici di una prestigiosa azienda e della loro relationship manager Jen, totalmente estranea al mondo dei computer.
L'ironia, com'è facilmente intuibile, nasce principalmente dall'interazione dei tre personaggi tra loro e con il mondo esterno. Gli uni appaiono totalmente inetti nelle relazioni sociali, goffi e tipicamente geek, l'altra patologicamente incapace di apprendere anche solo i rudimenti del mondo informatico. Un primo livello di comicità scaturisce, dunque, dall'avvicendarsi di situazioni assurde e ai limiti del possibile.
Non manca, però, anche un altro livello, più sottile e incentrato su una sardonica critica alla società inglese esasperata nelle sue contraddizioni con una rappresentazione grottesca ma nello stesso tempo realistica. The IT Crowd è per certi versi una comedy classica, con personaggi granitici e immodificabili nei loro pregi e difetti e con un modo d'essere che non subisce grosse variazioni nel corso dello show. Eppure, la loro perfetta caratterizzazione li rende irresistibilmente iconici e dannatamente intriganti. Fate un tentativo: questa serie tv comedy Netflix potrebbe conquistarvi totalmente.