Di Serie Tv ce ne sono tante, forse pure troppe. E lo sappiamo bene noi poveri serial addicted che fatichiamo a stare dietro e a recuperare tutte le Serie Tv che escono. Abbiamo sempre l'affanno, perché anche quando – finalmente! – le millemila Serie Tv che seguiamo vanno in pausa, ne abbiamo comunque una lista infinita da recuperare. E ve lo dico con cognizione di causa, perché mi sono appena rimessa in pari con tutte le mie Serie e ho già iniziato i recuperi!
Insomma, guardare Serie Tv dovrebbe essere un hobby, ma – diciamocelo francamente – per noi è più un lavoro. Se ci dessero uno stipendio per guardarle, probabilmente saremmo tutti più felici (ecco, questa sarebbe un'idea, dovremmo suggerirlo alle Reti: ci pagano per guardare le Serie Tv e per farci decidere quali mandare avanti e quali invece cancellare. Sarebbe perfetto, voi che dite??)
Questo per dire che, essendoci troppe Serie Tv, capita che molte ci sfuggano.
E ci sfuggono proprio perché non viene fatta una campagna promozionale adeguata, anzi spesso vengono quasi ignorate dalla Rete che pure le mette in onda, preferendo invece concentrarsi su Serie Tv più mainstream, forti magari della partecipazione dell'attore figo del momento, o dell'affezione e della nostalgia del pubblico per un tema o un'altra Serie (non so se ci avete fatto caso, ma i revival e i reboot adesso vanno fortissimo!)
Ed è veramente un peccato, perché spesso così ci perdiamo vere e proprie perle, che restano tronche perché non è stata data loro la possibilità di avere una degna conclusione (mentre, magari, Serie Tv le cui storyline sono concluse da anni, continuano a trascinarsi stancamente), tanto che quando magari le recuperiamo per puro caso – perché le troviamo magari in qualche lista o perché ce ne ha parlato quell'amico che non si è mai rassegnato alla chiusa della suddetta Serie – restiamo poi "appesi".
Vediamo insieme alcune delle Serie Tv meno pubblicizzate degli ultimi anni.
1) SENSE8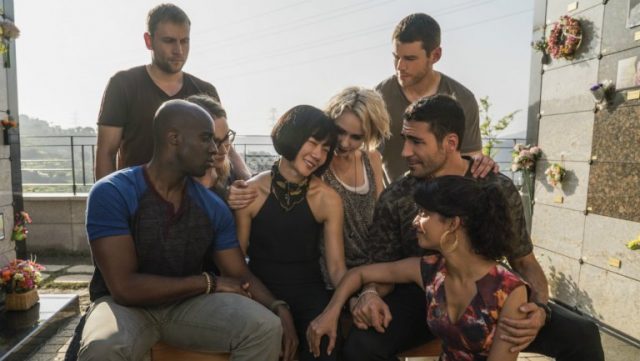 La inserisco per prima, forte della polemica che c'è stata in queste ultime settimane per via della sua cancellazione dopo la fine della seconda stagione, che tra l'altro ci ha lasciato tutti con l'affanno e la curiosità di scoprire come sarebbe andata a finire, oltre al dolore di non vedere più sullo schermo quei personaggi e quelle storie che tanto abbiamo amato.
Vero è che Sense8 costava troppo: dagli 8 ai 9 milioni e mezzo a episodio. Vero anche, però, che The Crown arriva a sfiorare i 13 milioni in alcune puntate (mentre di media ne costa 10). La differenza tra queste due Serie Tv, tra l'altro entrambe di Netflix? Che, mentre di The Crown si trova la pubblicità quasi ovunque, su YouTube prima di molti video, su Facebook, che sponsorizza le pagine relative come se non ci fosse un domani, ecc., Sense8 è arriva alle orecchie – e ai cuori – della gente quasi esclusivamente grazie al passaparola su internet.
Nonostante le autrici siano le stesse di Matrix – e, ora, io non sono certamente un'esperta di marketing, ne tantomeno voglio spacciarmi per tale, però credo sia un ottimo punto di partenza per una campagna pubblicitaria, visto che Matrix è una delle saghe cinematografiche più conosciute al mondo! – nonostante gli importanti temi trattati, nonostante rappresenti una ventata d'aria fresca a livello di trama, che si discosta da situazioni ormai stantie, nonostante gli esorbitanti costi, questa Serie Tv non ha avuto una campagna pubblicitaria degna di tale nome. E, onestamente, non riesco a non chiedermi perché.