Quando una serie tv nasce male, può esserci qualsiasi star nel cast, ma non cambierà il risultato: un colossale flop. Pensiamo a quello che è accaduto a queste cinque serie tv brevi, arrivate a stento al quinto episodio, in alcuni casi addirittura nemmeno intravisto. In alcuni casi il nome della grande star si pensava potesse catalizzare il pubblico, in altri si è trattato di una cattiva scrittura.
Questa è la malinconica storia di 5 serie tv di cui nessuno sentirà la mancanza.
1) The Beautiful Life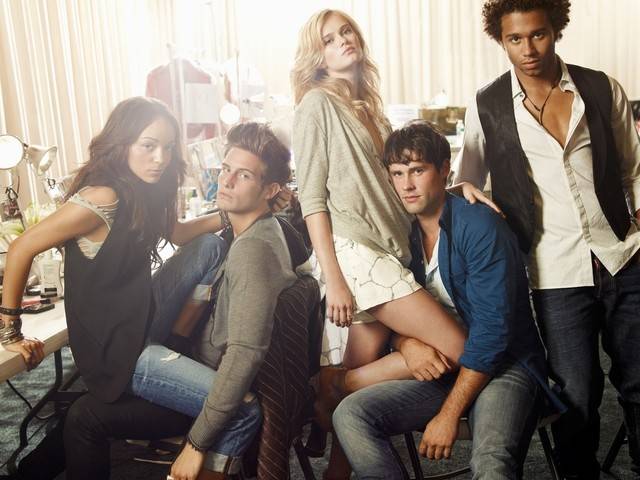 I fan di The OC, lasciati sconvolti e in lacrime dopo la morte di Maryssa Cooper, non si aspettavano certo di rivedere la loro eroina bionda e spocchiosa sullo schermo così velocemente. E invece: Mischa Barton è la protagonista della serie prodotta da The CW The Beautiful Life, andata in onda nel 2009 e durata solo due episodi, a fronte dei 13 previsti. Gli ascolti catastrofici hanno portato alla cancellazione prematura della serie, ambientata nel mondo delle modelle e dei modelli di New York. Chissà, forse la banalità della storia (le vite perfette non interessano a nessuno), forse il disinteresse dei fan per qualsiasi ruolo della Barton che non fosse Marissa Cooper: fatto sta che la serie è stata un buco nell'acqua clamoroso per il network.
Ma non per tutti i fan: in 8000 hanno firmato una petizione per riportarla sugli schermi. Troppo tardi, ragazzi: The Beautiful Life finisce nella lista delle serie tv brevi.
2) Coupling
Quando una serie tv, nel tentativo di avere successo, strizza l'occhio alle altre e in alcuni casi copia, non è mai un buon segnale. Così è stato per Coupling, remake americano prodotto da NBC dell'originale sitcom BBC creata da Stephen Moffat, autore di Doctor Who. Portare al pubblico americano un prodotto originario del Regno Unito è sempre un rischio: sensibilità diverse, differente senso dell'humor, sacrosanto amor di patria.
E infatti a farne le spese è stata proprio la versione americana di Coupling: mentre la serie inglese ha avuto un discreto successo (è stata anche mandata in onda in Italia da MTV), quella americana ha resistito solo quattro puntate prima di gettare la spugna. Moffat, scrittore anche della versione americana, ha incolpato gli americani per averlo portato a scrivere una versione "annacquata" della sua sitcom.
3) Doubt
Dopo Mischa Barton e il suo fallimentare tentativo di tornare sulle scene televisive, ci si è messa anche Katherine Heigl, reduce da Grey's Anatomy. Ma anche nel suo caso l'esperienza non è andata come previsto: lo spy drama State of Affairs è stato cancellato dopo una sola stagione. Ma è andata ancora peggio con la serie tv successiva in cui compariva Katherine: con due soli episodi andati effettivamente in onda, anche Doubt va a rimpolpare la schiera delle serie tv brevi, decisamente troppo per essere ricordate.
In questo caso si potrebbe spezzare una lancia in favore di Doubt: da ciò che si legge in giro, le performance di livello degli attori (oltre alla Heigl, Laverne Cox di Orange is the New Black e Dreama Walker di The Good Wife) erano penalizzate da una storia dalla scrittura scadente.
4) Viva Laughlin
In caso non fosse chiaro, lo ripetiamo: è meglio che gli americani lascino perdere le serie tv inglesi. Ma non doveva essere molto chiaro ai produttori di Viva Laughlin, anch'essa un remake della serie inglese Viva Blackpool. La storia originale era davvero intrigante e particolare: un mystery drama con uno spiccato tocco di musical, sulle avventure di un uomo d'affari che sogna di aprire il proprio casinò. Anche in questo caso, la presenza di una star non ha salvato la serie dalla cancellazione; Hugh Jackman, nel ruolo del protagonista non ha potuto niente per risollevare le sorti di questa serie tv, cancellata dopo due episodi e inserita nella lista delle serie tv brevi peggiori del 21° secolo.
Non è bastata neanche la scena in cui canta Sympathy for the Devil.
5) Of Kings and Prophets
In questa carrellata tragica di serie tv brevi e chiuse prestissimo, l'ultimo posto è dedicato a un kolossal biblico che aveva l'ambizione di battere Game of Thrones agli ascolti e che è stato invece impietosamente cancellato. Il progetto del network ABC di fare concorrenza al gigante HBO con la storia del re di Israele, il cui cammino si incrocia a quello di un profeta e un pastore, è durato a stento fino al mid-season finale. I creatori hanno dichiarato di volersi spingere oltre il consentito, mostrando in televisione la violenza. Questo intento è valso però a Of Kings and Prophets, oltre alla cancellazione, anche critiche dall'associazione dei consumatori per le scene di saggezza biblica condite con violenza e sesso.
L'unico vero aspetto in comune con Game of Thrones che questa serie possa vantare.