Il genere della sitcom è particolare. Si deve raccontare dei problemi e delle relazioni umane in maniera verosimile, riuscendo a far ridere o quantomeno sorridere lo spettatore in continuazione, senza dimenticarsi di sorprenderlo. Il ritmo è alto, è una sfida apparentemente impossibile. Ma quando qualche autore con uno sprizzo di genialità riesce nell'impresa, i nomi passano alla storia: Friends, How I Met Your Mother e The Office (per citarne alcune). Quest'ultima, tra l'altro, ha utilizzato un format talmente vincente da essere stata prodotta sia in Inghilterra, sia in America nel 2005. Le due versioni sono diverse, è chiaro, specialmente per il fatto che le comedy britanniche tendono sempre a caratterizzarsi per la loro originalità e un umorismo tutto alla british. Ultimamente le sitcom anglosassoni sono tornate alla ribalta grazie a Sick Note: la piccola perla sganciata a sorpresa da Netflix. Ma se non ne avete abbastanza, siamo qui per voi…
Ecco a voi 5 comedy britanniche che vi faranno ridere a crepapelle!!!
1) Miranda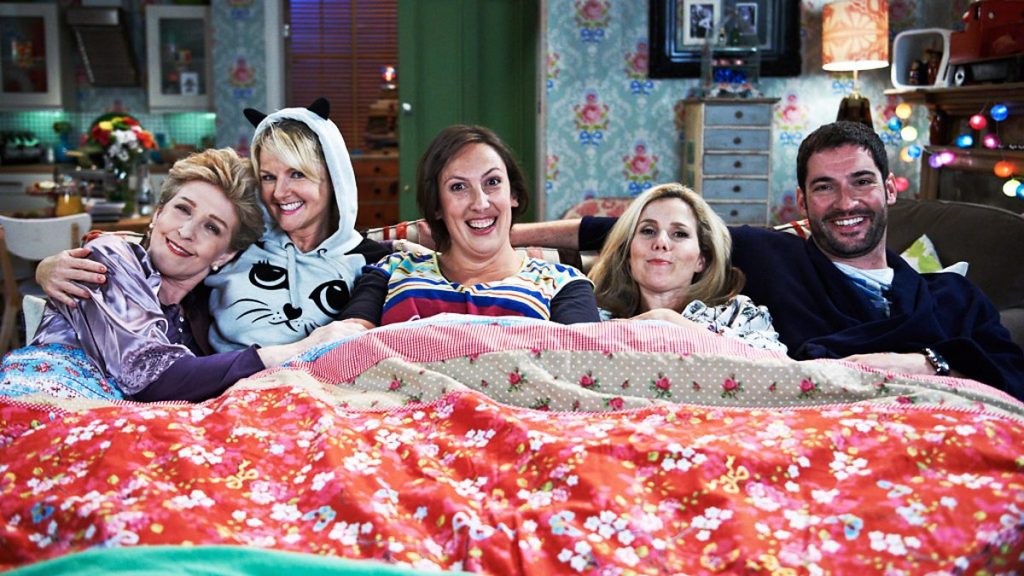 Partiamo con la sitcom che vede Miranda Hart nei panni dell'omonima protagonista.
Lei è una ragazza alta 1.85 m, estremamente goffa e incapace di relazionarsi in qualsiasi modo con gli uomini. Tra l'altro finisce sempre in situazioni imbarazzanti ogniqualvolta cerchi di costruirsi una vita sociale, venendo perennemente scambiata per un uomo. Miranda possiede un negozio di giocattoli ma è incapace di trattare qualsiasi aspetto pratico o finanziario del mestiere.
Al suo fianco troviamo attori ben noti al pubblico come Sara Hadland oppure Tom Ellis. Il nostro Lucifer interpreta Gary Preston: un vecchio compagno di università di Miranda e chef del locale accanto al negozio della ragazza (piccola anticipazione: tra i due scoccherà anche la scintilla).
La serie è stata molto apprezzata dalla critica, tanto da ricevere numerose nomine ai BAFTA TV Awards e premi anche per la sua protagonista, come il Royal Television Society nel 2009. Miranda ha in archivio 3 stagioni per un totale di 20 episodi.
Recentemente si vocifera che Jim Parsons (Sheldon Cooper di The Big Bang Theory) stia lavorando in collaborazione con la Warner Bros. per la realizzazione di un remake americano della serie.