Quando avete voglia di una Serie Tv che vi faccia ridere non dovete per forza avviare l'ennesimo rewatch delle solite note. Friends, How I Met Your Mother, Scrubs, The Big Bang Theory vantano senz'altro dei picchi di comicità che hanno contribuito a renderle dei fenomeni di culto, eppure esistono sit-com e comedy semisconosciute che hanno poco o nulla da invidiargli. Oggi il nostro compito è proprio quello di dare risalto ad alcuni prodotti leggeri, demenziali oppure raffinati che ci fanno comunque ridere a crepapelle. E che dovrebbero essere conosciuti da una più ampia fetta di addicted.
1. HAPPYISH
A mio modo di vedere una delle comedy più intelligenti degli ultimi anni. Lanciata da Showtime nel 2015, ma cancellata dopo una sola stagione, Happyish propone una riflessione raffinata e umoristica sul concetto di felicità. Attraverso le vicende dei coniugi Payne (interpretati da uno Steve Coogan in stato di grazia e da Kathryn Hahn) assistiamo a uno spaccato di vita quotidiana tra famiglia, lavoro, età che avanza e tecnologia. Il tutto viene reso in maniera satirica, con uno stile politicamente scorretto e una vena di malinconia che non impedisce, tuttavia, di ammazzarsi dalle risate.
Qual è la chiave per raggiungere la felicità? Scopritelo in soli 10 episodi di questa incredibile e purtroppo poco nota Serie Tv.
2. THE IT CROWD
Difficile trovare una Serie Tv che sappia unire la comicità demenziale a un interessante messaggio di fondo come fa The IT Crowd. Opera british, andata in onda su Channel 4 dal 2006 al 2010, The IT Crowd è stata per lungo tempo relegata alla nicchia, soprattutto in Italia. In tempi più recenti sta acquisendo una visibilità, tanto meritata quanto tardiva, grazie a Netflix che la custodisce sapientemente nel suo catalogo.
Questa originalissima sit-com ha avuto il merito di rilanciare sul piccolo schermo la figura del nerd e del geek, spianando la strada alle varie Chuck, The Big Bang Theory, Silicon Valley, tutte create successivamente. Come se non bastasse la Serie con Sheldon Cooper ne ha tratto notevole ispirazione per alcune gag e la caratterizzazione di alcuni personaggi. Anche qui siamo di fronte a un capolavoro della comicità recuperabile in pochissimo tempo dato che le quattro stagioni (più un episodio speciale) sono composte da soli sei episodi ognuna.
 3. LOUIE
Scritta, diretta, recitata, montata e prodotta dal suo stesso ideatore, Louie è il frutto della mente geniale di uno dei migliori interpreti della stand-up comedy al mondo: Louis C.K. Non si può nemmeno definirla una sit-com, almeno non nel significato più puro del termine, poichè C.K. è l'unico personaggio a comparire in tutti gli episodi, le storyline sono sconnesse, e, talvolta, vengono inseriti gli sketch dei suoi reali spettacoli a spezzare il racconto.
Proprio questa sua struttura atipica, tuttavia, la rende "imprevedibilmente divertente". Difatti un modo per ridere a crepapelle lo si trova sempre. I temi della Serie sono quelli che Louis da sempre affronta nei suoi show dal vivo (il divorzio, il sesso, la depressione, l'orientamento sessuale e il senso di colpa cattolico) e la comicità non risente dei tempi umoristici differenti.
4. ARCHER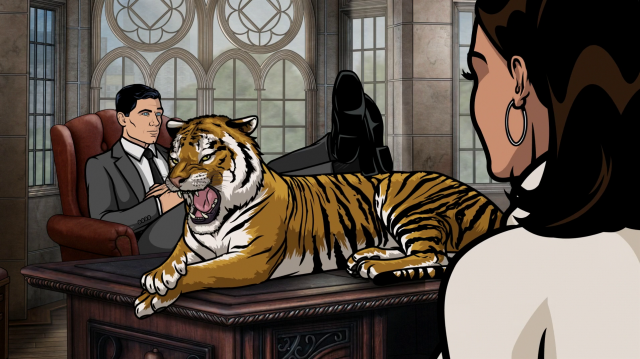 Demenziale come solo I Griffin sanno essere, questa animation comedy è una dei migliori esempi del suo genere. Archer è una spy-story politically incorrect, satirica e dissacrante, che unisce l'action al grottesco (ne abbiamo anche parlato in maniera dettagliata). Il protagonista è Archer, il punto di incontro tra James Bond e Bojack Horseman: immaturo, misogino, alcolizzato (la sua versione del "Padre nostro" inizia con "Bloody Mary che sei nella vodka"), donnaiolo, egoista,  e narcisista, valorizzato tantissimo dall'attore che dà voce al personaggio, H. Jon Benjamin.
Archer è una storia in continua evoluzione, ipercitazionista, mai banale e piena di colpi di scena. Basti pensare che per una stagione, la quinta, i protagonisti decidono di passare dallo spionaggio al narcotraffico, con risvolti esilaranti. Originale è anche lo stile di disegno che ricorda molto i cartoon degli  anni Sessanta, segno che in questa Serie Tv passato e futuro coesistono perfettamente.
5. DEREK
Quando parliamo di comicità non può mancare il contributo di un vero e proprio genio: Ricky Gervais. L'attore/sceneggiatore/regista/comico inglese si è distinto in vari ambiti e sotto varie vesti. Memorabili sono le sue conduzioni della cerimonia dei Golden Globes, ad esempio, o le sue comparse come guest-star in diversi programmi televisivi (tra cui lo stesso Louie di cui abbiamo parlato poc'anzi). Gervais è anche il creatore di una comedy pluripremiata e universalmente riconosciuta come tra le più belle mai realizzate: The Office. Nel 2014 ha invece ideato Derek.
Non ero proprio sicuro di voler inserire Derek in questa lista poichè, se da un lato si tratta di un prodotto spassosissimo, dall'altro è anche capace di toccare le corde più sensibili dello spettatore e non è raro arrivare a commuoversi (vero, puntata 2×05?). Vale comunque la pena di vedere "il bicchiere mezzo pieno" (dato appunto dall'aspetto comico) poichè in questa, ancor più che in The Office che è un'opera più corale, si ritrova in pieno lo stile di comicità di Gervais: sottile, disarmante, esilarante.
6. SPACED
Serie Tv semisconosciuta e anche abbastanza datata, essendo stata trasmessa su Channel 4 nel 1999. Questa sit-com britannica ha riscosso poco successo anche in patria, andando in onda per soli 14 episodi (suddivisi in due stagioni). Scritta e interpretata da Simon Pegg (ben prima di diventare famoso per L'Alba dei morti dementi), anche Spaced ha un taglio nerd, con numerosi riferimenti al mondo dei videogames, fumetti e film di fantascienza. I personaggi sono straordinariamente verosimili e, attraverso esilaranti gag, cercano di trovare il loro posto del mondo.
Il ritratto del protagonista, Tim è appunto quello di un nerd intenzionato a trovare un editore che gli pubblichi la grafic novel che ha realizzato, ma ha paura di essere deriso come in passato.
7. DOV'È MARIO?
Si è parlato troppo poco del ritorno in Tv di Corrado Guzzanti con Dov'è Mario?, serie diretta da Edoardo Gabbriellini e andata in onda su Sky Atlantic la scorsa primavera. In questa satira, un po' comedy e un po' horror, Guzzanti dimostra di non aver smarrito lo smalto dei giorni migliori, nelle vesti di Mario Bambea, un intellettuale di sinistra, e del suo "Mr. Hyde", Bizio Capoccetti, un comico rozzo e volgare. La critica sociale è evidente sin dalle prime battute, la comicità anche: si spazia dall'umorismo sottile e ricercato a quello più colorito, anche se il meglio di sè la Serie lo dà con le gag tra Mario/Capoccetti e la sua badante rumena.
Non è escluso che la Serie possa proseguire con una seconda stagione: in ogni caso, 4 episodi da un'ora ciascuno si recuperano velocemente. E ne vale la pena!
8. GALAVANT
Anche la comedy si è da tempo contaminata con altri generi narrativi e il risultato è, talvolta, straordinario. È il caso di Galavant, una sit-com a tinte fantasy che abbatte ogni tipo di barriera tra realtà e finzione. I personaggi, infatti, rompono la quarta parete e si rivolgono allo spettatore, che sa di essere davanti a qualcosa di surreale, ma è comunque coinvolto dalla storia. Galavant è una Serie Tv ironica, geniale, innovativa, piena zeppa di omaggi a pellicole o ogni forma d'arte del genere fiabesco, partorita da Dan Fogelman (lo showrunner di This Is Us).
In sostanza si tratta di una ventata d'aria fresca che però, purtroppo, non è stata compresa appieno dagli americani, tanto che è stata cancellata dopo 2 stagioni. Maledetta ABC.
9. LA VILLA DI LATO
Dulcis in fundo non poteva mancare il grande Maccio Capatonda. Se lo seguite sin dagli albori, dai tempi di La Febbra e Unreal TG non vi saranno sfuggite anche le sue web series. Se avete conosciuto la sua comicità solo in tempi più recenti, eccovi serviti. Ben prima di Mariottide e di Mario, infatti, Maccio e la sua troupe si dilettavano su Youtube con produzioni dal budget limitatissimo come Drammi Medicali e La Villa di Lato. Queste Serie, pur essendo state realizzate con pochissimi mezzi a disposizione, hanno offerto la possibilità al comico di esibire tutta la sua verve demenziale senza dover scendere a patti con la tv generalista.
La villa di lato, in particolare, è un thriller no-sense che vi farà rotolare sul pavimento dalle risate, se siete amanti della sua comicità. Come al solito saranno presenti tutti i suoi compari, da Herbert Ballerina a Rupert Sciamenna, passando per la compianta Katherine J. Junior.
Potremo rivedere presto Maccio Capatonda sui nostri schermi, visto che è tra i concorrenti della seconda edizione di LOL – Chi ride è fuori. Ma al suo posto poteva esserci qualcun'altro: ecco la lista dei comici esclusi o saltati all'ultimo minuto.